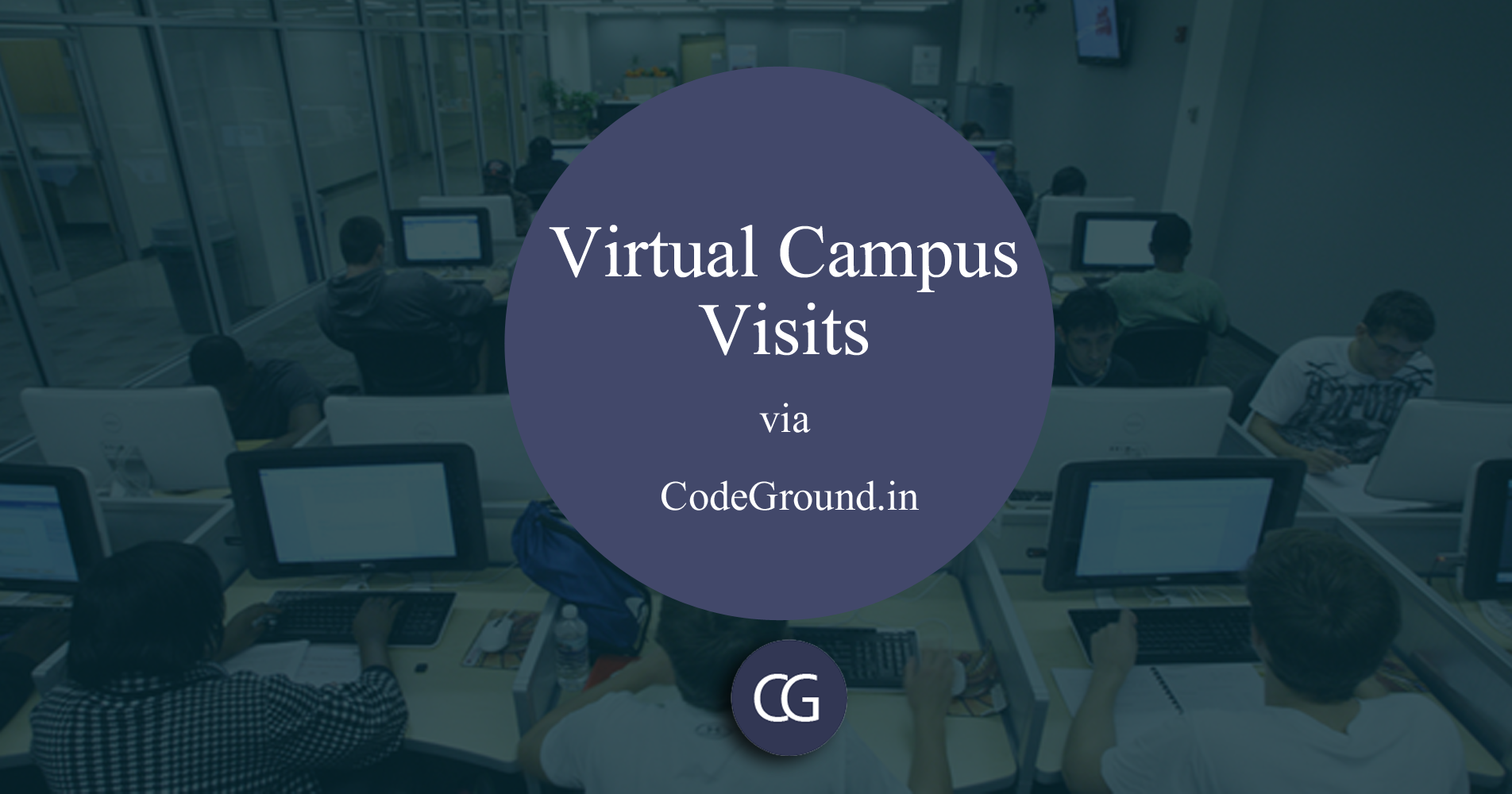 Campus hiring can be made easy as online assessments bring in efficiency of the whole procedure along with immediate feedback. Online assessment tests are conducted via computers under remotely proctored environment and has the advantage of being authenticated by Subject matter experts (SMEs). Online assessments bring in efficiency of the whole procedure along with immediate feedback. Online examinations are slowly replacing the traditional examination approach. A major highlight of using an online examination system is that it gives a high level of transparency as opposed to the traditional method. Most online exams generate their results instantly and it is often possible for the exam taker to get information on his results immediately.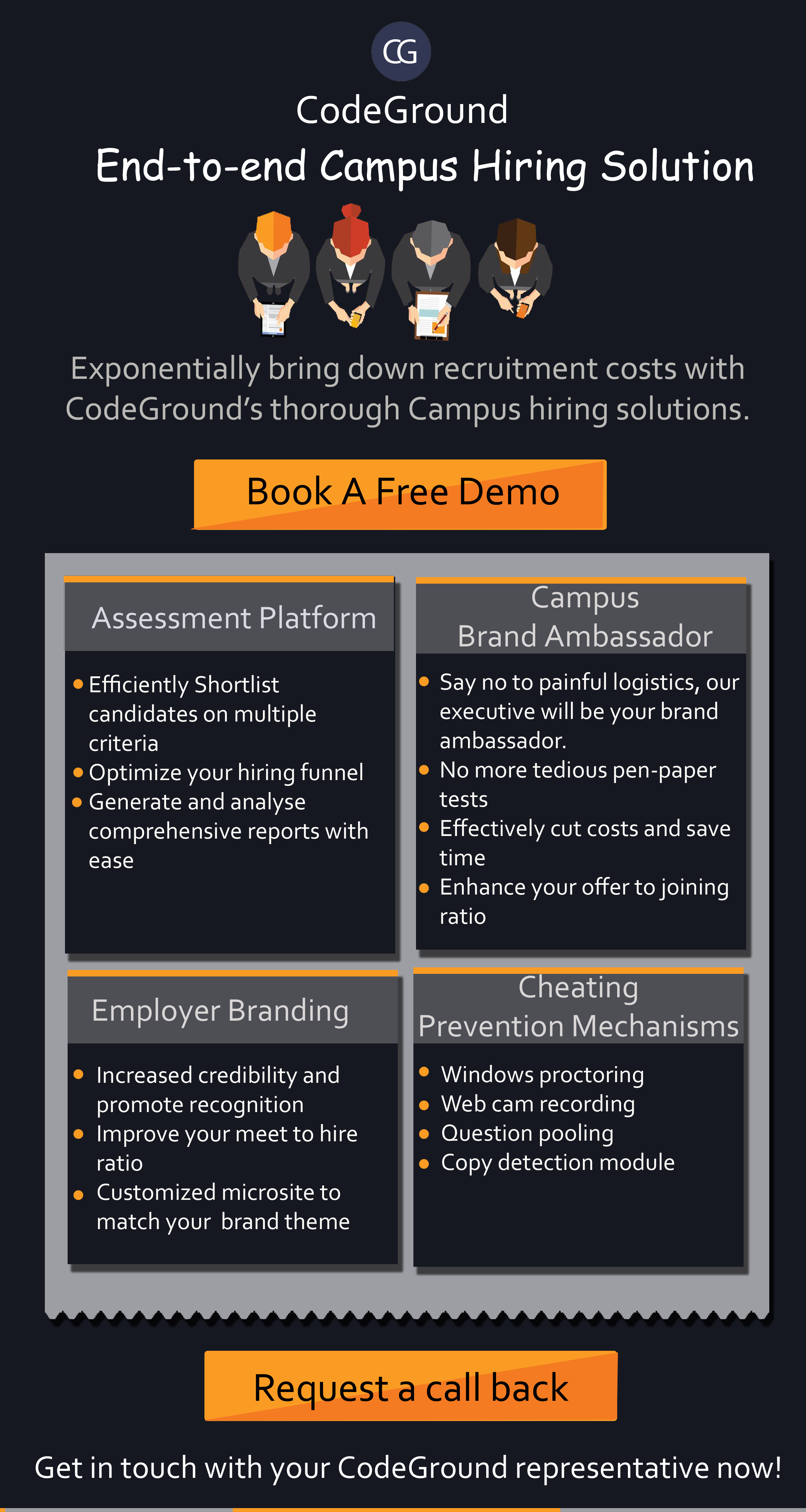 evalground.com has tie-ups with campuses across India and incorporates a massive pool of college pass-outs seeking jobs and internships registered with us. Recruiters who don't have the resources to go to campuses will conduct on-line enlisting tests for jobs and internships via evalground.com. Our enlisting tests can then be floated to placement departments in campuses across India who can then encourage students to participate in those tests.
Efficiently Shortlist candidates on multiple criteria
Optimize your hiring funnel
Generate and analyse comprehensive reports with ease
Say no to painful logistics
Our executive will be your brand ambassador.
No more tedious pen-paper tests
Effectively cut costs and save time
Enhance your offer to joining ratio
Increased credibility and promote recognition
Improve your meet to hire ratio
Customized microsite to match your brand theme
Windows proctoring
Web cam recording
Question pooling
Copy detection module
Online assessments have the benefit of not only being accessible anytime and anywhere there are few more benefits that online assessment brings with itself to assist you in your recruitment process. Such as:
Inbuilt ATS:
One of the major ways that online assessment platform helps in recruitment is having an applicant tracking system (ATS) in place. Most of the platforms in today's market comes with an inbuilt ATS which helps in tracking the resumes of applicants in a more precise manner and in many cases they filter applications automatically based on given criteria such as keywords, skills, former employers, years of experience and schools attended, etc.
Validation of outcome:
When you opt for a manual examination process there are chances of committing errors while examining the answers. Online assessments ensure validation of the outcomes of the test. The results or reports created are validated for accuracy and efficiency.
Consistent administration:
These tools ensure that there is a standardized administration throughout the test. You can be ensured that all the candidates taking up the test receive consistent administration no matter when they take up the test or from where.
Reduced cost and time:
One of the major concerns while choosing a recruitment procedure is the cost incurred and time spent while conducting the whole process. Fret not, those worries are bygones now. You need not to worry about administrator's, compensation for invigilators, equipments, consumable test materials etc.
Similarly, the long lost hours taken to go through every candidate's profile and resumes will be saved as you will get ready made reports as per your requirements. This will bring us to the next point, Reporting and analysis.
Reporting and analysis:
Efficiency and preciseness is what an online assessment tool brings in to the report of a candidate and its analysis. The reports are detailed and analytical in nature where the candidate's section wise performance is analysed and compiled for you to make a more informed decision.
Recruiters can sign up for a free trial. We are always available for a Demo session at your convenience.