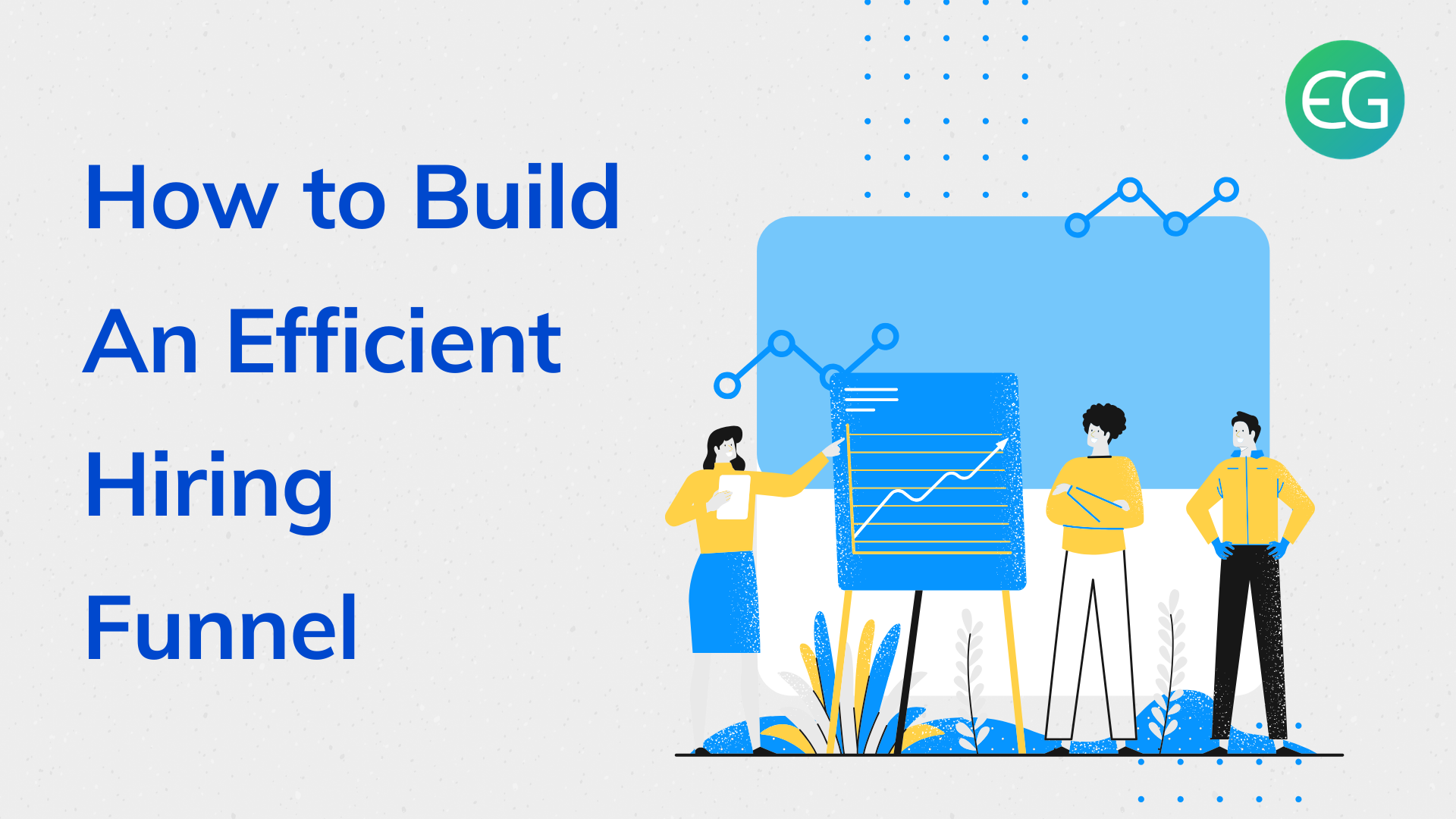 This huge information explosion in the amount of data available today is like the blast the marketing scene found in the mid-2000s when the industry was introduced to customer data. Now that finally, the recruiters have access to similar types of data and information as sales teams and marketers, it's becoming more evident that recruiting is more or less similar to marketing. It is true that recruitment is a complex and never-ending, but essentially it is just like marketing – as a recruiter if you are willing to convert your candidate applications to prospective hires, the same way salespeople and marketers look to convert their leads to active and successful sales, you have to ensure that your hiring funnel is as proactive and solid as it can be. The hiring funnel needs to have a personal touch, you have to be in constant touch with your prospects and you have to establish relationships. For the past decade or so maintaining an active sales funnel is the rule of thumb for success for many companies. Each step is carefully calculated and optimized to make sure that the prospects stay intrigued and eventually become satisfied, paying customers.
Similarly, recruiters can also use a hiring funnel to hire rockstar employees. Looking from a business practical standpoint all funnels represent the process for creating an active database and narrowing down a very huge audience, here each and every step is carefully measured and optimized as per the business needs. From a sales perspective, on the side of a consumer it helps future prospects stay intrigued and interested and eventually become associated as customers. In the recruitment space the hiring funnel helps in keeping candidates interested, engaged, and eventually become efficient and valuable employees. 
Basically, the hiring funnel empowers you to separate the unpredictable enrollment process into different stages, and afterward further separate each phase into objectives and assignments. The hiring funnel, as a rule, begins with creating awareness about you as a business and (in a perfect world) closes with the onboarding of a newly recruited employee. 
Beyond a shadow of a doubt however, the hiring funnel is definitely not a straightforward procedure, it has different stages, all of which can contain various obstacles of its own. For instance, by any chance that it takes too long to even think about getting through one phase, you may lose candidates. Or on the other hand perhaps you're pulling in candidates that don't accommodate your jobs and burn through significant time screening applications as a result.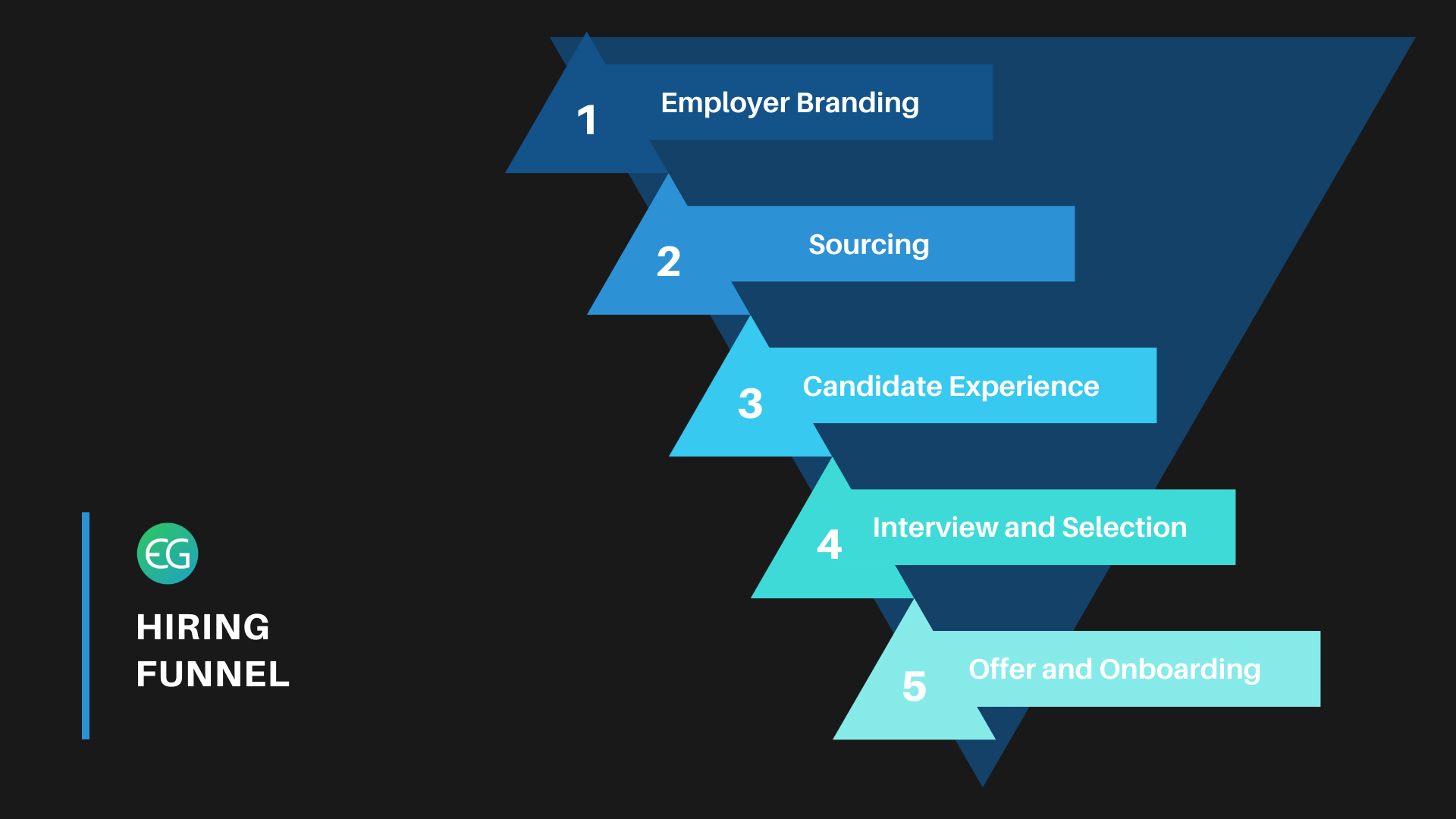 Employer Branding
You should connect with these potential candidates from each angle and level, through both active and passive sourcing procedures. Be that as it may, before you lose track of the main issue at hand, which is, how you will connect, you should initially characterize what message you will utilize. This starts with employment branding. Having a reliable, engaging in employment brand is the initial step to building up a fruitful hiring funnel. 
As per a survey by Glassdoor, 76% of job hunters need to realize what makes an organization a convincing work environment, before applying for a position there. So make sense of what causes your organization extraordinary, to guarantee it is unmistakably characterized and advance this informing reliably all through the entirety of your interchanges, both outer and interior.
Sourcing
Finding the correct talent is not, at this point only an issue of concluding whether to cast a wide net or narrow down your search. Try not to utilize the scattergun way to deal with publicizing and offer your activity advert far and wide, you'll just be immersed with unsatisfactory applicants. Use investigation and AI to focus on your particular crowd. The objective ought to be to make numerous candidate streams to give you an expanded pool to enlist the most qualified candidate. 
Similarly as the lines among marketing and recruiting are obscuring, so are the lines between these two bits of innovation. A blend of ATS and CRM is the perfect. A stage that is uniquely built for recruitment specialists with the entirety of the tools you need to follow a candidate's application procedure, while also enabling you to connect and create relationships with talent. The approach of social selecting has made employing a procedure where commitment is vital.
Candidate Experience
According to a survey by CareerBuilder, 60% of candidates will surrender filling up an employment form, in spite of the job being truly lucrative to them, in light of the fact that the application procedure was excessively long and tangled. 
We live in a universe of open correspondence, and on the off chance that you have a disappointed worker, odds are they've not remained quiet about their complaints. To ensure this is a reliable "issue" and to support the ceaseless pipeline, it is critical to ensure the applicant has a wonderful encounter, while they are applying and meeting, however all through the heap of ways they are interfacing with your image. 
Interview and Selection
Decreasing the time it takes to apply is completely pivotal. Obviously, a speedy application should still be well balanced. While you can rearrange applications for places that just expect you to catch whatever number individuals as could reasonably be expected, be key while creating applications for exceptionally explicit positions. Pick programming that coordinates your requirements. Consider making an evaluation experience that is novel to your organization. Regular appraisals incorporate subjective capacity testing, character survey, culture fit evaluation, and the sky is the limit from there. 
To dispose of the potential for bias during the meeting, ensure you have various interviewers on the board, every one of whom is searching for and esteem various characteristics in a candidate.
Offer Generation and Onboarding
Present-day candidates care about something other than what their remuneration will be. To discover what makes a difference to your picked applicant and remember to include it in your offer. Odds are if your picked applicant is the pick of the yield, they'll be sought after and could be getting offers from somewhere else. So make your offer the most convincing. Consider including your strategic scheduling approach, medical advantages, or protection, for instance.