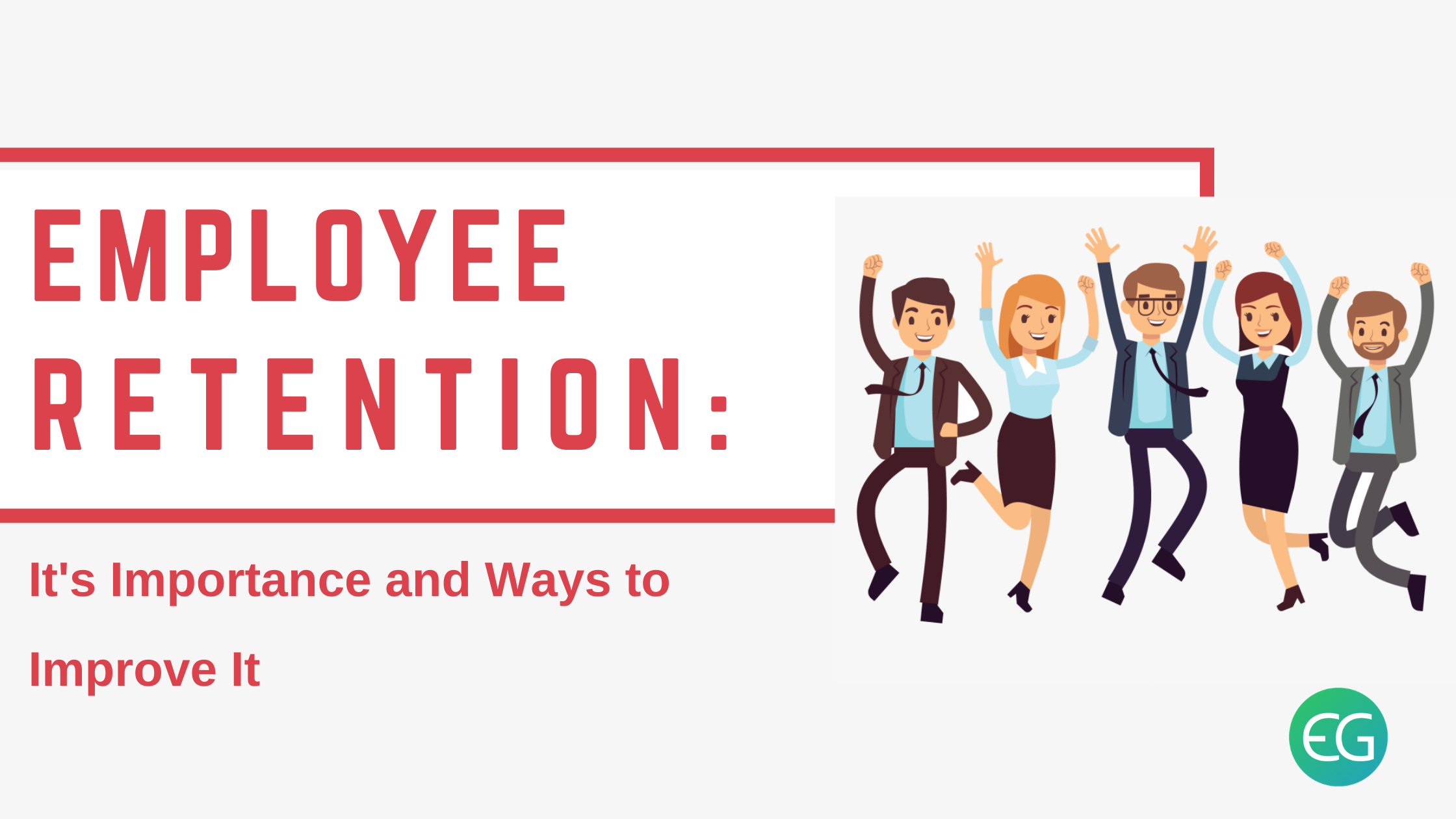 Every manager that you come across will have one nightmare for sure: One of your best-performing employees hands over his resignation letter all of a sudden out of the blue. Immediately, you have an entirely different set of challenges to face among your daily duties. 
In addition to the fact that you have to discover a replacement for such a gifted team member — it is definitely not a small task considering we live in a time when talented professionals are in high demand — yet you additionally need to consider the effect of this sudden departure will have on the remainder of your staff. 
At whatever point an associate exits the door, people do notice. Some may even begin thinking about whether they should begin searching for a new job, as well. That is the reason employee retention and job fulfillment should be a top priority on each organization's list of priorities, and why making powerful retention strategies to diminish employee turnover is one of the manager's most important jobs.
We've all faced retention battles: turnover, absenteeism, low morale, and slow productivity. Be that as it may, If you are already providing competitive compensation as per the market standard to the employees, what else do you think you can do to make your employees want to stay?
Maybe it is true that employees join your organization to get ahead in their career and get better compensation, however, they remain for the work recognition or acknowledgment. Acknowledgment is that little something extra that gives individuals a positive feeling—about themselves and their manager. 
Giving acknowledgment alone won't actually matter—how you give it can decide your success rate. 
Employee retention refers to the organizational goals of retaining its capable workforce and bringing down the attrition rate by adopting and executing employee-centric practices. 
Why Is Employee Retention Important?
Every business invests a lot of time, assets, and resources to make their new recruits corporate-ready material and bring them at the same standard with the existing employees. These employees, when provoked or prompted by many defining factors such as lucrative remuneration, comfortable and flexible work timings, or career growth prospects, they tend to look for newer opportunities. Irrespective of the organization's efforts to try and influence them in any way, it is eventually the employees who take the last call on their possibility of continuing their journey with the organization.
Research has shown that nearly one-third or 33% of the new hires end up quitting their jobs as soon as within about six months of joining the new organization. This is the point at which the management, administration, and human resources team step in and determine the exact reasons for such a decision taken by the employees, leading to improved employee retention.
If skilled potential employees don't intend to stay with the company, it will be a difficult task to build a successful business. On average, businesses shell out an amount which is roughly equivalent to 20% of an employee's salary as the cost for employee replacement. However, the genuine value of losing a talented workforce goes far and way beyond monetary considerations. After all, when an employee chooses to look for employment elsewhere, along with the financial and budgetary burden of recruitment and training, the organization additionally loses an individual's talents and ideas, his thus far accumulated organizational knowledge, credibility, and customers.
Moreover, employers could fall into the rut of adopting a half-hearted approach to train new employees, which could be a gigantic drain on the company's resources. Hence it's imperative to have an effective employee retention strategy in place.
If we believe some research estimates, it can cost an employer double an employee's compensation to replace them when they leave the organization. That cost fluctuates across different industries, but for some employers, it very well may be considerably higher.
Consider the employees you have working for you who have strategic abilities and skills that your business depends on, employees who have reinvented their job or who are such a key part that the thought of them leaving scares you. 25% of all employees are of this nature, what you might consider "high risk" with regards to retention.
How to Improve Employee Retention?
A successful employee retention strategy needs you to consider things from the employee's point of view. Each employee has their own goals and desires, no two employees will be exactly alike. But one thing that will be common in all of them is that all of them would want to feel appreciated by their employers for the work they do and to be treated fairly. Every person wants to be challenged and excited by the work they do. And even though money is not the biggest motivator still they want to be paid at or above market rates with good perks and benefits. 
All of these factors are important, but managers who are serious about employee retention go out of their way to do more than just the bare minimum. You should always consider every aspect of the employer-employee relationship while developing your organization's plan for keeping your employees happy. 
1. Finding the right hire:
In research by Glassdoor they discovered that 35% of those doing the hiring of new employees are doing so with the expectation that more employees will be leaving the organization in the coming year. It's a little demoralizing and disheartening to know that those doing the hiring are already imagining over one-third or 33% of their recruits walking out the door. 37% of recruiting managers say that newly recruited employees would stay longer if they were better informed during the hiring procedure. A poor onboarding experience for a newly recruited employee builds a foundation of antagonism and negativity in the new job.
Ensure you're being honest and transparent about what you expect of the new employee. Do not try to hide or sugar-coat aspects of the job just to get a person to bite the bait. Transparency is key in finding the correct employees. If you need some additional help, try using recruitment software to make the job easier.
Using psychometric evaluation and online assessment tools during hiring will greatly help recruiters to ensure that the candidate's conduct, behavior, and competency are well-aligned with the hierarchical organizational objectives.
2. Onboarding and Orientation:
In a research conducted by the Wynhurst Group in the year 2007, it was found that the new employees who had a pleasant experience and a systematic onboarding process (58%) were more inclined to stay with the company for at least more than three years in comparison to those who didn't have a good onboarding experience.
Employee onboarding is so much more than just meeting the new hire at the reception and then just skipping to "here's your laptop, and here's your workstation," but actually it is a crucial transition period where you imbibe the organizational values, culture, and systems to the new recruit. It is the initial and most important step to keep the talented individuals excited, happy, and engaged for long. 
Every new person who joins your organization should be set up for nothing shorter than success from the very beginning. Your employee onboarding process should not just teach the new joiners about their job role and duties, it should also draw a clear picture about the company culture and how they can contribute to the organizational growth and thrive within the company. Don't take any shortcut in this initial process: the kind of tone you set in the onboarding, orientation and the training procedure on the day one can set the tone of the employee's expectations in his/ her entire tenure at the organization.
3. Mentorship Programs:
A well structured and proper mentorship program is the next step in where the employee is walked through the soft skills, the company culture of how things actually work there and it is a good chance for them to get acquainted with the company's long term vision statement. With these things being explained clearly in the onboarding process they can follow their mentors to assimilate themselves seamlessly into the existing work culture.
When a fresh hire is paired with a mentor or a guide who can help them slowly get accustomed to the organizational culture it will become a great feature or component to add to your onboarding orientation. The guide or the mentor can provide them the necessary guidance to the newcomers, welcoming them to the organization. And it is a win-win situation for everyone. An experienced employee can show a fresh hire the ropes of the company and the new recruit can bring in a fresh perspective to the mentors in return.
4. Competitive compensations and perks and benefits
It's significant in this competitive labor market for organizations to offer appealing compensation packages. That incorporates compensations, obviously, yet additionally rewards, bonuses, paid time off, medical benefits, and retirement plans. Each employee ought to have a full comprehension of the advantages that they receive from your organization from the starting point. 
As indicated by a collection of recent surveys on employee retention, only 24% of "Generation X" employees say that financial stability motivates them to stay in their current job. Yet 56% of employees state that health care and insurance concerns keep them in their current job. Benefits and perks that are really beneficial matters. Money matters. What you offer your employees in this area must be equivalent to different organizations in your industry in your area. 
Regardless of whether it's paid time for volunteering, occasional catered food snacks or free bites, and coffee every now and then, these perks and advantages can make your working environment stick out and help in improving employee spirit. A few organizations arrange group discounts on first-class buys, from vehicles and homes to cell phones and home security frameworks.
5. Training, Learning, and Development:
New employees join an organization with the attitude to improve their aptitudes and take amazing steps in their careers. With an all-inclusive scope of abilities, they can contribute widely to the advancement of your organization. All things considered, it's mutually beneficial. An employee development program centers altogether around the employee's requirements for learning, development, and improvement. 
Focus on it and make it a priority to put resources into your laborers' professional development and look for opportunities for them to develop. A few organizations pay charges and travel for employees to go to conferences or industry seminars every year, give educational reimbursement, or pay for continuing education training.
6.  Rewards and Recognition
Each individual needs to feel acknowledged for the work they do. Make it a habit to thank your immediate reports when they go the additional mile, regardless of whether it's with a sincere email, a gift voucher, or an additional three day weekend. Whenever you demonstrate your gratitude to employees, clarify how their hard work helps the organization. A few organizations set up formal prize frameworks that boost good thoughts and development, however, you can initiate acknowledgment programs even on a small group with a small budget.
7. Feedback and appreciation
There's an adage: "to err is human; to let go, divine". It remains true in the corporate setting, inferring that businesses should avoid making a mountain out of a molehill if it is anything but a significant mistake. Managers criticizing at each action of their staff isn't a perfect circumstance. An absence of mutual acceptance can be negative to the organization's progress. Deciding to abstain from criticizing and fault-finding will strengthen the employer-employee relationship in the long run. Effective leaders recognize the qualities and shortcomings of others and urge their subordinates to address their weak points. You should contemplate this and calculate your employee retention technique. 
As the adage goes, "a team that works together, grows together," and teamwork is tied in with praising every employee's hard work and effort. Administrators must promote a culture of celebration where each achievement accomplished through teamwork is considered. Whether the group effectively wraps up a venture inside the specified time period or finishes a significant quarterly project inside the predetermined specified budget, seize the moment and share the joy by celebrating it together.
This content was brought to you by Evalground Online Testing Platform. Evalground is an online assessment and test evaluation system focused on helping Recruiters in the initial screening of potential candidates from an ocean of job seekers in an automated way.Evalground supports Online Aptitude Tests, Spoken English Communication Skills Assessments, Coding Contests in JAVA, C, C++, Ruby, Python, JavaScript and PHP.  Evalground also supports Automated asynchronous interviews. Evalground Screening Tests can be used by Recruiters during campus hiring or to screen walk-in candidates.