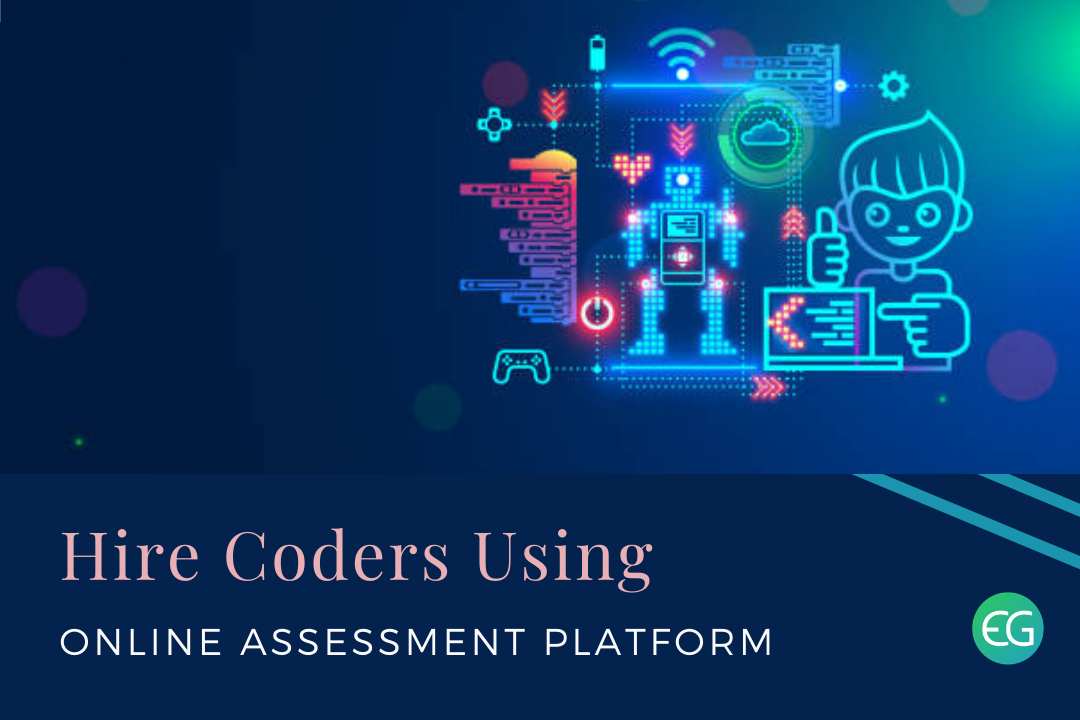 In the digital age, fast-moving organizations can no longer afford to hire employees just as per their resumes and the recruiters' gut instincts. That's why the use of assessments in pre-hiring has become very popular, not just for IQ skills, but for coding skills as well. The goal here is to use an assessment that lets you dig deep into a candidate's skills in ways that can't be achieved through group discussions and long interviews, without bias.
However, the most popular form of assessment is MCQ-based which falls short of capturing the hands-on skills of the candidates applying for a coding role. Since the candidate selects a response from a list of alternatives rather than supplying or constructing a response, multiple-choice question-based assessment only tests knowledge and recall and not creativity, unique thinking, or the ability to construct. While hiring coders, it is necessary to test the candidate's skills in real-world situations, customized to your organizational needs. This cannot be achieved entirely through MCQ based assessments and for this, Coding Simulator based assessments should be used.
In the case of a coding simulator-based assessment, it is the right tool to hire the right coders. This is because the candidates are made to write code from the scratch, and then the code is evaluated on various parameters. These tests are designed to just to check for common coding techniques, but also analytical, interpretational, and a more holistic approach to problem understanding and solving.
The world as we know it is not the same anymore; with each passing day, it is becoming more and more tech-savvy than the previous day. Our lives are becoming increasingly dependent on technology and we are looking forward to better and more developed applications with each passing day.
Hence it has become more impertinent than ever before to get a good and sound software developer to ensure that your business is always improving and becoming successful. Without technology, it has almost become impossible for a business to become successful. And in today's day and time a proficient software developer is expected to know how to build, design, develop, program, document, test, maintain, and retire a software program.
Nowadays, software development is crucial for making any business successful – and the more updated the technology is, the better. This implies that regardless of what sector your business is in, or how large or small it is, it can, without a doubt benefit from software development one way or the other.
What do software developers do? Software developers apply the principles of software development to plan, design, develop, improve, maintain, test, and assess the software. There is a lot of conversation about the level of education required for a proficient software developer or what kind of certifications should be considered while hiring the same. This is where Evalground comes in. We help you in designing a test that is specific to your hiring needs and thus will help you in hiring a software developer who is perfect for your business.
Benefits of hiring coders using integrated online assessment tool:
Improved quality of hire
You need not waste any more time going through endless resumes and job applications. Our tests and dedicated ATS will help you streamline your talent funnel so that you can focus on only the best of the best and hire the right candidates.
Greater Test participation
New age problems require new-age solutions. You need not spend on exam centers and amenities for a physical test. Candidates can take tests from the comfort of their homes, resulting in greater test participation.
Cheating Prevention
The test window is proctored. The candidate is monitored via webcam to ensure that there is no impersonation and that the candidate does not communicate with others in person or using mobile during the test.
Detailed Reporting
Get a detailed report on the candidate's performance. Consolidated reports accompany a feature to shortlist candidates into different groups for further processing. Single-click sharing of candidate reports with the team members for review.
This content was brought to you by Evalground Online Testing Platform. Evalground is an online assessment and test evaluation system focused on helping Recruiters in initial screening of potential candidates from an ocean of job seekers in an automated way.Evalground supports Online Aptitude Tests, Spoken English Communication Skills Assessments, Coding Contests in JAVA, C, C++, Ruby, Python, JavaScript and PHP.  Evalground also supports Automated asynchronous interviews. Evalground Screening Tests can be used by Recruiters during campus hiring or to screen walkin candidates.