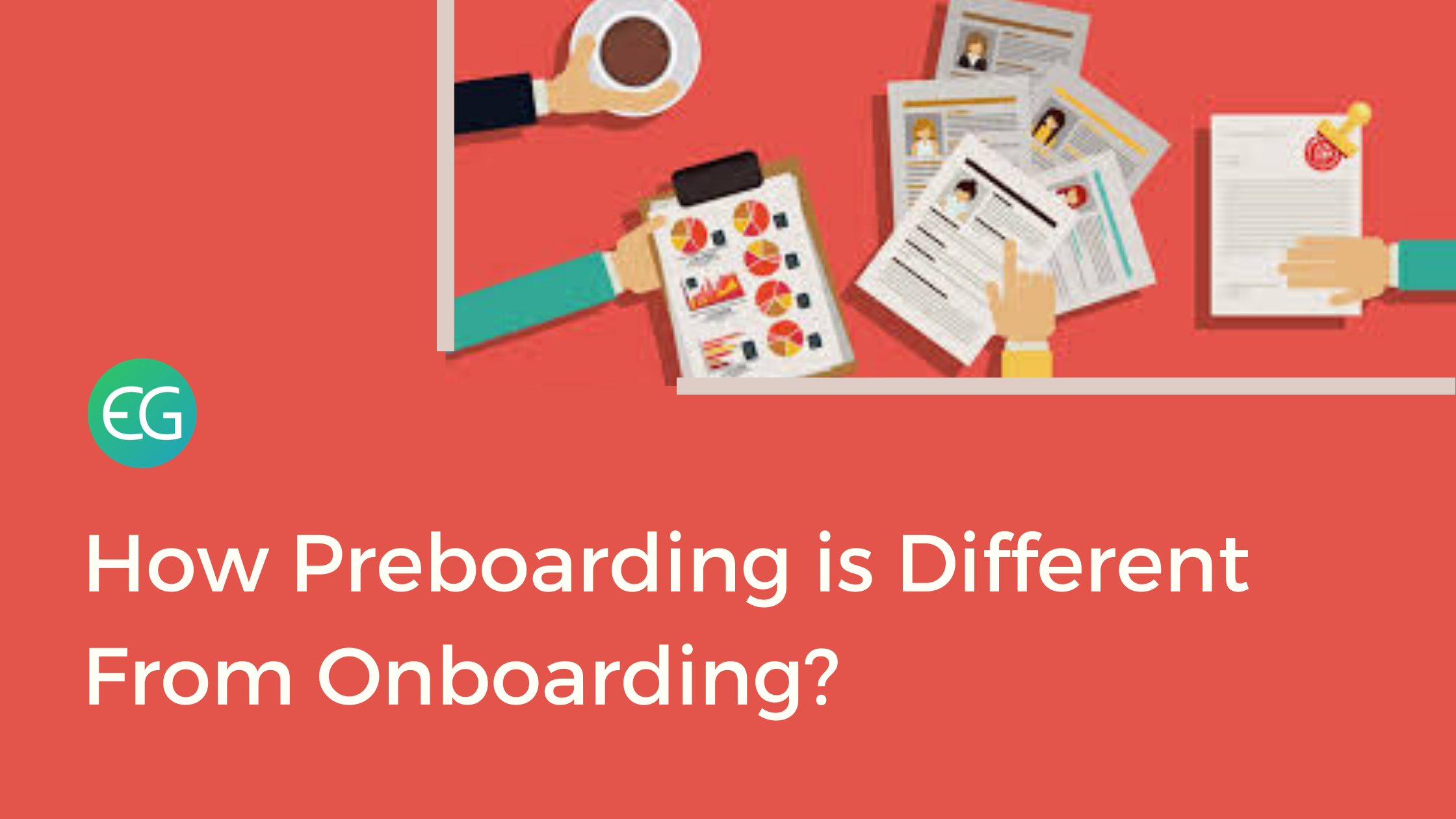 If you are someone who works in Human Resources, you know how much time and effort goes into recruiting a new employee to the organization. After the candidate goes through the recruiting process – which is quite an endeavor in and of itself – you then have to warmly welcome the new recruit and tell them all that they need to know about being a part of your company and what actually will be like working for your company.
Many new joiners want to jump right in and start working right away from their very first day. However, there are a few introductions and formalities that must be taken care of before anything else. While a lot of it may not be exciting to an eager new recruit who is gunning to get started, onboarding (or preboarding) is a very important function in any organization. The employee needs to meet his new team, get acquainted with his work area, see the entire workplace, fill out important documentation or paperwork, learn how the company actually operates in a day to day life, and be given the proper tools required to do the job. Then they can hit the ground running.
What is Onboarding?
Onboarding refers to a process in which new employees acquire the essential skills and knowledge to become effective members of the organization. Onboarding is an essential part of the recruitment process in which a candidate transforms into an employee. Formalized onboarding practices deliver proper set-up, procedural based policies, newly hired candidates training, and solicit feedback from both the new hire and hiring manager. An automated and organized mechanism for doing so will make the new candidates feel welcomed and valued. From the perspective of the new hire who would probably be feeling confused and nervous. So, a better onboarding program will help them to settle down and acquaint themselves with both the physical layout and working culture of the organization.
Creating, executing, and maintaining an efficient onboarding program takes the commitment of the entire organization. An organization that shows a commitment to their onboarding uses tactical and strategic initiatives, a structured approach, in addition to the latest technology throughout the onboarding process. These efforts pay quick results by working to protect an investment in recruiting and employing high performing candidates, helping to provide magnified revenue performance; improved client experience; and protecting organization brand reputation. Leading B2B organizations today embrace this approach, which uses online tools to enhance their onboarding program and enable new hires to hit their targets, faster.
Conversely, a poor onboarding program implies a confounded fresh recruited employee who is less inclined to stay extremely long with your organization and will probably be considerably less productive. Remote work has grown by 173 percent since 2005, 11 percent faster than the remainder of the workforce. Over half of the workforce holds an occupation that could possibly be done, from home—and employers are progressively permitting work from home to employees as COVID-19 keeps on spreading. In addition to diminishing the health risks, remote work has appeared to build productivity, decline in absenteeism, decline in turnover, and save money as well. As more managers understand these advantages, many anticipate that remote work should turn out to be progressively normal after the dust settles from COVID-19. 
What is Pre-Boarding?
As we have discussed above, while onboarding is important, you've probably realized by now how time-consuming it can be sometimes. It requires taking an excited and motivated employee away from their desk for quite a long period of time which doesn't allow them to be accustomed to the work that they will be doing every day which actually doesn't move the company forward.
Many companies have now started the process of making the candidate familiar with the company between- when an applicant accepts the employment offer officially and their first day in the organization. This is known as employee preboarding.
Some of these procedures, for example, issuing the company computer and perhaps going over the company policies, will need to be covered in person. However, other things that do not require a lot of explanation, like how to complete tax and insurance paperwork (he might already be doing it from his previous employment), can be handled over official email before the employee joins the workplace. Preboarding helps in saving plenty of time and it allows the new hire to understand and focus on work from day one on. These being said, there are also a number of other reasons for you to opt for employee preboarding over the traditional onboarding.
In other words, 'pre-boarding' refers to the complete process of engagement with the candidate your company has up and running when the applicant accepts their job offer, right through to their first actual day working for you. 
The primary focus for you as an employer should be preparing your new recruit and drumming up some excitement as their first day of work in your organization approaches. 
Needless to say, how you welcome your fresh recruits kind of creates the first impression and your image on your company's culture, budget, employee engagement, and creativity…but the important thing that you should always keep in mind is having some structured pre-boarding plan and protocol in place.
There is much more to employee preboarding than just shifting a few onboarding activities before the employee's first day. In addition to moving away from all the formalities and jitters, it also focuses on welcoming and engaging a new recruit and putting their mind at ease before they start working.
For any person, accepting a new job is a major life-changing decision. Even if the candidate gets excited by all the new possibilities going through the interview phase, it's easy to have second thoughts about the decision even after they say yes to your employment offer. All recruiters are well aware that most candidates don't start a new job right away as they have to serve their notice before leaving their previous workplace. So, there is plenty of time for the candidate to discuss with their current job or wonder if they would have been better off keeping their old job or maybe there are better roles with a different company. These feelings are quite natural and they stem out from all the changes and uncertainty that comes with making a career change.
You as an employer can eliminate quite a few of these negative feelings with some or the other employee preboarding activities. Instead of simply sending some official paperwork for the fresh recruit to complete and send back, try to keep them engaged, you can also welcome them in the following ways:
Add them in the company-wide email chain or Skype group as per your regular choice of communication. Send a company-wide email announcing the name and some tidbits about the hire and encourage everyone to welcome their new colleague. Introduce the new hire to their teammates and let them get acquainted with each other over a video conference maybe.

Invite them to stop by the office before their joining day. Give them a small tour of the company and introduce them to their team members or mentors over a cup of coffee maybe and show them where they'll be working.

Schedule a lunch or a coffee meeting with their immediate team and manager so they can get to know everyone in a casual setting.
This content was brought to you by Evalground Online Testing Platform. Evalground is an online assessment and test evaluation system focused on helping Recruiters in the initial screening of potential candidates from an ocean of job seekers in an automated way.Evalground supports Online Aptitude Tests, Spoken English Communication Skills Assessments, Coding Contests in JAVA, C, C++, Ruby, Python, JavaScript and PHP.  Evalground also supports Automated asynchronous interviews. Evalground Screening Tests can be used by Recruiters during campus hiring or to screen walk-in candidates.