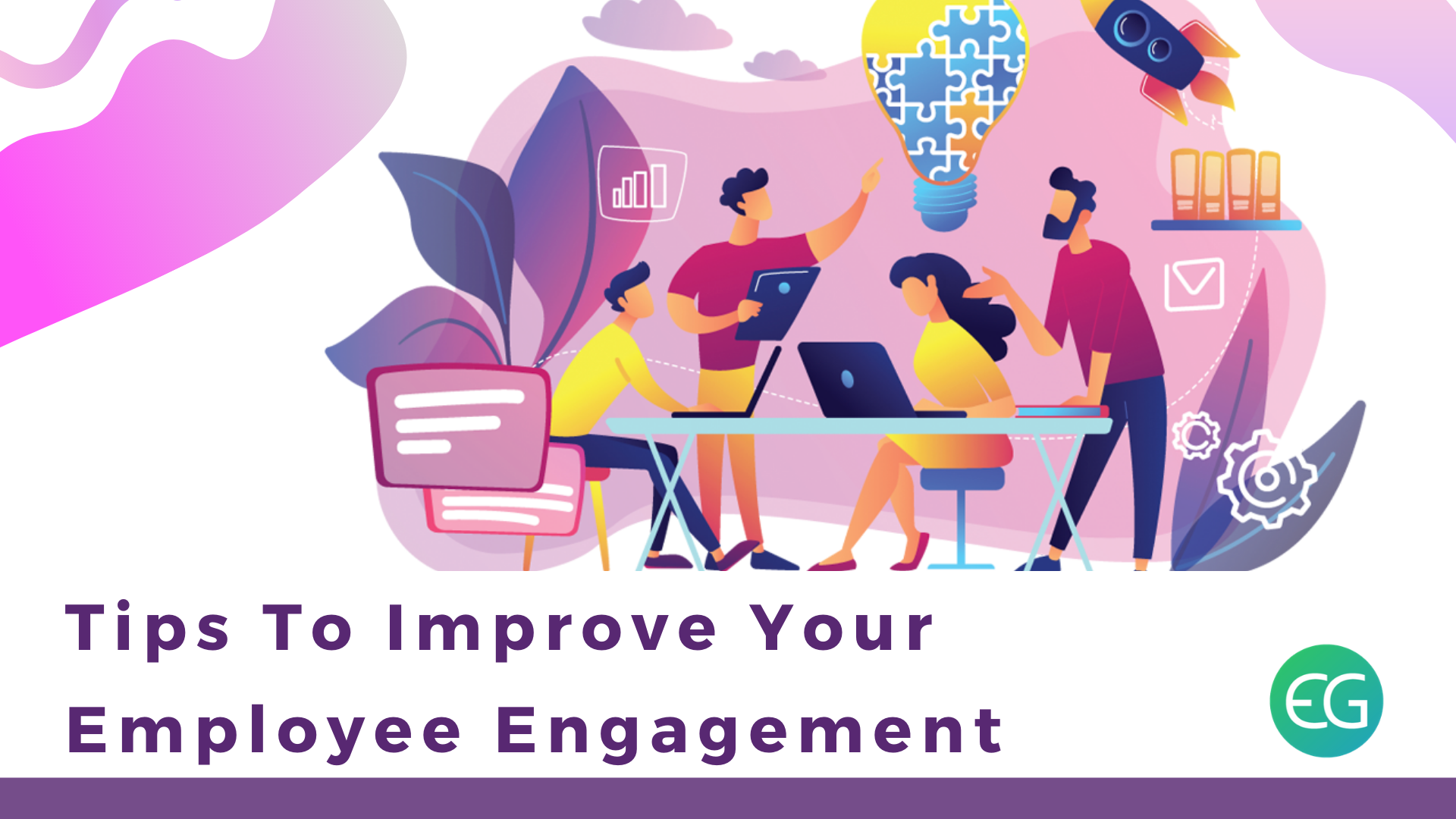 Since the time WHO formally declared the COVID-19 outbreak a worldwide pandemic, organisations all over the financial services industry have been hit at two distinct levels: in addition to the fact that they have to manage the vast business issues of manoeuvring through a global economy that itself is in a state of flux, furthermore, they need to manage the more grueling everyday issues of rewarding, motivating, and dealing with the frontline workers, who despite everything need to go into work each day. 
What strikes a chord when you think about the term Employee Engagement? 
Keeping employees occupied in their jobs. 

Getting just the high performing candidates onboard.

Or on the other hand, giving an attractive paycheck to support your employees' performance and commitment. 
All things considered, if these are the only things that you envision it to be, then it's about time we change your impression. 
Employee Engagement is much more than just a program; it involves a social shift — an improvement in how things are done and how the communication flows from the highest level to the bottom of the organisation. Engagement cannot just be a two-minute activity in the of each meeting, where it will have a higher possibility of being ignored by the employees. It's not a per-person activity; it is a part of an ongoing business. Also, if you think in a broader perspective, once you start your journey on strategic employee engagement, there is no finishing line, it is a continuous process, a journey without a final destination.
Employee engagement is a majorly a workplace describing the correct work conditions for all members from an organization to give of their best every day, focused on their organization's objectives and goals, motivated to add to the overall organizational achievement, with their very own improved feeling of well-being. 
Employee engagement depends on trust, honesty, it is a two-way road of commitment and open communication between an organization and its employees. It is a methodology that builds up the chances of business success, adding to management's as well as individual performance, profitability and prosperity. Employee engagement is something that can be quantified. It tends to be nurtured, supported, and drastically increased.
In simple words, as described by a business dictionary, "Employee engagement is the emotional connection an employee feels towards his or her organization, which tends to influence his or her behaviors and level of effort in work-related activities."
Tips For You To Improve Your Employee Engagement:
Rewards and Recognition:
Each individual needs to feel acknowledged for the work they do. Make it a habit to thank your immediate reports when they go the additional mile, regardless of whether it's with a sincere email, a gift voucher, or an additional three day weekend. Whenever you demonstrate your gratitude to employees, clarify how their hard work helps the organization. A few organizations set up formal prize frameworks that boost good thoughts and development, however, you can initiate acknowledgment programs even on a small group with a small budget.
Organizational Approach:
Overall, it is suggested that organizations embrace a progressively engaging organizational approach towards improving employee engagement – from high-level performance measuring metrics, for example, the development of an engagement board through company-wide awareness training and worker association programs. Employee engagement should be paid attention to at all levels to understand the full advantages of it  – even so much so as connecting engagement and consumer satisfaction dimensions into the employee bonus scheme.
Engagement Board: 
Building up an engagement board made of senior members from all over the business to promote a culture of engagement. The Board could set up 'engagement gatherings' to comprehend engagement better from the employee point of view; an 'engagement team' could actualize new methodologies and 'engagement champions' could be delegated to bring issues to light of the significance and intensity of employee engagement. 
Central Groups 
Setting up engagement center gatherings including operational assistance administrators to supplement and upgrade the yearly employee survey. The center's meetings would be driven by employees and could go about as a feedback mechanism on the yearly study and actions undertaken as a result of the survey.
Mindfulness Training
Giving engagement awareness training to all levels of employees and the board to clarify the significance of engagement, the advantages of elevated levels of engagement, and the boundaries to engagement. 
Improve Communication 
Completing a full audit of correspondence to create methodologies and strategies that serve to improve engagement, for example, the inclusion of employee grants occasions, acknowledgment stories, contextual investigations, and perceiving employee accomplishments. As featured by the exploration discoveries it is additionally viewed as fundamental that correspondence is seen from the viewpoint of employees, and not solely from the point of view of administrators. 
Employee Involvement Programs 
Executing laborer inclusion projects to encourage engagement, for instance, contribution in wellbeing and security to guarantee employees become occupied with the security parts of their work, along these lines encouraging upgrades, and advancing the organization's security program. 
Collaboration 
Where conceivable the idea of working in groups to upgrade engagement ought to be directed as the examination discoveries feature the advantages of solid connection to associates. It is accepted this could prompt improved efficiency.
Bonus and Perks
It's significant in this competitive labor market for organizations to offer appealing compensation packages. That incorporates compensations, obviously, yet additionally rewards, bonuses, paid time off, medical benefits, and retirement plans. Each employee ought to have a full comprehension of the advantages that they receive from your organization from the starting point. 
As indicated by a collection of recent surveys on employee retention, only 24% of "Generation X" employees say that financial stability motivates them to stay in their current job. Yet 56% of employees state that health care and insurance concerns keep them in their current job. Benefits and perks that are really beneficial matters. Money matters. What you offer your employees in this area must be equivalent to different organizations in your industry in your area. 
Regardless of whether it's paid time for volunteering, occasional catered food snacks or free bites, and coffee every now and then, these perks and advantages can make your working environment stick out and help in improving employee spirit. A few organizations arrange group discounts on first-class buys, from vehicles and homes to cell phones and home security frameworks.
Conclusion:
So once all these are discussed and understood, directors must make it a point to make an employee's experience with work satisfying. 
Employee engagement is a two-way process. It is about how you treat and cooperate with your employees. What's more, only the manager can overcome any barrier between employee engagement and disengagement. 
There's no uncertainty that it's an extreme activity. Be that as it may, there are numerous approaches to accomplish this. 
Measures like employee advantages, prizes, and acknowledgment, and so on are acceptable. These measures assist you with keeping your employees propelled and fulfilled. 
Having an employee engagement stage can be an incredible move as well. Such a stage enables the business to accomplish three key focuses – 
Retaining gifted and experienced employees. 

Connecting with the current workforce for better productivity. 

Attracting and hiring the best talents to work for the organization. 
Along these lines, it's significant for managers to comprehend the drivers of employee engagement and apply them as needs be. Since having a drawn in workforce is pivotal for guaranteeing great development and better steadiness.
This content was brought to you by Evalground Online Testing Platform. Evalground is an online assessment and test evaluation system focused on helping Recruiters in the initial screening of potential candidates from an ocean of job seekers in an automated way.Evalground supports Online Aptitude Tests, Spoken English Communication Skills Assessments, Coding Contests in JAVA, C, C++, Ruby, Python, JavaScript and PHP.  Evalground also supports Automated asynchronous interviews. Evalground Screening Tests can be used by Recruiters during campus hiring or to screen walk-in candidates.