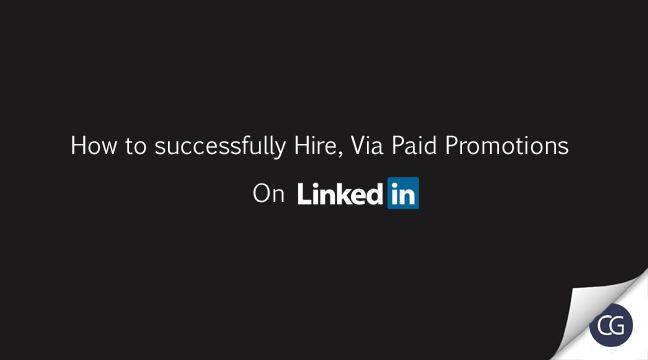 LinkedIn- Can be an incredibly valuable tool for recruiting.
Are you looking for top candidates from your LinkedIn account?
Are you a brand marketer looking to raise your brand awareness via paid posts?
Do you want to use LinkedIn paid promotion to get help with your recruiting needs?
Or, A little bit of all?
So, you're in right place! LinkedIn is a social network for professionals. This huge social network site allows members to share their updates, experience, skills and past achievements on their profiles and gives employers an opportunity to screen the candidates before they make contact. But how exactly recruiters can identify the candidates they're after, in such a big online platform? LinkedIn's paid promotion or advertising platform lets you reach highly targeted groups of professionals with your customer acquisition message.
Most recruiters are not leveraging the LinkedIn platform to its full potential to market their jobs. In this article, you'll discover how to use LinkedIn paid promotion or advertising platform to reach the most relevant candidates for your organization.
Identify Your Ideal Candidates
Finding any ideal prospects is the first step in the process. They need to be highly qualified and they also can truly fit into your organizational culture. To find these ideal prospects, look for candidates who are a bit different than what's actually listed in your job description. For example, for an IT director in a high-demand market try to find candidates who could be interested in moving to a faster-growing smaller company. Next, try to get 40 to 50% of the candidates on your short list of ideal prospects through referrals itself. That makes it very easy to get them to call you back. To get these types of good referrals, use a process "reverse referral process." Here's how you can leverage it: First, search on for your first degree LinkedIn Recruiter connections to identify some good prospects, then get the referral and qualify the candidate. Even if you cannot recruit them, you can still connect with them and use the same candidates for reverse referral process to get some other ideal prospects too.
 Know Your Organization Culture Well
One of the major mistakes any recruiter can make while promoting a job to search for the right candidates is not knowing the basics of their organizational culture. Because a well-thought-out job description requires organizational knowledge. Once the job description is written, organization knowledge is important to understanding where to look for the right candidates on LinkedIn. Because a job position you are trying to advertise should be relevant to whom they should be marketed. So knowing your organization also makes you more likely to know which groups to join and start discussions or to post about your opening. It also goes without saying that a working knowledge of your organization's culture is essential in sounding professional and knowledgeable once you begin interacting with top candidates.
How To Refine Passive Candidates
You can find Passive candidates very easily because they comprise a large part of the LinkedIn demographic. These are those candidates who are simply not actively searching for a job and also they are not willing to speak with an employer about any open job opportunities. It is true that, for many, the grass is perpetually greener on the other side. What we are suggesting here is to apply more creative methods to attract feasible passive candidates, particularly for jobs in which the number of job openings far exceeds the existing talent pool. A well-written and strong subject line, as well as a strong job description, is necessary.
Sponsor Your High Priority Jobs
Quite simply, sponsoring a job on LinkedIn can draw appropriate candidates. Sponsoring a job is a pay-per-click property available on LinkedIn, in which recruiters are provided higher placement on the list of jobs in which potential candidates might be interested. In return, when the candidate clicks to view the job, the company pays a fee. Sponsored jobs are also featured on the LinkedIn homepage. Of course, one of the critical elements to a sponsored job posting is, of course, a very strong job description since candidates are more likely to respond to job postings if they have a good understanding to what they are responding.
Throw Paid LinkedIn Advertising Into The Mix
Consider incorporating paid promotion tactics into your LinkedIn job posting strategy because Sponsored Updates are ideal for distributing and promoting your job description. They are also great for increasing the visibility of what your job post. Target your updates according to offer type and industry. In addition to applying a Sponsored Updates, LinkedIn also supports a self-serve ad platform. Here, you can filter your target candidates by any role, company size, company name, industry, role function, which makes easier to find your sweet spot.
Use Your Existing Employees as a Promotion Tool
Chances are one of your best recruiting and marketing tools are your existing employees. Existing employees not only know where and how to find good candidates, they know for what good candidates are looking in both a job and an employer. If your employees don't already have a presence on LinkedIn, encourage them to join. Publicize it to your employees when a new job opening becomes available. Make a link to your job posting available to them and encourage them to share within their LinkedIn network. And then they tell someone, who then tells someone, and so on.
Make Sure Your Company Has an Engaging, Up to Date Profile
It's important to have a well-maintained LinkedIn company presence that accurately represents the company and, like a good job description, explains what the company does (its products and/or services), as well as highlight some of its core values. Images and multimedia tools should be incorporated to encourage visitors to explore and entice them to want to know more. Encourage your employees to link to your company profile and use targeted updates to notify specific candidates about job openings.
Use Networking Groups and Forums to Spread the Word
Aside from any personal candidate profiles, LinkedIn also contains groups and forums where professionals go to network as well as discuss the latest developments in their field. Knowing which of these forums will attract the hottest talent is a job promotion tool that requires special skill. People are more likely to notice, follow, and link to you if you give them a reason. Forum posts or replies that you contribute should be accurate, well constructed, and professional. In fact, many networking forums and groups restrict recruitment activity to only those recruiters who maintain an active presence within them.
Track And Capitalize On Engagement
As a successful B2B platform, LinkedIn tends to be active at some peculiar times during the week. If you're trying to leveraging into LinkedIn paid promotion, begin by posting your jobs at 6 am, 12 pm and 7 pm. Track your engagement in LinkedIn's analytics to find out which particular job updates receive the greatest level of interaction from a specified area. Boost the engagement of your posts by scheduling your job updates just before or just after the hour to take advantage of users who are checking their social feeds just before or just after appointments or meetings.
This content was brought to you by Evalground Online Testing Platform. Evalground is an online assessment and test evaluation system focused on helping Recruiters in initial screening of potential candidates from an ocean of job seekers in an automated way.Evalground supports Online Aptitude Tests, Spoken English Communication Skills Assessments, Coding Contests in JAVA, C, C++, Ruby, Python, JavaScript and PHP.  Evalground also supports Automated asynchronous interviews. Evalground Screening Tests can be used by Recruiters during campus hiring or to screen walkin candidates.