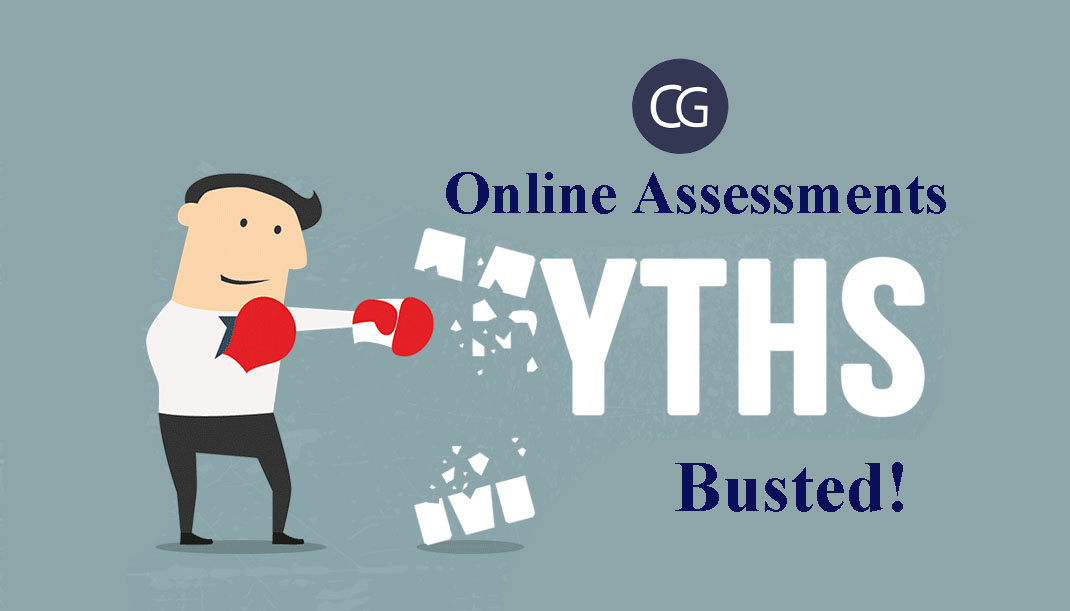 Online assessments have gained popularity in present-day recruitment. As we see potential employers trying to bridge the gap and see how well a prospective candidate fits the profile he has been picked for.
An online assessment that is high quality, extensive customizable library, and a ruthless cheating mechanism, will add great value to any organization, however big or small, by delivering insight into the selection process and the work style, ethics, aptitude, preferences, etc of an individual. But with the sudden boom in the popularity of these tools, a hoard of myths surrounding them is inevitable.
So let's embark on a mission where we try and bust some of the most popular myths on online assessment.
Myth 1: Assessments are not accurate
Fact: Online assessment tools come to the rescue here with automated and comprehensive reports of the candidates based on their performance in the test and end up eliminating any sort of human error. These reports will be delivered straight to your desktop enabling a recruiter to analyze results with ease from their cabin. Also, they can increase the probability of hiring quality candidates and also help screen and select the best-suited candidates for a specific job profile.
They say that To err is human.
So what should you do when one bad hiring choice can affect your organization when it comes to time as well as money.
Well, there is a solution. Eliminate human bias and mistakes by bringing in automated online pre-assessment tools. Pre-employment skill testing can help you in finding a proper job fit between the candidate and the job you are recruiting for. Online assessment tools can help you here by matching the right candidate to the right job leads to increased productivity and reduced total employee turnover. One of the features of these tools includes an automated grading process that ensures all the test scores are objective and free of any type of human error.
Myth 2: Expensive
Fact: An online assessment tool is not only cost-effective but also the simplest, valid, and reliable way to identify top talents. And if you are ready to invest a little bit of money in online assessment tools, you will actually be able to save even more money during the complete hiring process.
Online assessment is an exceptionally efficient as well as an effective method of recruitment in which you can focus on such candidates who are worth moving forward into the next phase of the hiring process. Because no matter how many candidates you have to consider, they can be evaluated simultaneously in a matter of a few seconds. This approach is extremely user-friendly and more cost-effective than any traditional method.
Myth 3: Candidates can easily falsify the results
Fact: Contrary to popular beliefs Online assessments have ZERO tolerance for cheating.
One of the most common myths about online assessments that have been doing the rounds is that the candidates can falsify the results. A lot has been said about online assessment tests over the internet. But some traditionalist recruiter who believes in perfectionism, still thinks that it comparatively better to have traditional recruitment methods as they give them the opportunity to manually invigilate the whole examination procedure and ensure that the candidates do not undertake any cheating methods. However, as the candidates get smart and go on a cheating spree, online assessments are catching along as well.
Get advanced security with:
(1) Webcam Monitoring feature allows capturing of test takers' periodic images during an exam/test.
(2) Window Proctoring feature mandates that the candidates stay on the test screen for the whole duration of the test.
(3) Copy Detection Module checks a submission across all submissions and gives a report with similarity and diff metrics
(4) Question Pooling feature enables the showcase of a set of questions chosen randomly from a large pool of questions.
(5) Shuffle question and (6) Shuffle options feature shuffles the order in which questions and options are shown to a candidate.
(7) Force full-screen feature forces the candidate to make full screen and then give the test.
Myth 4: Negative candidate experience
Fact: We have noticed a slight worry in Quora that online testing is not especially popular among candidates and hence might hurt your recruiting process and in turn the organization.
Research into candidate experience and feedback has enact thrown light on the fact that in fact the very fact that the organization has made an effort to automate their screening process and be thorough in their filtering of candidates, acted as a great positive in the perceptions of the organization as a brand.
The tests and the landing pages and be customized with your personal brand and can help greatly in brand recognition.
Added to this, clear instructions regarding the tests before and after assessment, opportunity to communicate/share feedback throughout and on completion of the process. This is a small courtesy that is seen as a very professional move.
After All, an organization's recruitment process is actually, in fact, one of the largest marketing campaigns for the brand and it is rather crucial that everyone who comes in contact with your brand is seen as either a prospective employees or clients.
Myth 5: Only appropriate for roles with large volumes of candidates
Fact: Online assessments are extremely cost-effective and work perfectly well for small sizes as well.
Online assessment can be customized based on the roles, job description, industry, market size, current requirement, and many more.
Myth 6: Bias
Fact: Online assessments are objective-oriented and are completely automated. Online assessment tools and tests remove the chances of the recruiter having any personal bias towards the candidate. This will ensure that you can think away about all the legal risks or future lawsuits that might come your way from some unsatisfied candidate.
However, we should inform you of an unfortunate truth: none of these tools is a magic wand.
When linked to individual job performance data, online assessment test results can produce lead indicators to help organizations with the selection, talent management, assessing workforce capability, employee engagement, understanding organizational culture, and succession planning with a high degree of confidence.
In the wake of everything said and done, at the end of the day, every candidate differs from each other and every day you will encounter new people and problems, but hey, isn't that the adventure which keeps the work from being mundane?!
So let's keep in mind, we only move ahead when we think we are yet to be masters and are only the student. Keep moving forward and Happy Recruiting.!
If you still need further assistance, we at Evalground are here to help! Just specify your needs and we will create assessments on your behalf. We have our own set of assessments but if you want something more, we will customize it for you. We also have a large library where you can find a number of questions related to every topic you can think of!
This content was brought to you by Evalground Online Testing Platform. Evalground is an online assessment and test evaluation system focused on helping Recruiters in the initial screening of potential candidates from an ocean of job seekers in an automated way.Evalground supports Online Aptitude Tests, Spoken English Communication Skills Assessments, Coding Contests in JAVA, C, C++, Ruby, Python, JavaScript and PHP.  Evalground also supports Automated asynchronous interviews. Evalground Screening Tests can be used by Recruiters during campus hiring or to screen walk-in candidates.