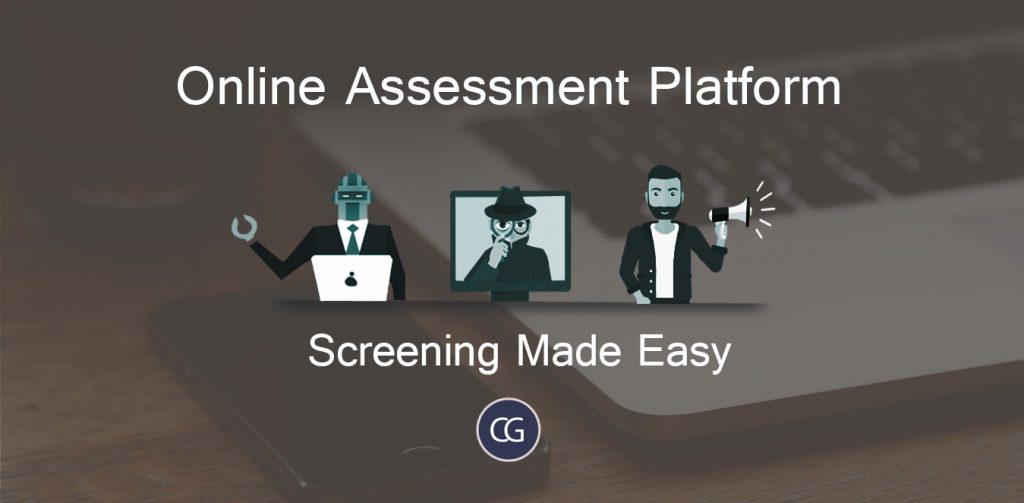 Verify your candidate's job fitment with online assessment platform that will rank up your hiring process exponentially by aiding you the recruiter in the screening and filtering of potential candidates from a sea of job seekers in an efficient way.
So let me break this down and simply how you can improve the quality of an hire and reduce the time and costs  per hire for you.
How does it work?
Step1:
Create tests by simply picking from a in–depth library of pre-built skill tests, customize one or simply let the SME's do the work for you and order a custom-made test specially tailor made for your requirement.
Step2:
Just Invite candidates to take up the test, either via e-mail or you could simply put up the test link on your site's careers page, go all out on social media or in any other promotional material  you see fit.
Step3:
Candidates can take up the assessment online, enjoying the comfort of the familiar  and not let demographics or the availability of time be a barrier.
Step4:
Instant easy to interpret intelligent reports that can be shared and analysed with your hiring team and make well-informed decisions.Figure the best out of the lot based on Scientific Validated Assessments
Where can you use it?
Campus Recruitment
Conduct campus placement drives or even hackathons all in the matter of a few clicks.
Walk-ins
Host public test for walk-ins.
Brand Promotion
Conduct online contest, customize the test page with your branding materials.
Day-to-day Hiring
Time and cost efficient evaluation of candidates from different sources/demographics.
Fun features
Over 1000's of ready made piping hot tests

Custom tailor made tests

Seamless user  interface

Popuri of question types and difficulty levels

Let experts handle employer branding

Supreme cheating prevention

Intuitive, easy to interpret reports

API
How to pick the right online assessment tool
We have thrown in a couple of tips to safely maneuver the clutter and finalize on the right tool.
Ensure it has an extensive question library:
The first criterion that you have to keep in mind while choosing an assessment platform is that it has a relevant and extensive question library. Also it comes as an added advantage if the questions and the tests can be optimized or tailor made to fulfill your needs.
Instant report and it's analysis:
Online assessments comes with the benefit of eliminating human error. For trainers and recruiters who have been checking and analysing reports manually understands the pain of sitting and going through endless scripts and reports of candidates. It's time to take a breath of relief. Online assessment tests have done away with the need to analyse reports manually. Nowadays in most of the online assessment platforms, the reports generated marks the key performance area of a candidate with a detailed report analysis and the candidate's answers as well. Recruiters can design their hiring and training module based on the data derived from the report.
One which removes the need for invigilation and does away with cheating:
One of the features of an online exam system which will set it apart from its other competitors in the market will have anti-cheating features in place to counter cheating effectively. Most of the tools have auto-proctoring measure. Where an exam can be proctored using a webcam, with options like navigating away from test window or blocking "copy-paste", "print-screen" controls etc. This approach does away with requirement of a manual proctor and requirement of hiring and paying a test invigilator.
Gives you support- Operational, Customer and Technical
Many recruiters will not have a technical know-how to handle related to the software. For them, new updates, "bug-fixing", operational and technical support are jargons. They might require proper application/software support at each stage of the exam creation and completion. For using more advanced features like skills-based simulation tests, high-stakes tests they may require proper support to conduct the test. In those scenarios operational support should only be a phone call or live chat away.
A good online examination software should be able to provide client support and have a technical back-end working actively to keep the software up to date and compatible.
There are many tools swathing the market and each of are perfect in their imperfections depending on your specific requirements. Even though each one is perfect in its imperfect way these tips are simply some directions to help you get in the process of choosing the correct tool for yourself.
Case study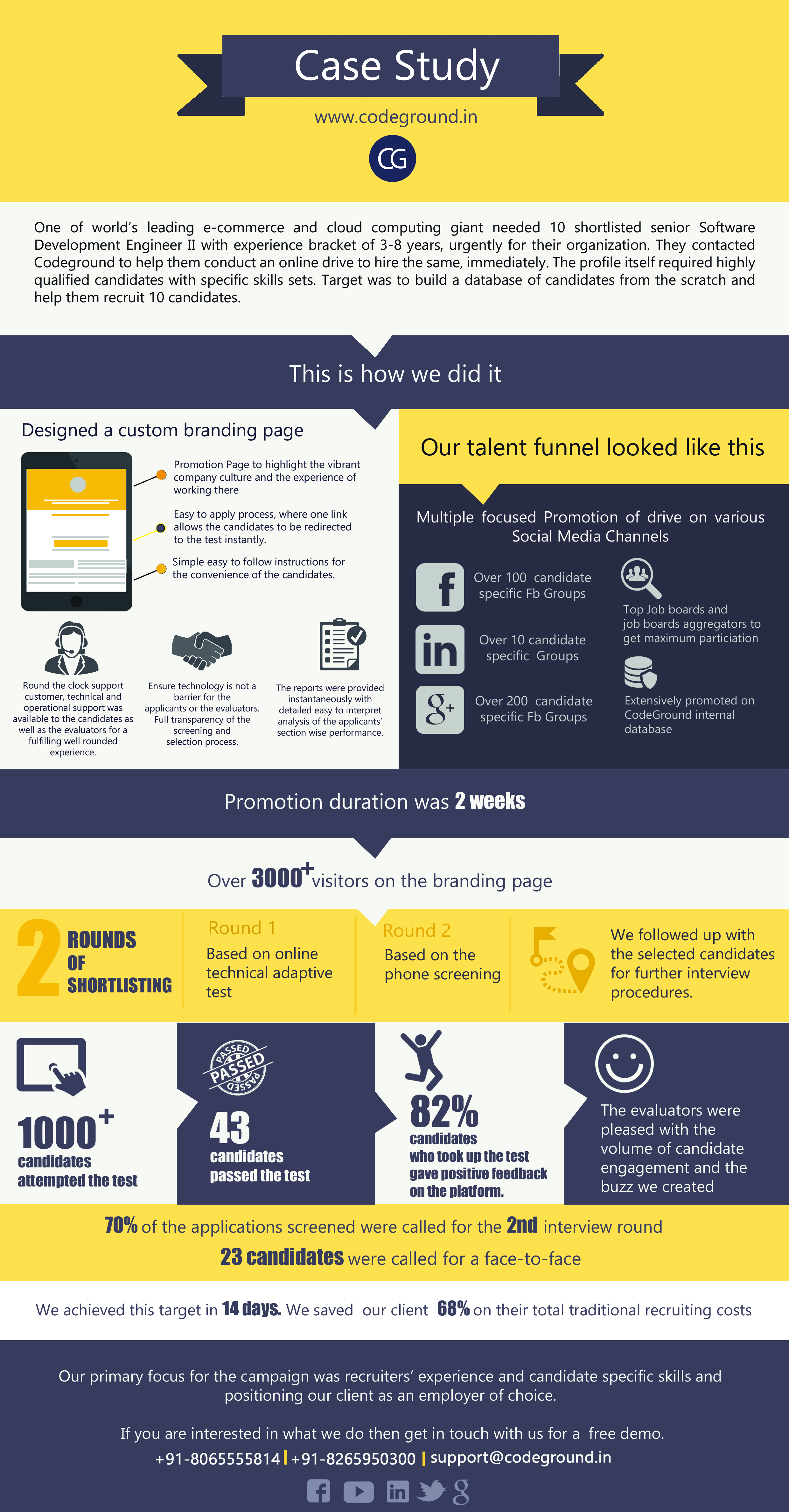 One of world's leading e-commerce and cloud computing giant needed 10 shortlisted senior Software Development Engineer II with experience bracket of 3-8 years, urgently for their organization. They contacted Evalground to help them conduct an online drive to hire the same, immediately.
The profile itself required highly qualified candidates with specific skills set and the design was simple- to promote their brand as well as hand pick candidates who matched their specific requirements among thousands of applicants.
We had two weeks to build a database of candidates from the scratch and help them recruit 10 candidates. Our idea was to create a tailor made assessment keeping in mind the specific skills set required for the profile.
Evalground embraced this opportunity to create a test as per the specifications provided and 1000+ candidates attempted the test. Candidates were tested using innovative test methodologies and extensive analysis of their performance, coupled with psychometric analysis.
This is how Evalground did it:
Creation of a custom online assessment test.
Creation of Promotion Page to highlight the vibrant company culture and what it is to work like there.

It was ensured that technology was not a barrier for the applicants or the evaluators. There was full transparency of the screening and selection process. If a candidate was shortlisted or rejected, then they were informed via email with details.

Round the clock support was also a priority. Customer, technical and operational support was available to the candidates as well as the evaluators for a fulfilling well rounded experience.

Simple easy to follow instructions for the convenience of the candidates.

Easy to apply process was followed, where one link allowed the candidates to be redirected to the test instantly.

The reports were provided instantaneously with detailed easy to interpret analysis of the applicants' section wise performance.

Multiple focused Promotion of drive on various Social Media Channels (100 candidate specific Fb Groups, 100 Google+ Groups, 10 LinkedIn Groups), top of the market Job boards such as, Naukri, TimesJob, Monster, etc.

The drive was extensively promoted on the internal database of Evalground as well.

Promotion duration was 2 weeks (14 days)

The minimum footfall promised to the organization on the landing page was 20 per day after two rounds of shortlisting were done (One based on pre-assessment online adaptive technical test, second based on-over the phone screening) & we followed up with the candidates to show up to the organization's office for further interview procedures.
Our Talent funnel looked like this:
No. of Candidates who attempted the test : 1000+


No. of Candidates who passed the test : 43

           
Post Drive Engagement
(1) Shortlisting resumes of Candidates who were relevant to SDE-II profile.
(2) Analysis of the candidate's performance and shortlisting based on the specifications provided by the recruiter.
(3) Candidates who were selected in the initial online assessment were shortlisted and they were forwarded for further screening procedures which included screening over the phone and Second online test to assess basic DS, Coding And Algorithm Skills of the candidates.
(4) The candidates who passed the further screening procedure was guided by the Subject Matter Experts of Evalground to prepare on leadership topics relevant for the interview.
Our primary focus for the campaign was recruiters' experience and candidate specific skills and positioning our client as an employer of choice. 82% candidates who took up the test gave positive feedback on the platform. The evaluators were pleased with the volume of candidate engagement and the excitement it created amongst the prospects.
If you are interested in what we do and is open to new ways of talent acquisition then give us a shout out on: FB, G+, LinkedIn, Twitter, etc.