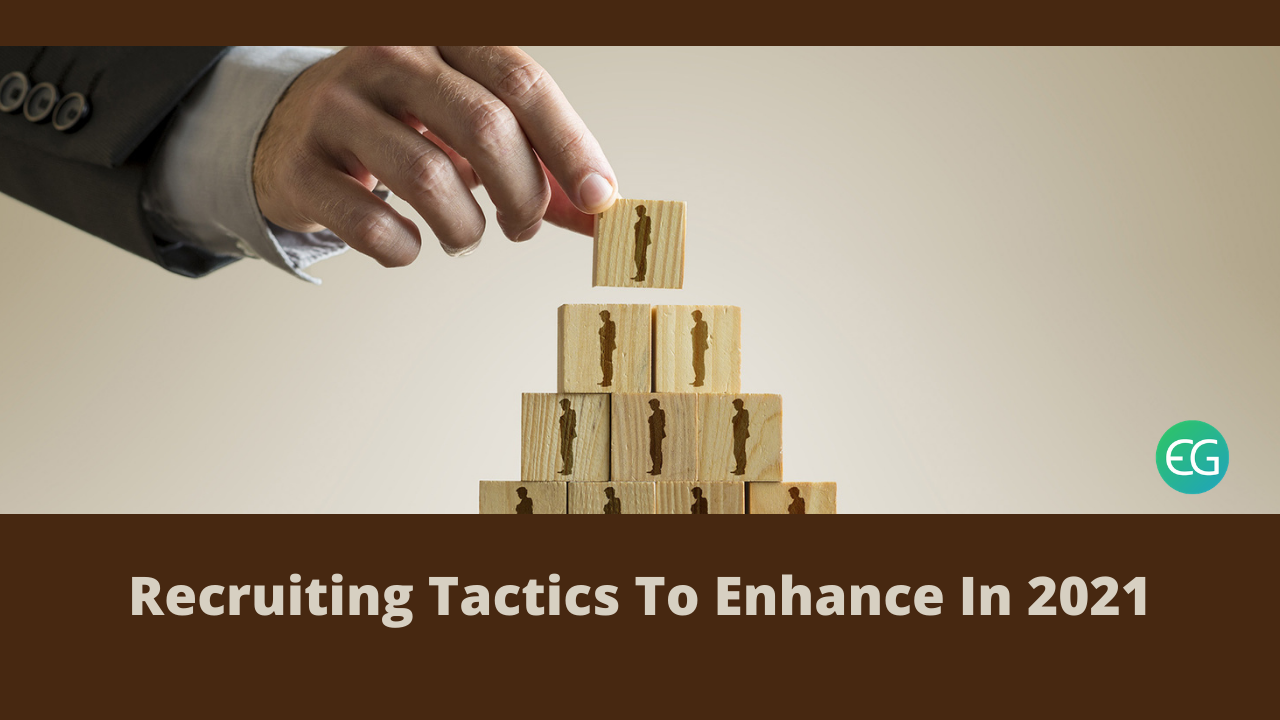 It is well known among the business community that human resources are the most vital assets of any company. Business success is mostly dependant on the kind of people who are a part of the organization, same as any country's wealth. This is one of the first and most important steps to keep in mind while creating any recruitment strategy. 
As the world is changing rapidly especially with the emergence of Covid- 19 pandemic recruiting trends as well as recruiting tactics have changed in a massive way. With the pandemic, unemployment rates have increased and have brought an economic downturn along with it. What is more worrisome is that the gig economy continues to expand and the skills gap in the working class is more apparent than ever.
Under these circumstances, recruiting tactics have to transform and adapt to the new reality. So, what recruiting tactics should you enhance in 2021 to remain competitive and profitable in your business ventures? Read on to find out.
I. Recruitment Marketing:
Recruitment Marketing is the way toward pulling in and supporting skilled people to your organization by promoting or marketing to them. The principal objective of recruitment marketing is to drive people to apply to the open positions your organization has available. Recruitment marketing is the starting phase of talent acquisition
Recruitment marketing can be streamlined by founding recruitment marketing automation programs and software, for example, Evalground and their applicant tracking software C-Track. This product permits recruiters to build up positive associations with candidates that fall inside very specific talent pools, create their own talent pipelines and send personalized messages to the prospective candidates. Recruitment representatives can likewise spare time by scheduling automated messages that permit the candidates to see open employment demands that are pertinent to them. 
II. Employer Branding
You should connect with these potential candidates from each angle and level, through both active and passive sourcing procedures. Be that as it may, before you lose track of the main issue at hand, which is, how you will connect, you should initially characterize what message you will utilize. This starts with employment branding. Having a reliable, engaging in employment brand is the initial step to building up a fruitful hiring funnel. 
As per a survey by Glassdoor, 76% of job hunters need to realize what makes an organization a convincing work environment, before applying for a position there. So make sense of what causes your organization extraordinary, to guarantee it is unmistakably characterized and advance this informing reliably all through the entirety of your interchanges, both outer and interior.
Hence employees are a company's best brand ambassadors and their stories speak volumes more than a company's mission statement. In this scenario, online recruitment solutions like evalground.com, assist companies to promote their brand by leveraging their online presence through the creation of a Company's Brand Page along with the details of the open job positions, detailed presentations, and videos. These pages are promoted over varied social media channels.
III. Automate Your Hiring Process:
Recruiting automation is a category of state of the art technology that permits organizations to automate repetitive recruiting tasks and work processes so they can increase recruiters' efficiency, faster time-to-fill, decrease cost-per-hire and improve the talent profile of their company. Recruiting automation empowers talent acquisition teams to automate the processes that till recently were performed physically. These technologies take influence from artificial intelligence  (AI), AI, and machine learning and can be found at all phases of the hiring cycle. Recruiting automation technology innovations are utilized by organizations hoping to expand their competitive advantage in hiring. These organizations recognize that the "status quo" method of hiring basically doesn't work just as it used to during a time of hyper-competitive talent searching. These organizations are hoping to accomplish better results, in a short amount of time and often with lesser resources relative to the end goals they are trying to achieve.
IV. Trust In Data-Driven Recruitment:
Data-driven recruitment is the gathering, analysis, and interpretation of data of talent pool to find the best talent for your organization faster. Data-driven recruitment is the situation when you use tangible data and facts and hardcore statistics to help make your recruitment decisions, from selecting the candidates to creating a solid hiring plan. Hiring teams that utilize data and statistics are more likely to be efficient, effective, reduce hiring costs, and improve the quality of hire. In simpler words, the approach of data-driven recruitment is the activity of using facts and data to optimize the entire recruitment process.
V. Enhanced Candidate Experience:
We all know the details. 60% of candidates experience an awful experience when applying to a new position, and 72% of them decide to impart that experience to other people. What's more, by chance if you feel or you believe that as a huge venture or a notable brand, you're safe to this, consider just 59 of the Fortune 500 organizations score higher than 80% on "Would recommend to a Friend" on Glassdoor. Employment rates are at a decades high. In addition to the fact that jobs are open for more, data about jobs and managers is likewise more promptly accessible, and candidates themselves are less limited by geology or language. The work environment is getting socially progressively open to the culture of job-hopping, and in such a serious competitive setting, each part of the enrollment experience matters.