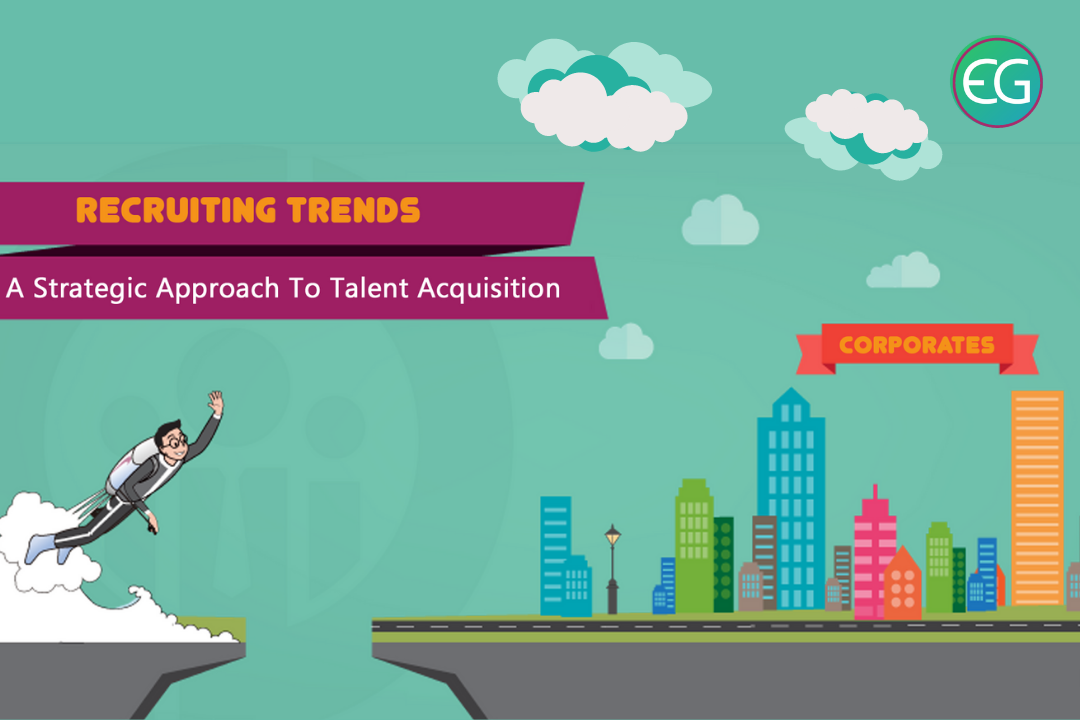 Hiring forecasts and recruiting trends for 2021 have shown a bullish trend, and employers aiming to increase the headcount must differentiate themselves from the competition in order to win talent.
Many of the recruiting trends like — Employer Branding, Talent Analytics, repairing the candidate experience and leveraging HR technologies — are likely to prevail in the industry.
As the employment market continues to tighten, it will become increasingly difficult for employers to find quality skilled candidates to meet their needs. Attracting and retaining talent will also remain a challenge as candidates experience an increase in the number of competitive job offers, along with better salaries and opportunities. Hence companies are bound to follow even more strategical approaches to acquire talent, attract and retain the talent. Some of the most popular recruiting trends are illustrated below:
1. Focus on Employer Branding:
Job seekers today are more sophisticated. They want to know as much as possible about the job, company, culture, and corporate values. And they won't bother to apply to a company if they can't find enough information about the company online.
With the evolution of social media and employer-brand-focused sites like Glassdoor, it's critical for companies to focus on establishing and developing their brand. They need to look for ways to showcase why candidates should apply to work there. Recruiters must be prepared to have robust and honest conversations about every aspect of the job.
Hence employees are a company's best brand ambassadors and their stories speak volumes more than a company's mission statement. In this scenario, online recruitment solutions like evalground.com, assist companies to promote their brand by leveraging their online presence through the creation of a Company's Brand Page along with the details of the open job positions, detailed presentations, and videos. These pages are promoted over varied social media channels.
2. Use of Talent Analytics:
Analyzing and curating data to measure and improve hiring will become more prevalent. HR and recruiting leaders must find ways to get their arms around data and develop true insights about future and current employees.
Many companies are already hiring full-time analysts to mine for more in-depth talent metrics than simply reviewing basic operational measurements like time-to-fill, cost-per-hire, and source-of-hire. Some companies are using data to capture a whole-person analysis of candidates to determine if they have the competencies, experiences, traits, and drivers to succeed.
3. HR Will Look to Repair the Candidate Experience:
Organizations are trying to review their recruitment processes to make sure that candidates can easily find and apply for open positions. Every single candidate touch point like — the online application experience, each interaction with the scheduler, the preparedness of the interviewers, the turnaround time in communicating with candidates, the way an offer is delivered—reflects on the employer. If the employers are missing the mark, the world soon knows about it through sites like Glassdoor.
The future is candidate-centric. That is they will drive the frequency and medium of communication. They expect text messages and regular status updates. If a company can't do that, or won't do it, it is showing itself as someone who is slow to the game. They also expect actionable feedback i.e. if a candidate doesn't get a job, the company should offer ways he or she can improve and potentially land this job the next time.
For this, the companies should focus on improving the rejection process. They need to come up with a more helpful rejection letter which mentions the areas of improvement, suitable job positions for his knowledge and ways to improve than giving a cold letter saying thanks and sorry.
4. Integration of HR technologies:
HR technology will become more streamlined as clients are shifting from multiple vendors to all on one platform. Though the integration is improving at a slower pace, a few talent acquisition suites like evalground.com, Hacker Earth etc have started to take hold, being a true all-in-one platform.
While the market continues to shift, the most important consideration for organizations looking for technology solutions is to ensure that they are clear about what they need and why.