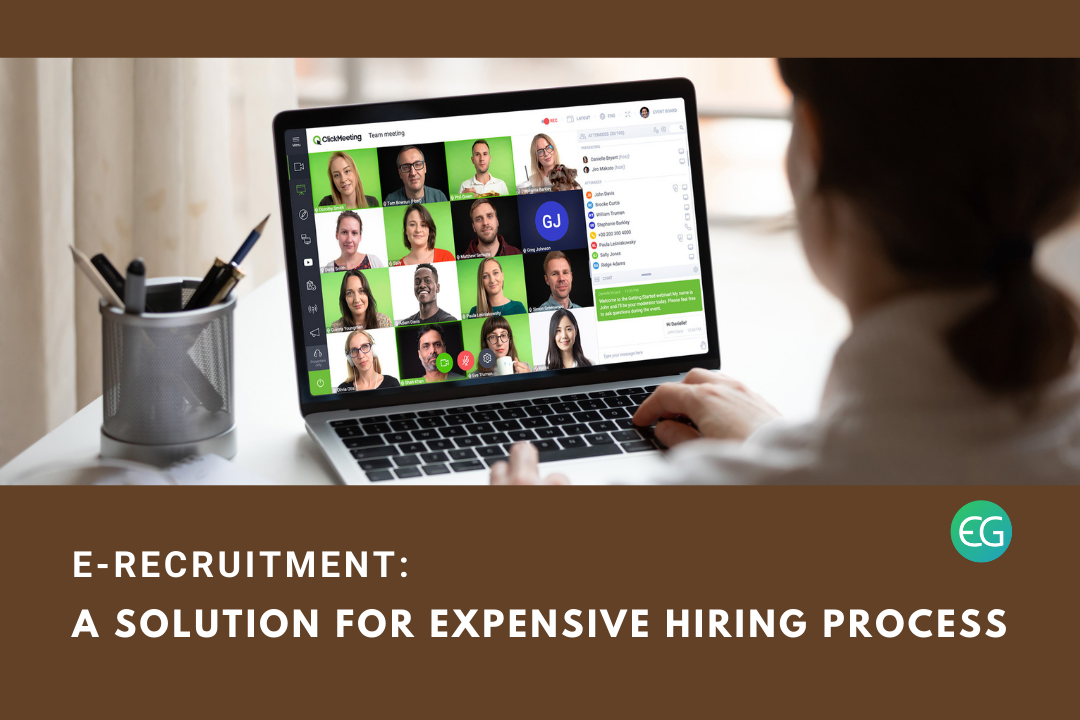 In today's challenging environment, hiring the right person for the right job is a crucial task. Companies rely on skilled resources but finding them is a costly affair.
A single job opening leads to thousands of applications, which is a burden to handle. Or for a single job post, visiting a large number of colleges is also a burden to the organization in terms of cost and time. As a result, recruiters narrow down their search for talent, leaving out a large pool of students where one among them can be a prospective person for the job.
Most of the organizations follow the standard hiring system i.e. reviewing resumes followed by an Aptitude test and Group Discussion and at last face to face interview where evaluation is done manually. The world is an online Social Network. Without avoiding the thought of being global in the social aspect, the hiring cost can be reduced by having a PLATFORM of E-RECRUITMENT.
As an example, consider Evalground. It is an online hiring platform that helps recruiters across the globe with the screening of potential candidates. Evalground provides assessments with regards to a wide range of topics and also customizes assessments to suit your needs.
The platform allows recruiters to create tests and invite candidates to take the test

The next step is the conduction of the test which the candidate takes in a procured and cheating free online environment

After the candidate has completed taking the test, the recruiter receives a detailed report of the evaluated results.

And it's done! Now the recruiter has a list of potential screened candidates.
The ultimate goal of any organization is to reduce the cost and make every process automatic. E-Recruitment is one such solution that is in line with the goals of any organization.
The internet is a powerful place that can make even recruitment less complicated and time-consuming. E-recruitment also called Online Recruitment is a broad term that houses a number of different parts under its umbrella, which could include recruitment management, recruitment through social media platforms, candidate relationship management, and much more.
How to do E-Recruitment?
Having a job description that reflects your company's personality is a big winner in e-space. It will attract the right candidates who will fit the role rather than a huge number of people applying, whom you will spend time filtering out again.

Most job seekers are interested in the brand of the company rather than the job role. So, having a great brand is the key to attracting potential candidates and makes the hiring process faster.

There are a lot of different online sources to post job openings. Make use of various sources to the fullest to reap the benefits of online hiring.

Identifying passive candidates is one step you should not miss. There are many candidates who want to work for you but are just not sure about it. Keep an eye for such candidates, you never know who might just be the one candidate you were looking for!

Social Media is a fertile ground to build your employer brand. Regularly posting not only job openings but also behind the scenes posts builds your relationship with potential candidates and accounts for a long term relationship. You will have your potential candidates wanting to work with you even before you have a job role. Give your audience a fun sneak peek of your company's work culture. And last but not least, don't underestimate the power of the story feature that many social media platforms provide.

There are a number of tools that allow you to meet your potential candidates online. Some of them are
 LinkedIn: Linkedin is a powerful tool that allows you to post recruitment-related things and also post engagement posts to attract candidates. It is useful for a recruiter because it allows job seekers to search for job openings posted by recruiters and HRs.
Glassdoor: Glassdoor is one more famous platform for posting jobs, salary details, and company reviews. Many aspiring job applicants use glassdoor not only to apply for jobs but also to review the company and salaries. So, as a recruiter, this is a major advantage as you can post job openings as well as build a brand online so that even passive candidates will be tempted to work with you.
Indeed: Earlier, Indeed was only famous in the west but slowly but steadily it is gaining ground in India as well. It provides you with options to post openings and give all the necessary details.
Internshala: Internshala is one more powerful tool that is a boon for recruiters. It is a free platform and you can post as many job postings as you wish.
Use your in-house marketing and designing talent to get to work on creating lucrative ads and get your digital marketing team working on using their social media influence to get your ads far-reaching.

Encourage your employees to refer potential candidates to your company which will be beneficial to all three of you. i.e the employee, the person referred, and your organization.

Not only online platforms, but you can also make use of technology to do the recruitment process. Make use of technologies like Skype to conduct the initial rounds of the interview. Doing this has a lot of benefits. You can reach candidates who are geographically dispersed across the world and don't have to break your bank to send your HR team across the globe to conduct recruitments.

Hosting programming challenges and other tasks related to other fields of work your organization does is a sure shot way to gain the attention and interest of job seekers and you will also be able to evaluate their skills and competencies without having to spend time on the selection process. Get your creative muscles working and sit back and relax. Let technology do the job for you!

Also, don't undermine the potential that online communities carry in helping you with the recruitment process. Online communities like StackOverflow is a fertile ground to identify talent. Make use of such online communities to source and hire talented young people.
What benefits does E-recruitment provide to the HR industry?
Apart from reducing the physical stress, cost, time, man-hour for evaluation, and other resources associated with the traditional hiring process, the E-Recruitment system reduces energy use and pollution associated with manufacturing, transporting, and recycling of paper products. The automatic process would save energy in mailing, storage, handling, filing, and reporting tasks. Direct costs savings come from physical visits to campus and reduced paperwork related to resumes, advertising, etc.
It has a wide geographical reach! Advertising online helps to get a larger pool of applicants who are geographically dispersed as compared to the traditional methods which are geographically restricted.
The speed of the process is increased drastically through online recruiting and the responses come in no time as well whereas the traditional methods need time to get results.
The selection process can be tailored to suit the requirements of each individual company. Doing so will result in candidates who are perfect for the job role.
Applicant information is directly stored in the database by using this method which saves all the manual work needed to process the applications otherwise. And papers can be misplaced too!
Hence organizations should adopt an easy-to-use and well-functional online portal focusing on developing a concrete online recruitment process that can give the concrete readymade profile.
The E-recruitment system should focus on assessing a candidate's aptitude skills, Technical skills, and other areas as per the requirements of the job post. This means that the system should be ready for customization at any point in time and should be able to embed with the frequently changing technology.
Some of the top E-Recruitment Platforms are:
Evalground

HackerEarth

HackerRank

Mettl

Glassdoor

LinkedIn

Internshala

Indeed
Thus, working on hiring through the E-Recruitment process, would reap a better workforce and help in streamlining the function.
You can also get assessments that are tailored to your needs. You can give your won questions or we have a wide range of questions on various topics ranging from programming to digital marketing, from which you can choose the questions to include in the assessments. We provide a procured and safe environment to conduct the test by preventing cheating using different mechanisms. Evalground is a one-stop destination for all your online recruiting needs.  Campus recruitment, walk-ins,  brand promotion, day to day hire, you name it we have it. Our tests are used worldwide to make recruitment hassle-free and less time-consuming.