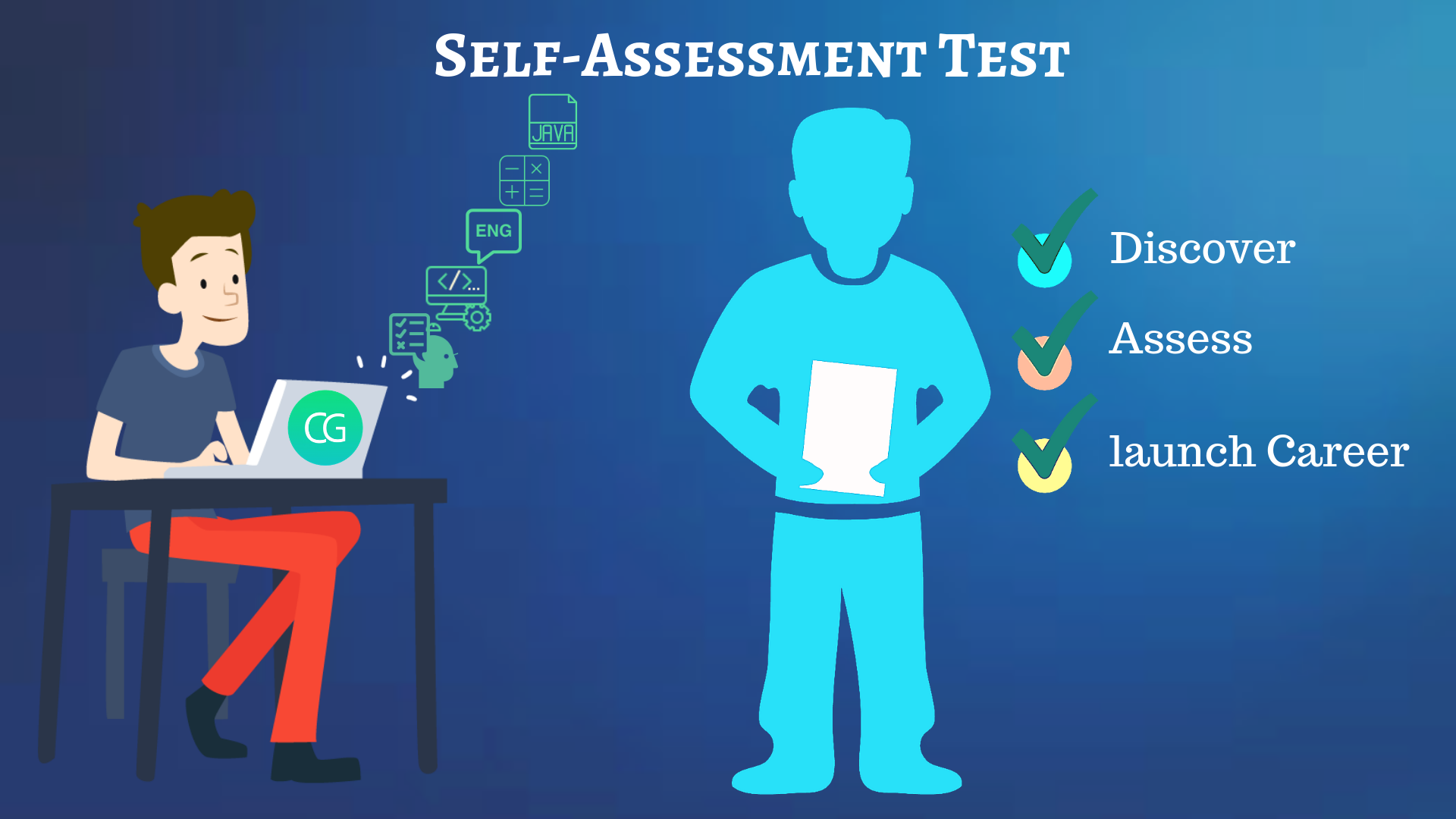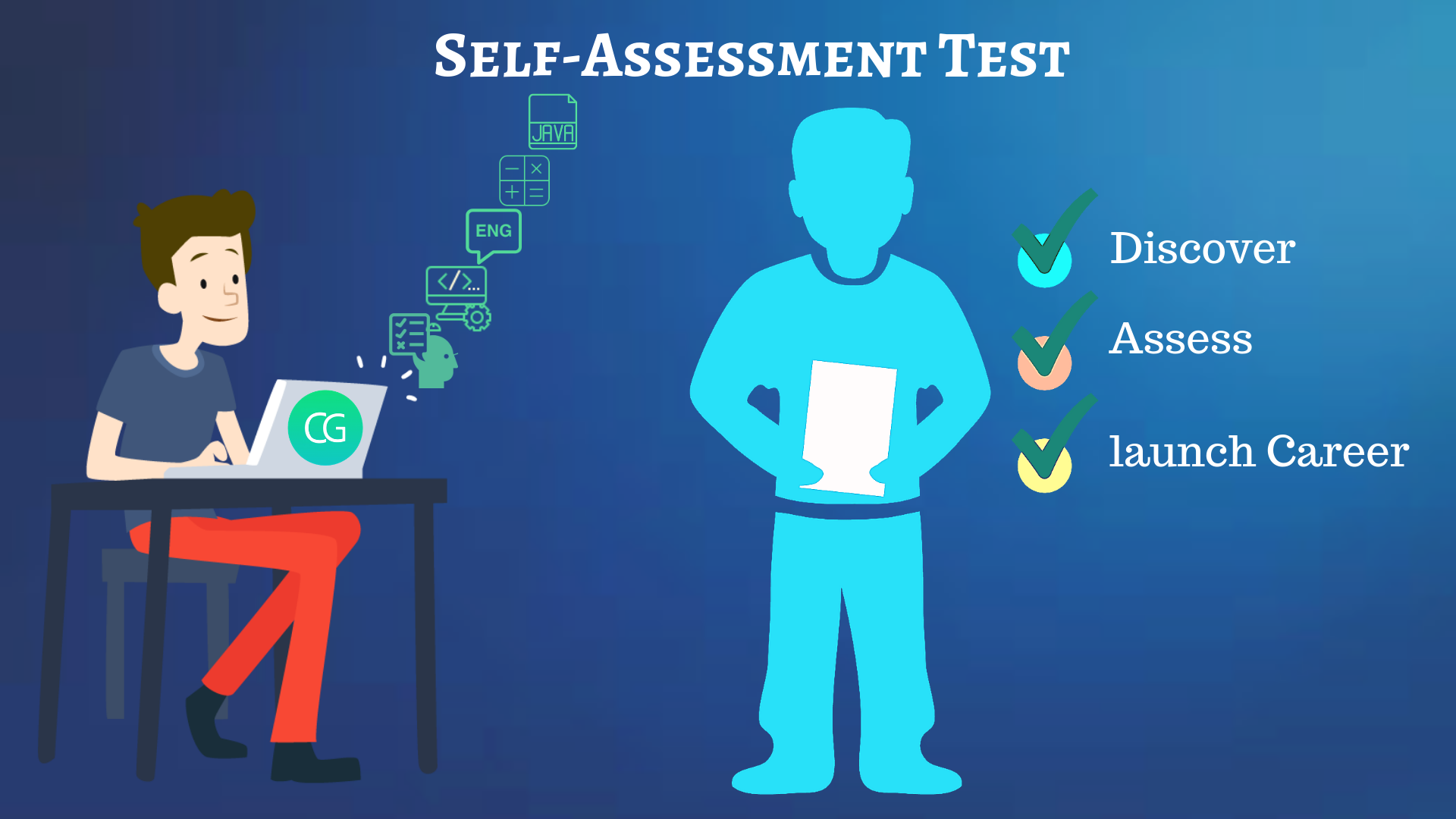 As a person trying to do the best you can to find a job, should you not have a well-thought-out plan in place to land yourself the ideal profile in the perfect organization?
This is your career, a job where you will spend the most of your day and is it not simple logic, that finding happiness in it begins with knowing yourself and understanding what you actually really need.
If the simple logic got to you, then remember, Self-assessment before job hunting is key!
Self-assessment-What is it?
Very simply put,
Self-assessment test will aid you in the path of choosing the right career and landing the right job, as it provides insight into the student or the candidate's true comprehension and can help identify gaps in skills and knowledge. It is on analysing the online Self assessment report, that the test taker can now examine their own learning, levels of understanding, ability to fit in, etc.
Self-assessment- A wake-up call
It is only natural that this acts as a career guide for the candidate.
Helping them identify areas that need improvement and that has to be worked on.
This career aptitude test for your self-assessment helps gather information about and reflect on your own learning.
It is considered to the stepping stone and a very crucial component of self-learning for candidates as an individual.
Self-assessment- Results
Equipped with the results of the online self assessment, every candidate will now be able to evaluate and analyze different types of information about themselves gathered in their own respective field of expertise.
There are top-notch, user-friendly online self-assessments like Evalground available today and they can be used to find tangible solutions to millennial's most common worries.
Common millennial pain points from our study.
How do I find the best-suited career field for me?

What do I want to do? What can I do?

How do I use the report to land myself a job?

How do I now grow, do better than current?

What kind of job environment suits me the best?

Whom do I want to work for? What industries interest me?
Self-assessment- Sell Yourself
In today clutter and run-of-the-mill market, it is cut-throat and hence critical to market yourself after analysing, what makes you the ideal "product".
Knowing your strengths and your unique skill sets will give you a distinct advantage over your competitors and make you far more attractive and sorted to any interested employer.
Self-assessment- Career Aptitude Test
Though the applications and benefits are innumerable, one can say that the self-assessment broadly evaluates a candidate on five major areas.
1.Personality
Understanding your personality will give you an advantage like none other. Imagine really understanding your nature will give the confidence of integrity while taking on the interviewer. You can now have well thought out answers for questions on your strengths and weaknesses.
The sections pertaining to your personality will assess you on both general and work-related traits. The online self-assessment includes completing personality tests. Each of the sections is designed to help the participants reflect on and think about their behaviour
General personality traits provide insight into your personality, both inside and outside of the work environment. Descriptions such as optimistic, creative inclination, people-oriented, flexible, driven, empathetic, assertive, competitive, and motivated are examples of general personality strengths.  

Work-related personality traits are more specific to the workplace and is a more on-the-job performance rater. Descriptions such as team-player, goal driven, strategic thinking, leadership qualities, conscientious,  diversity, aggressiveness and stability, attention to detail, and problem-solving abilities are a few examples of job-related personality strengths.

2.Technical skills
These are skills that relate to a specific technical competency. Examples are your proficiency in computer software programs in general, strengths in specific programming languages, specific technical skill required for a profile, technical aptitude, etc.
3.Transferable skills
These are skills related to how you interact or communicate with other people. Examples could be presentation skills, supervisory skills, or writing skills. Transferable skills are also sometimes called "soft" skills because they are needed in a variety of different work environments and career fields.
4.Cognitive skills
This section outlines the capabilities of your mind, understands your personality and provide insight into your thought processes. Examples include problem-solving skills, interpersonal skills, and creative skills.
5.Functional skills
Describe what you as a candidate are measurably capable of doing on the job. Examples include managing people, reducing expenses, implementing processes, working on budgets, quality control, generating reports, handle big leads, sales, graphic design, customer service, etc.
Self-assessment- Indispensable Today!
Here are a few points to reinforce, why you as a job seeker should take up our self-assessment test now!
Coming to terms with and owning your strengths and weaknesses, such as achievement, independence, recognition, support, etc. Values are those key triggers you look for while searching for your dream job, so be sure to prioritize them in the order of their importance to you.

Helps candidates select careers based on unique personalities, skills, interest levels.

Helps find the right pulse and seek out the best cultural fit that also appeals to you.

Measure your current state of mind, situation and looks for areas you excel in and areas that need reinforcing.

Helps achieve self-recognition by setting and meeting attainable, measurable goals, that can be tracked at regular intervals.

Helps to prevent one from being stuck in a frustrating rut that can happen due to being tied down at the wrong job, industry or line of work

Plays a crucial role in discovering new career paths that may not have been considered previously, by mere exposure to friends and family.

It is important to use this information to be more open to other career options available in more recent and developing industries.

When you sit down for an interview, you will be at an advantage if you are able to tell them who you are, what are you good at, what do you want to improve and what you can contribute.

Helps figure out where more training or education can help to develop existing skills into a long-lasting career.

Helps enhances the potential of learner development as a lifelong learner.

Will aid the candidate in taking charge of their own careers by developing their skills.

The report helps define an improvement plan. When a candidate accepts their limitations, they can focus on improving their weaknesses.

Self-assessment activities may suggest the need to examine work-life balance.

Helps perk the interest and motivation level. Reality strikes and stirs when you hold the report in the hand
Online Self Assessments- For Employers
As a bonus empowering employees in your organization to set their own development targets and take up an Self assessment to self-evaluate leads to higher levels of employee satisfaction, retention and loyalty.
Identifying your positive attributes is half the battle won.