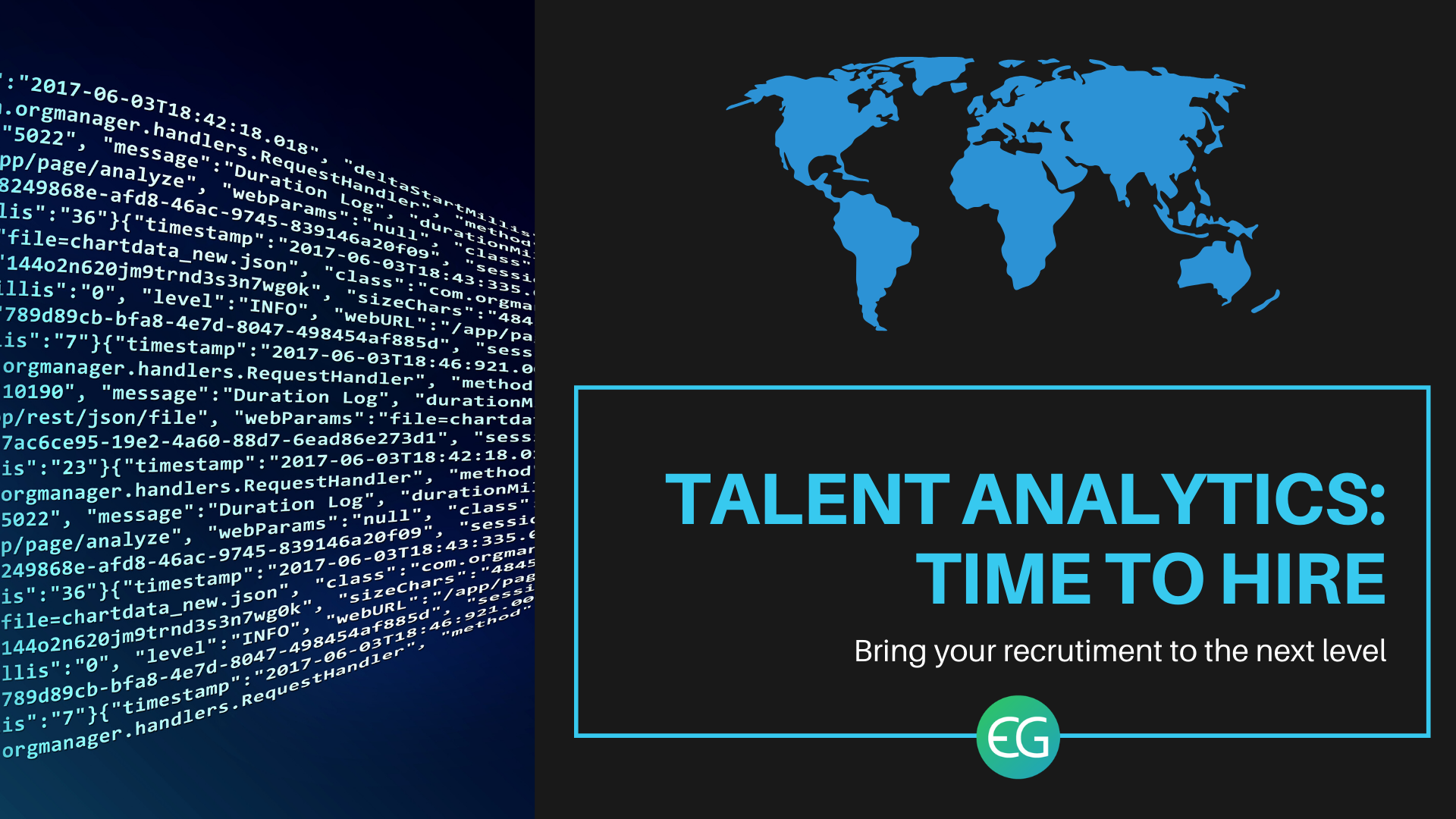 It has been some time since talent analytics has become a huge deal within the recruitment industry. One of the most important talent analytics that has been utilized by recruiters all over the world is Time to hire. 
Time-to-hire is one of the most significant and frequently used talents,  employing, and enrolling metric. The Time-to-hire metric estimates how rapidly an organization can choose and employ the best applicant among all. In this blog, you will figure out why the time to hire is one of the most important talent analytic metrics available in the market today.
These kind of talent analytic metrics, such as time to hire, are various standardized measures which will help you streamline your recruitment process. This kind of talent or recruitment metrics are utilized to screen, track, and measure your entire employing process. Thoroughly tracking your time to hire and various other talent or recruitment metrics will empower you to give a data-driven validated assessment of your recruiting procedure. 
Tracking your time to hire and other talent metrics will reveal which parts of your recruitment procedure function admirably, and which don't. That way you can perceive and build up your best recruitment practices, yet also, spot bottlenecks and issues that should be managed. 
This is the reason HR managers and professionals use talent metrics – to settle on better and progressively informed choices and find and recruit the perfect job applicant in a much simpler and quicker way. 
As indicated by LinkedIn research, HR groups who track and measure talent analytics are more inclined to find the right candidate quicker and all the more effectively. 
Right now, for the sake of clarity, a brisk recap of what we mean when we state talent analytics: talent or recruitment metrics will be the various measurements that are used to follow and determine your achievement in the recruitment process and streamline and optimize the way a company recruits their talent.
Talent metrics such as time to hire will helps you in assessing and evaluating the recruitment plan and procedure and to decide if your organization is recruiting the correct individuals. 
To put it simply, talent metrics give significant experiences into the proficiency and viability of your selecting procedure. 
In light of this bit of knowledge, you will increase a more profound comprehension of your recruitment procedure, which will empower you to improve it. 
If we say that in the ecosystem of recruitment the quality of the hire is the Mother of all recruitment metrics, at that point time to hire is another pillar of the recruitment procedure. What's more, despite the fact that there are various recruitment metrics, very few of them are estimated as frequently as time to hire. Actually, no less than 50% of the organizations report utilizing this metric.
What is Time-to-Hire?
As a key measurement metric for human resource departments, time-to-hire refers to the measure of time that goes between when a job applicant is initially contacted by an organization and when they acknowledge and accept the job offer. While the time-to-hire definition is basic, the time-to-hire metric itself can speak to complex productivity proportions of the HR recruitment team. 
Recruitment teams or groups with a critical slack time between these two significant timeline factors, for the most part, have poor efficiency strategies. In any case, by keeping continuous tabs on time-to-hire metrics, HR supervisors can be made aware of wasteful aspects happening inside the recruiting procedure and in this way execute the measures expected to dispose of barriers and boost the level of productivity within the department.
Then again, a specialist time-to-hire organization has likely deconstructed their recruiting procedure into smaller, all the more effectively managed stages that help decrease the measure of time it takes to effectively figure out and enlist promising representatives. Surveys with respect to an organization's time-to-hire measurements can frequently be found on professional sites like Glassdoor and Linkedin. 
Time-to-hire is the number of days it takes for an applicant to travel through your organization's recruitment procedure, from responding to your employment opportunity to accepting your job offer. 
This measurement is regularly utilized by HR groups to recognize and resolve potential wasteful aspects in the recruiting procedure, permitting you to hire quicker and give a superior applicant experience. 
It's useful to know both the individual time-to-hire metric for explicit jobs just as your normal time-to-hire. Following this information on an individual premise can assist you with pinpointing issues with a particular activity or group while taking a gander at your normal time-to-hire can help surface peripheral issues that may require further examination. 
Most Applicant Tracking Systems (ATS) can create a normal time-to-hire report or separate it by explicit jobs, offices, or employing administrators or various departments. In the event that your ATS doesn't offer this sort of usefulness, you can figure time-to-hire physically as well.
An ATS or Applicant Tracking System basically helps in filtering and giving a structure to the recruitment process, this way it is easier for the recruiting manager to filter out the more suitable candidate from the ones who don't. That means, invariably an ATS is triggered to screen an application based on how it is written and not on what the information is conveying. ATS is becoming one of the primary ways of how companies these days are recruiting their new employees as well as keeping the required onboarding information of all their current and former employees.
This content was brought to you by Evalground Online Testing Platform. Evalground is an online assessment and test evaluation system focused on helping Recruiters in the initial screening of potential candidates from an ocean of job seekers in an automated way.Evalground supports Online Aptitude Tests, Spoken English Communication Skills Assessments, Coding Contests in JAVA, C, C++, Ruby, Python, JavaScript and PHP.  Evalground also supports Automated asynchronous interviews. Evalground Screening Tests can be used by Recruiters during campus hiring or to screen walk-in candidates.