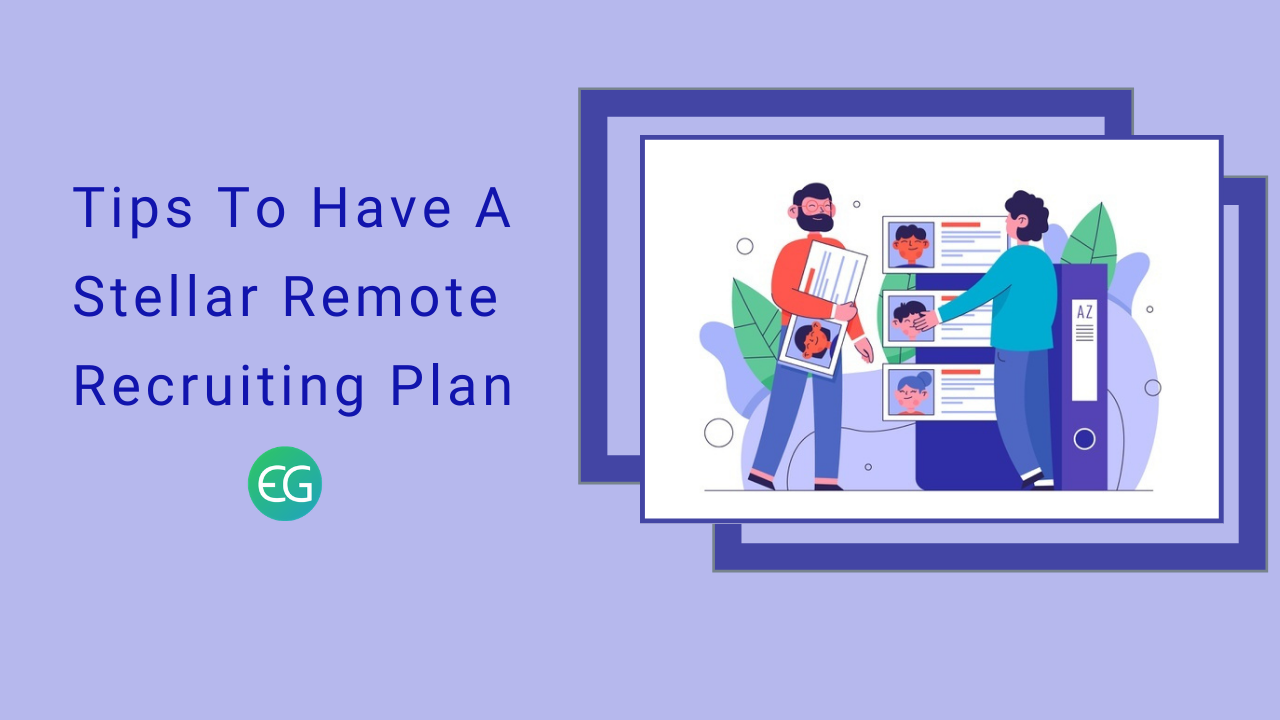 The COVID-19 pandemic has quickly changed how every organization is attracting, hiring, and retaining employees working completely in a virtual manner with their virtual teams, this has made remote work the new normal in today's world. Remote working is no longer just an experimental idea—today, it's a reality for most of us around the world. Almost overnight, things changed and we all shifted from working in the office to working from home, and that included the recruitment industry as well. If you are a person working in this industry, you may have already encountered, recruiting remotely brings a host of concerns with it: How do you successfully conduct an interview process from home? How can you assess the culture fit of a candidate thoroughly if they can't personally see your office and you can't speak with them face to face? While it's implied that making any transition will require some investment, remote recruiting has just been a reality for some organizations that others can gain from. We live in a period of creative, cool innovation and quick change that results in numerous of us finishing our jobs from anyplace, anywhere in the world. Also, that includes recruiting. 
What is Remote Recruiting?
Recruiting remote workers requires you to discover better approaches for attracting, interviewing, and onboarding your workforce. the great thing is that great talent isn't contained in one region; it's spread all around the world. Luckily, remote recruitment is possible thanks to the latest recruitment technology.
Remote recruiting includes sourcing, interviewing and recruiting workers who are located somewhere else. Remote recruiters use the latest technology to connect with candidates regardless where they're found. Embracing remote recruitment is particularly significant now that such countless worldwide organizations are progressing to work from home setting in the wake of the worldwide COVID-19 emergency.
Some Useful Tips To Have A Stellar Remote Recruiting Plan:
Engaging Career Page:
Search engines like Indeed do allow free posting of job listings. Through the organic search, some job search engines automatically take the job posted on your career page. So it goes without saying that if your company has a good career page this method works like a charm. A well-formatted career page will easily be picked up by search engines like Indeed. It will then link the job posting directly to your career page. This also generated good traffic to your website. It is important to have aptly designed content on your career page since job aggregators will pick up the posting directly and you will not have any control over what information is being taken.
Structured Hiring Process:
Finally, you should use the inputs from your fresh recruits and analytics to educate yourself and update your recruitment plan and enhance and optimize it accordingly. Conduct an anonymous study to gather criticism from fresh recruits. How was the interview and selection process? What parts of the procedure progressed admirably and what part could have been improved? 
You can likewise utilize your recruiting analytics. Survey key recruitment metrics like time to hire, quality of hire, early turnover rates, and cost per hire. At that point discover ways you can improve your enrollment procedure dependent on those experiences. Just as the 21st-century job market is evolving similarly the hiring business is continually advancing, your recruitment plan ought to develop over time.
Utilize The Available Technology
ATS or an Applicant Tracking System is one of the most unparalleled inventions that has happened in the recruitment industry recently. ATS in simpler words is a software that screens and parses dozens and even hundreds of resumes and applications. And it will definitely take your recruiting manager or hiring team hours and hours to manually screen through the resumes. An ATS uses various algorithms to generate the results in an automated way and helps in narrowing down the best fit for the job opening.
ATS or Applicant Tracking System basically helps in filtering and giving a structure to the recruitment process, this way it is easier for the recruiting manager to filter out the more suitable candidate from the ones who don't. That means, invariably an ATS is triggered to screen an application based on how it is written and not on what the information is conveying. ATS is becoming one of the primary ways of how companies these days are recruiting their new employees as well as keeping the required onboarding information of all their current and former employees.
Candidate Experience
Here is a harsh truth: Job seekers do not like spending hours and hours in filling long and complicated forms. This might sound very simple and straightforward but having an easy and accessible application system will help candidates easily and quickly apply to your organization. It is extremely important to have a good candidate experience to ensure there is a lasting and positive impression of your organization in the candidate's mind. Therefore, it's critical that you verify the different options that the hiring software provides to capture applicant information with minimal friction. This will help you in getting the maximum number of qualified candidates.
This content was brought to you by Evalground Online Testing Platform. Evalground is an online assessment and test evaluation system focused on helping Recruiters in initial screening of potential candidates from an ocean of job seekers in an automated way.Evalground supports Online Aptitude Tests, Spoken English Communication Skills Assessments, Coding Contests in JAVA, C, C++, Ruby, Python, JavaScript and PHP.  Evalground also supports Automated asynchronous interviews. Evalground Screening Tests can be used by Recruiters during campus hiring or to screen walkin candidates.