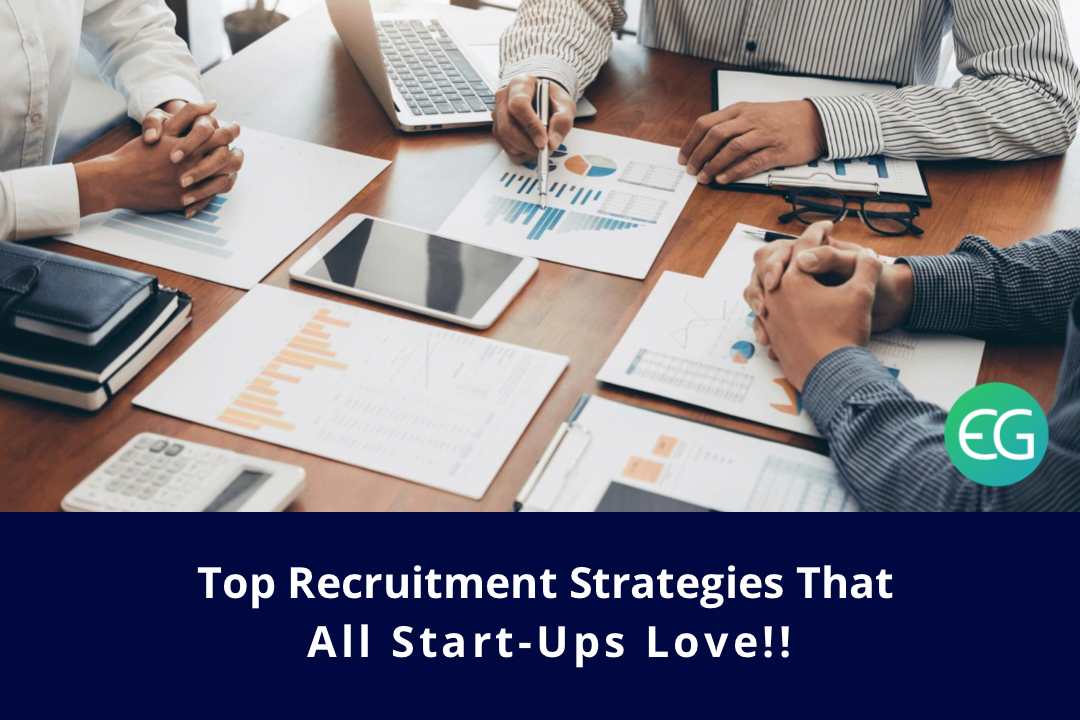 So you've established your start-up and you're ready to start hiring! This is a wonderful, positive sign that your project is taking off.
You're obviously doing something right but you can't do it on your own. You HAVE to recruit.
It's natural to be nervous hiring employees, especially when you are running a startup with no previous recruiting experience.
1. INTERNAL REFERRALS

Employee referrals are the best ways to find the right candidate and the same goes for external referrals. Any individual who has a firm grasp on the industry, the business, and the company culture is a great recruiting source! A referral bonus is a sure way to get a referral.
2. JOB BOARDS

Job boards should be a part of any firms general recruitment strategy. It is very beneficial, especially when it comes to mass recruitment and reaching a larger audience. It's important to use niche job boards along with bigger job search sites such as www.indeed.com. For example, if you are looking specifically for interns, use www.internshala.com. If you are hiring for a writing position, you could use www.journalismjobs.com
3. EMPLOYER BRANDING

It is always good to have a strong employer brand. Top talent will gravitate to a brand that they've heard of and that they want to work for.. You want a candidate who is already excited to work for you and who already knows who you are as a company. Branding to attract top talent is essential to keeping up with the competition. To stand out at a brand, host hackathons. This is a wonderful way to personalize your hiring process.

4. SOCIAL MEDIA ACTIVITY

Take full advantage of your contacts and networks of your existing employees. By doing this you can spread information about your vacant positions, recruiting activities, and employer brand to thousands of people at a minimal cost. Make sure your company has a solid presence on LinkedIn, Youtube, Facebook, Google +, and Twitter.
5. MASS AUDITIONS
Host mass auditions to observe skills of collaboration, confidence, and teamwork among candidates. Get them to mimic the operations of the company by working on a task and ask existing employees to watch and take notes on each candidate. After the candidates leave, have an open discussion with the rest of the staff to discuss  the day's events and decide which candidates are the best fit for the company. Not only is this a fast way to secure a great hire but it is also a fun group activity for the entire office to enjoy.
6. PUZZLES AND BRAINTEASERS

Huge companies such as Google, Apple, and Microsoft are well known for having their employees pass recruitment tests in the form of brainteasers and puzzles.  When solving a puzzle, candidates can demonstrate their problem solving ability. When solving a brainteaser, applicants can show how they behave under pressure and how they apply their judgment.
7. ATTEND EVENTS AND MEETUPS

Try thinking outside of the box and sourcing for talent outside of job fairs. You as a recruiter can Go to places and meetups that aren't even recruitment related. This is a good way to meet new, interesting people and figure out exactly what you are looking for outside of a candidate's CV. For example, if you're looking for a software developer in Bangalore, you could attend a software developer focused meetup in Bangalore to find your ideal potential candidate.
8. ONLINE RECRUITMENT PLATFORMS

Make your life a LOT easier by using the help of online recruiting platforms such as evalground. Evalground is a testing platform that allows recruiters to test potential candidates in a manner of fields from coding to english proficiency. Tools such as these allow for the entire recruitment process to be smooth sailing.
9. BUDGET FOR KEY HIRES

You have to be calculated when planning for key hires.  Whether you're still searching for your first funding or you've experienced it before, you have to be prepared. You have to be aware of what you can afford in terms of investment you will be putting forth into those who will help get your idea and business started off right. At the very least, be familiar with the numbers before you begin … equipment, incentives, salaries, equity, benefits etc
.
10. SEPARATE SKILLS FROM BEHAVIOR
Too many startups just focus on skill sets when hiring. It's just as important, if not more, to focus on the values that you are searching for in a new candidate. Are you looking for someone who liked to be challenged or someone who is content with working on repetitive tasks?
11. HIRE REMOTE STAFF
If you startup is in a competitive niche, it could be a good idea to hire and recruit remotely. THis avoids competing for local talent. Many potential top candidates would jump at the chance to work from home. This would greatly broaden the pool of possible prospects and expose your startup to better hiring opportunities.
12. CONTINUOUS HIRING
It doesn't matter if you've filled your team with the best possible people. You always have to be prepared for any circumstance that may leave you short staffed and falling behind. Have a backup list of top talent just in case you need to hire. For your most important and critical roles, keep 2 or 3 people ready that you could call.
13. HOST A TRAIL DAY
After a candidate has made it through your screening process, bring them to the workplace to show them what they would be doing each day. Have them sit with their potential team and observe the work being performed, and get their real-time feedback on how they feel about the job. This reduces the chance of a fast turnover.
14. CAMPUS RECRUITING
As a startup, you may not be able to afford to use recruiting centers at colleges to assist your with your process. Fortunately, there is still the wonderful option of speaking in classes and student associations. Ask grad assistants to help in finding candidates to apply.
15. TARGET OTHER STARTUPS
Those who already work in a start-up are obviously good prospects to work in your startup. They already have a grasp of the risk/reward ratio o a startup. Target those companies that are going downhill in their operations but also try recruiting from start-ups that are growing exponentially.
This content was brought to you by Evalground Online Testing Platform. Evalground is an online assessment and test evaluation system focused on helping Recruiters in the initial screening of potential candidates from an ocean of job seekers in an automated way.Evalground supports Online Aptitude Tests, Spoken English Communication Skills Assessments, Coding Contests in JAVA, C, C++, Ruby, Python, JavaScript and PHP.  Evalground also supports Automated asynchronous interviews. Evalground Screening Tests can be used by Recruiters during campus hiring or to screen walkin candidates.