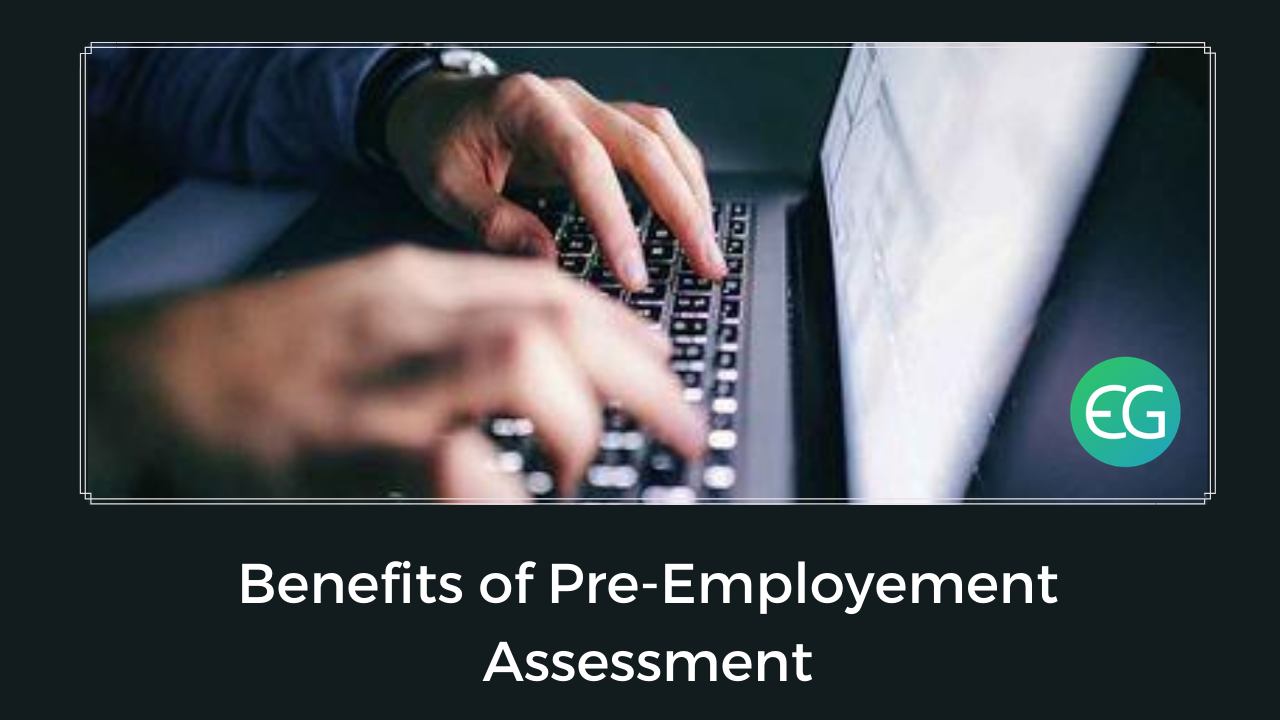 Wouldn't it be easy if you already have a list of candidates ready for the job role when you are ready to take the interview? You wouldn't have to spend hours together screening applicants one by one.
"What can't be measured, can't be managed"
Pre-Employment assessments are all about making your job as a recruiter easy by providing you with people who are the closest match for the job. Assessments do this by validating the skills and competencies of the applicants against the job requirement.
Evalground provides you with a variety of pre-employment assessments for better hiring decisions. 
Being a recruiter pre-employment assessment is something that you must have heard a lot rotating in the industry for quite some time now. Understanding the meaning of online assessment has been deluding you maybe, thanks to the never-ending bits and pieces of floating information all over the internet. Online pre-assessment tests can be used to help recruiters identify candidates who will be the right fit for their organization. These talent assessments help predict a candidate's on-the-job performance and even retainability to a great extent. With reports and data supporting all the results. Hence, in theory, we can safely say candidates who go through the screening test should perform better as employees if they're hired. Understanding the online assessments' meaning can help bring efficiency within your recruitment process.
94% of recruiters use online marketing
channels for recruiting. Employers who used social media marketing for hire found a 49% improvement in candidate quality when compared to candidates sourced only through traditional recruiting channels.
This number has been on the increase for the last 6 years.
So going online can be considered an absolute treat for your hiring.
We are not threatening that hiring is impossible without online assessment tools or platforms, however, it has become an inevitable part of the recruitment process. Starting from online job portals and social media hiring to the ATS and pre-employability online assessments. These have become a part and parcel of your recruitment routine.
If online assessment still makes you ask: "Why" or "What" even "How", then we are here to throw you a life jacket and help you explain online assessment and walk through the process of understanding the meaning of online assessments better one step at a time.
What does a pre-employment Assessment Tool measure?
A pre-employment assessment tool, to be compelling, must consider a person's business-related qualities, interests, identity and personality type, and aptitudes. These attributes make up your identity, so overlooking any of them won't give you a precise answer. We should investigate everyone.
Business or work-related Values: Your qualities are the thoughts and convictions that are critical to you. Your work-related qualities can incorporate self-sufficiency, prestige, security, relational connections, helping other people, adaptable work routine, outdoor work, recreation time, and high pay. On the off chance that you consider these things while picking a profession, you have a superior shot of accomplishing work fulfillment.
Interests: Your preferences with respect to different exercises make up your interests. E.K. Strong and different psychologists and therapists found numerous years back that individuals who share comparative interests likewise appreciate a similar sort of work. In view of this hypothesis, he created what is currently called the Strong Interest Inventory, an evaluation that is used by numerous professional and career advancement specialists to help their customers with career planning.
Identity or Personality Type: Your identity or your personality comprises your social characteristics, motivational drives, needs, and states of mind. Carl Jung, a Swiss specialist, built up a hypothesis of identity that is generally utilized as a part of profession arranging and is the reason for the Myers-Briggs Type Indicator (MBTI), an exceptionally mainstream identity stock. Comprehending what your sort is can enable you to pick an occupation since specific identity writes are more qualified to specific professions, and in addition workplaces, than are others.
Aptitude: Aptitude alludes to a person's common ability, took in the capacity, or ability to obtain an expertise. Cases incorporate math, science, visual workmanship, music, verbal or composed correspondence, perusing perception, rationale and thinking, manual finesse, mechanics, or spatial relations. You may have numerous aptitudes. It is imperative to remember that having a fitness for something, doesn't mean you will fundamentally like doing it. Or on the other hand, you may appreciate doing it, yet not for work. That is a comment as a top priority when you pick a vocation.
Saves companies a lot of time which would otherwise have to be spent to organize an offline assessment.

Saves a lot of money needed to conduct the test physically

The assessments can be taken by multiple candidates across various locations

More precise results as it is done by a computer

Online assessments give test takers the advantage to take up the test at their convenient time and place

There is increased security associated with online assessments as all the necessary information is stored digitally. Hence, there are very slim chances of data being tampered with.
"Almost 75% of the organizations which have over 100 employees rely on online tools for their hiring process."
With the internet offering a ton of online assessments, it often gets confusing. Which one to choose? Which assessment will provide the best result?
But, having said that, you don't have to break a sweat! We are here to help you choose the right assessment for your requirements. Here are some of our tips on choosing the best
This content was brought to you by Evalground Online Testing Platform. Evalground is an online assessment and test evaluation system focused on helping Recruiters in the initial screening of potential candidates from an ocean of job seekers in an automated way.Evalground supports Online Aptitude Tests, Spoken English Communication Skills Assessments, Coding Contests in JAVA, C, C++, Ruby, Python, JavaScript and PHP.  Evalground also supports Automated asynchronous interviews. Evalground Screening Tests can be used by Recruiters during campus hiring or to screen walk-in candidates.