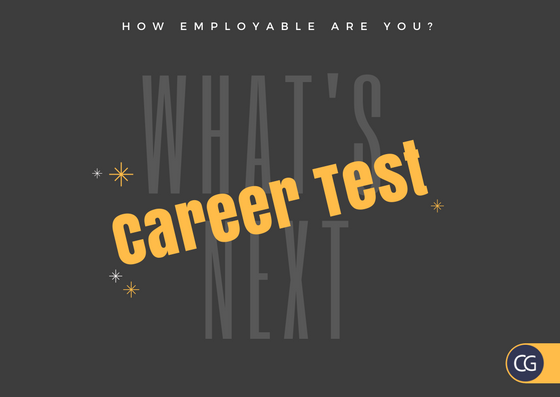 The most common things that students encounter right after they finish their college is the dilemma of having to choose a career. In the end, most students end up getting caught up in the rat race and being stuck in a job that they don't like. Instead of spending all your prime time thinking and wondering what works best for you, try taking up a career test, which is specifically designed to assess your values, personality, preferences, interests all in respect to your career choice. Career test will give you suggestions and information about what motivates you and drives you to work with more vigour.
What is a Career Test?
How employable are you?
Take our employability test to find out!
Employers today, look for more than high grades, they want candidates that are the right cultural fit and who have the right soft skills for the workplace.
Check how prepared you are for the workplace with Evalground's employability and career aptitude test.
Career Test, basically, is an amalgamation of assessments, tools, and analyses that help a graduate see how various characteristics like those of decisions, likes, and dislikes, identity, nature, etc play a major role inconceivable achievement and fulfilment with various profession choices, and changed workplaces.
The beauty of a guiding career test, is, that there are no right or wrong answers, there are just answers that sync best with you, your attitude and your personality.
This is in a form, a computer-based, adaptive test which measures the candidate and assesses him as a job candidate on critical areas like communication skills, logical reasoning, quantitative skills and job-specific domain skills thus helping
How Does the Career Test Work?
Personality tests and career tests are helpful in various transitional moments of your profession. In case you are searching for your first job or keen on diversifying your career path, a career test is a decent method to evaluate what sorts of career may be perfect for you. Mostly, there are two reasons or trends as to how freshers or students make their career choices:
Firstly they identify their "interests" and choose that as a career.

Secondly, they choose what is popular among their friends and peers and end up being in the rat race.
If you already are sure about what sort of profession or career you are interested in or you need, a career test can even now be useful. They can indicate you whether you require all the more training or experience to enhance your skills. They can also demonstrate to you what aptitudes you have that will make you a strong competitor. This can assist you in writing extremely specific resumes and cover letters for yourself.
However, take note of that none of these tests will come up with a definite answer as to what you ought to do with your life. Rather, you should utilize them as a tool to generate an answer to the various career paths which is more likely to make you content with your professional life and matches with your goals and needs.
What Is Included In A Career Test?
A well-rounded self-assessing career test should evaluate the candidate's personality, aptitude as well as interests to understand what works best for the candidate. These attributes make up your identity, so overlooking any of them won't give you a precise answer. There are three elements that a career test should focus on Interest, Personality, and Aptitude.
1. Interest Test
In simple words, interest tests try and help you understand what you enjoy doing the most focus on your hobbies and interests. An interesting test can be beneficial especially when you are trying to decide your career path. They are a type of personality test where a series of statements are given and each of them describes a certain situation or circumstance.
2. Personality Test
Personality tests are scientifically designed to help you understand yourself better in terms of your trigger points, emotions, behaviors and relationships with others in various settings. The advantages of taking personality tests are plenty, as they can:
Help you see how you might want to work e.g. as an independent or as a part of a group.

Help you understand where you like to work, deciding on your workplace e.g. inside an office or outdoors.

Help you comprehend where your gifts and inclinations lie through your interests and hobbies while choosing to do what you enjoy.

Help you see how you might react to specific circumstances, occasions and distinguish your qualities, strengths, and weaknesses.



3. Aptitude Test
Aptitude tests assess and inspect skills and abilities, such as numerical thinking, logical thinking, verbal and non-verbal thinking, rationale, computer skills, lateral thinking, leadership, competence, among others. Employers will often request that candidates finish these to determine their cultural fit, which helps in matching the skills of the candidate to the requirements of the profile.
To know more about various online self-assessment tools which can help you make your choice, click here: Self Assessment Tools
How Is The Career Test Beneficial?
A career test will tell you what sort of career you are most appropriate for and what sorts of changes you have to make to have the capacity to climb in your professional ladder. There is a ton of significance in taking up a career test and the advantages of a career assessment test can assist you in taking control of your profession.
Plot Your Career
You can utilize a career test to decide your professional objectives and how you expect to achieve those objectives. This is the reason for taking a profession test on a yearly basis is so imperative to your prosperity.
Assess Your Educational Needs
Your educational foundation may have been fine for when you began in your career, however, you may need to return to class in case you want to climb up your career ladder. A profession test will let you know whether or not the time has come to get more classes added to your repertoire.
It is safe to say that you are On The Right Career Path?
Career fields are winding up to be more specific and specialized nowadays and you may not be in the right way compared to your skills and capabilities. A career test can give you information about whether you are seeking after the correct profession in light of your interests and what you have to do to get your profession on track.
Time To Make A Change?
You have felt that it might be a great time to move forward to another open door for some time, however, you were simply not certain. When you got the results of your career test, your concept of progress was ratified and now it is the ideal opportunity for you to seek after that new opportunity.
Online Career Aptitude Vs Paper-Based Assessments – Which Are Better?
The customary assessment framework with long, tedious directing and assessing process, the online self-assessment frameworks offers you the fast and exact results working on a restricted time. The career test is quick, solid and precise.
An awesome preferred standpoint of career aptitude test online is its availability to assess and help evaluate candidates with any form of disability. The online assessments can be redone to take into account those with different physical limitations.
Online Career test, exponentially reduces the feedback time. Making it very convenient to study the feedback and quickly make alterations to your current approach.
The graphical interface adds to the charm and makes the entire process more interactive and seamless.
Now there is the mobility of the career aptitude test, thus giving the test takers the luxury, comfort, and familiarity of home. It also helps ease the candidate of any stress and puts them in a relaxed state of mind, where they can in-depth reflect on the choices they make.
Like we mentioned before, quick easy to interpret reports only mean better and immediate feedback.
The physically incapacitated understudies have constrained access to such conventional strategies for evaluation and examination. Achieving the grounds, composing the papers could be a snag for them. Fewer resources are required in the self-assessment when contrasted with the traditional pen-paper test.
While most aptitude tests only measure a candidate's verbal comprehension and reasoning abilities, Evalground's career aptitude test,  additionally evaluates personality traits and domain skills, thus becoming an ideal test to match jobs to candidates.
Online career aptitude test creates better assessments that elicit, for instance, more evidence of students' critical-thinking skills and ability to model and solve problems.
When Should You Take A Career Test? Who Are The Career Tests For?
You are about to make an important career decision. Whether it is taking a course, applying for a certification, interviewing for a job, seeing the relevance of the industry, accepting a new job, etc. '
It is just one of the many career decisions that you will make throughout your working life.
Career Test, also called self-assessments and career decision-making tools are available in the market for you to help make the best career decisions possible. There is no specific time to take a career assessment test. It's always advisable to get rid of all your confusion and dilemma as soon as it arises. Despite the fact that this is an age and generation where children as young as those in 5th standard get paranoid, considering what they would do when they grow up.
You may just be entering the job market and are unsure of the type of work you need to put in or areas you have to concentrate your effort in, that will help you get a good job, or even show to you, what type of job you would like. Online assessments can help you focus your search for training or a career.
It might also be that you may have a job that you don't necessarily fit in, but you don't know where else to look for another one. Career aptitude test can help you identify careers with a future.
You may be re-entering the job market, and are on the lookout to identify and improve your skills. You want to learn how your skills match with the new "World of Work." Evalground and our intelligent test can help with that as well.
Employers will be looking for graduates who have analyzed and have knowledge of their personality types, can answer questions on their strength and soft skills, who can fit into an existing team, who can demonstrate that they are confident and resilient, and who can display high levels of emotional intelligence.
You can step through a personality or psychometric assessment anytime in your life paying little heed to where you are in your profession or career. This can prove to be very valuable to you whether you are a secondary school student, a college understudy, graduate, job seeker or a professional. It can likewise be utilized for various different events.
In spite of the fact that there is no compulsion, yet we do recommend a career test to be taken at some essential junctions of your educational and career life, such as:
While settling on an educational stream decision,

While settling on a career decision, and

While choosing what to seek after for specializations (post-graduation).

You are uncertain about what you need to do in your career.

You need to test your aptitudes, interests, and gifts.

You are applying for a position where employers are searching for particular aptitudes.
Evalground's representatives can help you better understand the different types of career assessments and how you and others can benefit from the many inputs, suggestions and use it to make informed career decisions. Participants will receive free certification and transcript along with learning content on improvement areas and employer connects from Evalground.
How Accurate Are The Results? What Makes Them Reliable?
The career test needs to be preceded with a discussion on the concepts of career planning and the importance of self-assessment in the process. As with all interest inventories and job guides, this is not an assessment to tell anyone what they should or should not choose as a job or line of work. These online self-evaluation tools are to help students organize and clarify their perceptions about themselves.
There are absolutely no right or wrong answers for scenario based questions. A Career Test can help, better understand your strengths by identifying areas in which lies your skills, abilities, and interests. They also alert you of areas, you need to develop your strengths in.
You can make decisions about your career path with more confidence if you actually understand what you like and don't like, as well as what you do well and not-so-well. Always remember, a career test that steers you away from one kind of job or training program can also help steer you toward another. As you progress and take up assessments regularly, you will notice that you will improve your speed and accuracy so you can approach your actual goal with more confidence.

DISC Test:
Psychologist William Moulton Marston developed the DISC theory which later was developed into the behaviour assessment tool commonly known as DISC. This test revolves around four different behavioural traits: dominance, inducement, submission, and compliance.
DISC profiles help you in understanding:
Increase your self-information: how you react to struggles, what propels and motivates you, what causes you stress and how you tackle issues

Enhance working connections by perceiving the correspondence needs of colleagues

Encourage better collaboration and instruct profitable clash

Create more grounded deals aptitudes by recognizing and reacting to client styles

Oversee all the more viable by understanding the attitudes and needs of representatives and colleagues

Turn out to be more self-learned, balanced and successful, pioneers.
Big Five Personality Test:
The Big Five personality test which was developed based on the Big- Five Factor Markers from International Personality Item Pool which was originally developed by Goldberg in the year 1992 is one of the most commonly used model for personality assessment and self-assessment in academic psychology. The test comprises of fifty items that the participant must rate on how true they feel about the particular statement on a five-point scale, where:
1=Disagree, 3=Neutral and 5=Agree.
The test model scores people based on the candidate's scores on the five noteworthy measurements and dimensions of identity with this experimentally approved mental evaluation.
Openness to Experience – How much do you enjoy art, expressions, abstract ideas and artistic expression?

Conscientiousness – How much do you put off immediate and instant gratification in order to conquer and achieve long-term goals?

Extraversion – How much are you inclined to turn to the outside world for stimulation and excitement?

Agreeableness – How much and how often do you put others ahead of yourself?

Neuroticism – How likely and how fast are you to bounce back from stressful events?
Evalground has been providing skills assessment and self-assessment tests to understand a potential employee's aptitude and likeliness to be comfortable in a career path or else in an organization.
Evalground's Five Factor Model gives a more profound analysis of hopefuls identity characteristics. You can assess candidates likelihood to behave in a certain manner on key job-related competencies, the person's strengths and growth opportunities.
RIASEC Test:
RIASEC or the Holland Occupational Themes which was developed by John L. Holland starting in the 1950s is a theory of personality used commonly in social and academic psychology which focuses solely on career and vocational choices. This test essentially groups the participants into six different categories of occupation based on their suitability. This six types of personality which are defined by the test yield the acronym of RIASEC. This test has become one of the most dominant self-assessment tools used in recruitment as well as for career counselling purposes. The test includes 48 tasks which the participant needs to rate by considering how much they like or enjoy performing these tasks on a scale of:
(1) dislike (2) slightly dislike (3) neither like nor dislike (4) slightly enjoy (5) enjoy.
Evalground's RIASEC test provides a degree of match between the candidate's personality and the career he/she wants to pursue. You can evaluate a candidate on the basis of Holland's theory of career choice, RIASEC.
How do I know if you I am on the right

path?
Overlooking important details in the instruction information at the beginning can have a detrimental impact on your score, so always read them carefully.
With personality or situational judgment tests, don't try to figure out what an ideal response would be. Concentrate on you.  Say what you think.
Don't let yourself get distracted as you probably don't have time. Focus on each question in turn. The fast-paced nature of the test will automatically evaluate you as a candidate on how well you work under pressure.
The first step in the preparation process is to research the type of test that you will be asked to complete.
Online self-evaluation test has situational judgment scenarios, wherein, job fitment can be analyzed by trying to find out how you might act in the workplace. They might ask you to rank the answers depending on what you think is most effective.  We strongly recommend you read the question properly and provide a prompt answer. Don't spend too long thinking over a question or a scenario, if it is too difficult to move on and then you can always return to it at the end.
Career aptitude tests are designed to make you think. By familiarizing yourself with the pattern you will be able to identify whether the question is designed to confuse you or designed specifically to make you stop, look back and think. The majority of test questions, ideally are quite straightforward but there will be some sprinkled throughout the test which requires a little more thought.
Always read through any accompanying notes or guidance that you are provided within the test. These could offer vital pieces of information to complete the test correctly.
Should You Keep Option? Keep an open mind? Yes.
Where Can You Find The Right Career Test?
Career Test or Self-Assessments hosted by Evalground have productivity, relevance and prompt feedback alongside, advanced adaptive testing technique. In one sitting, you the candidate can experience efficiency in the testing procedure along with immediate feedback.
There is a good chance you have worked so hard in achieving the academic results that you haven't had a chance to address your employability skills. Employers today are on the prowl to look for more than great marks, they need to find prospective employees that are the right cultural fit and have the right soft skills for their workplace.
Don't worry, we've got you covered.
Evalground's employability test helps to bridge the gap between the skills you have now, and the skills you need to secure your graduate job. In the high stake scenarios like that of landing the right job, online self- assessments powered by advanced technological capabilities, by Evalground allow innovative testing of the candidates.
Here, the right assessment platform plays an integral part in ensuring the efficacy of the entire procedure.
What Is The Outcome Of A Career Test?
The final result of a career test is clarity. Career and personality evaluations not just enables you to pick what career or stream is most suitable for you, also you get an advance understanding of self. The testing components in a career test are intended to capture your core – your style, your identity, your aptitudes and that's just the beginning. Consequently, you have a superior understanding of your identity as a person and your qualities and weaknesses, when you go through the analysis and the report.
This kind of introspection is extremely important when settling on a professional choice at hand, or those that you might take in the future.
To people in a phase of employment, Evalground strives at critical times, with the goal of giving the candidates a means to take charge of their own career, optimize the use of their personal resources and reap long-term personal success from the career aptitude test.
Evalground's career test will provide you with assistance and a step-by-step guide to help you have the confidence and skills to enter the job market.
You will know who you are, what your strengths are, and how to pursue personal development throughout your career.
This self-assessment is put into perspective with how you the candidate, go on with your professional life today! This includes satisfaction at work, based on involvement and relationships and prospects on changes to come within the business and profession.
We guarantee your workforce's internal employability in the long term.