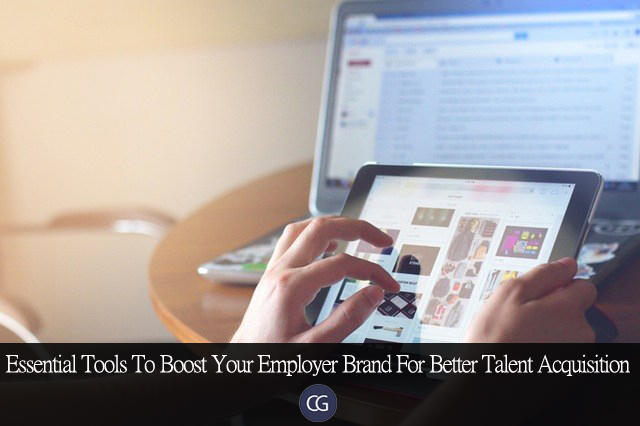 Talent acquisition is the essence of the hiring process. Recruiters are perennially competing for top talent, to secure their company's' efficiency. Recruitment strategies are becoming more innovative and the newest function added to talent acquisition is employer branding. Employer branding involves promoting a company as an employer to a target market of potential candidates that the company wants to hire. A 2016 study says that about 62% for global talent leaders believe that employer branding is their biggest priority. An ace employer is one who is able to communicate an original and consistent employer brand story in order to attract, engage and ultimately persuade relevant talent to be a part of his company.
Here are some reliable tools that recruiters can bank on to boost their employer brand experience.
Glassdoor
Glassdoor allows employees to built their employer brand image through a comprehensive user-friendly interface.  Glassdoor for Employers provides the 'Glassdoor Free Employer Account' feature which employees can use to connect with a sea of skilful talent, respond to reviews as well as propagate their employer brand. The platform provides another useful feature called the Glassdoor Enhanced Profile through which a company profile can be customized through videos, messages and social media content. It also allows them to scrutinize company  ratings and CEO approvals
Buffer
An active social presence is crucial for employer branding. Buffer is a platform that allows you to easily share content to different social media sites. It schedules the content to be posted on various social platforms. On Buffer, updates can be added to the Buffer queue which will then be posted throughout the day at appropriate intervals. Employers can communicate their employer brand story seamlessly and with minimum effort.
Naymz
The tagline for this online branding tool is, "Measure and manage your social reputation". Naymz consists of features that ensure your business or organization stays relevant on various social platforms, thereby strengthening its presence among potential talents. It helps make comparisons with other businesses and gauge the reach of your business in order to establish a strong brand.
Prophet
Prophet is an online platform that helps in developing a healthy talent pipeline for your organization. It has an authentic feature called Prophet Brand Relevance Index (BRI) which allows companies to measure the relevance of their brand and in turn develop a strong brand story to maintain it. It allows recruiters to find information about candidates including their email addresses, phone numbers and other essential details through their Facebook or Twitter accounts. It boasts of advanced email generation technology that makes sure the mail IDs provided by the candidate are deliverable.
Hootsuite
Hootsuite is a social media management solution that must be present in every recruiter's kit. It schedules and shares content, manages updates and keywords on various other social channels such as LinkedIn and Facebook. It helps in improving reputation while protecting the brand on social media. It does this by tracking mentions and messages. This tool helps to spot the latest trends through analytics and measures how your content is performing.
Evalground
 Evalground is a recruitment solution platform that aids recruiters in their hiring endeavours and features organized articles that are engaging and well informed. Recruiters can outsource campus recruitments to evalground. Evalground representatives visit campuses on behalf of organizations and promote their culture and the openings available to freshers. One of the features provided by Evalground is the weekly hackathons through which organizations can promote their employer brand story and reinforce their brand building initiatives.
This content was brought to you by Evalground Online Testing Platform. Evalground is an online assessment and test evaluation system focused on helping Recruiters in initial screening of potential candidates from an ocean of job seekers in an automated way.Evalground supports Online Aptitude Tests, Spoken English Communication Skills Assessments, Coding Contests in JAVA, C, C++, Ruby, Python, JavaScript and PHP.  Evalground also supports Automated asynchronous interviews. Evalground Screening Tests can be used by Recruiters during campus hiring or to screen walkin candidates.