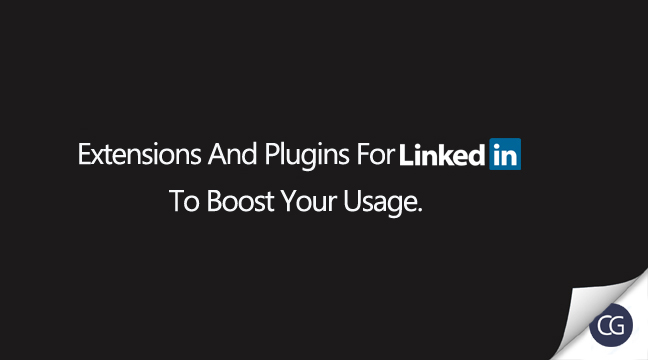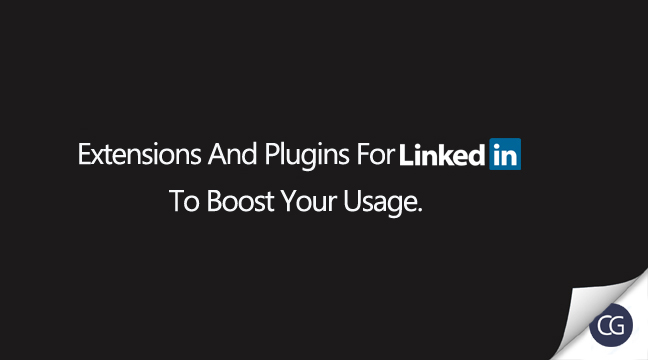 LinkedIn came and changed the social scene of the corporate world. We all know how it has helped us network and connect with the individuals whose work we respect and admire. Here we will discuss some extensions and plugins that will enable a better and easy use of LinkedIn.
1. Recap.work
There is a lot of information on LinkedIn and, if you're not careful, it can get overwhelming. This fantastic plugin helps you quickly and easily see the most important and relevant information about your contacts – so you can approach the best prospects at the right time and build better relationships.
Using data from recruitment site Glassdoor.com, Recap.work calculates people's likely salaries and even their probable job satisfaction. It gives you a summary of their key skills and current work activity. It even gives you indications of how long they stay in jobs and when they're likely to be looking for a new one.
The free version gives you 10 recaps per day. The paid-for versions let you see 100 or unlimited recaps for either $9.95 or $15.95 per month. It's a good investment for anyone who uses LinkedIn to search for prospects and gather information to facilitate the sales process, and definitely worth trying for recruiters.
2. Autopilot For LinkedIn
Do you go networking to help build your business? Whether you do it formally in a weekly group or informally by simply building relationships with new and existing contacts, people who are good networks always seem to be in the right place at the right time to tap into lucrative new opportunities.
The trouble is, there's only one of you. You can only meet so many people at a time. Until now . . . Autopilot for LinkedIn lets you 'meet' as many people as you want by visiting the profiles of potential customers on a scale you could not achieve manually.
3. Dux-Soup
Imagine, you've just spent hours finding the profiles of ideal potential customers, visiting their profiles and inviting them to connect. Keeping a record of all your activity on top of that can eat up even more time (never mind being fiddly and frustrating). Dux-Soup solves that. It lets you download a. CSV file in Excel with a log of everything you've done; names of the people whose profiles you visited, their job titles, company name, location, email, phone number and more. You can even keep a record of whether you sent them a message, the date you contacted them, and any other information that will help you qualify them as a potential customer.
It costs $15/month (about £10). If you use it correctly, it's worth its weight in gold. As with Autopilot, there's a free version of the system you can use. In this case, it also lets you visit 100 profiles per day, make notes on people's profiles and tag and search for them later.
4. Nimble
Nimble is a social sales and marketing CRM system. The Nimble Contacts Widget gives you deeper access to LinkedIn members' social activity and allows you to write and export notes. To use the extension, you need a Nimble account. The cost is $15/month, but you can get started with a 14-day free trial. Once you install the extension, log in.
When you find a prospect on LinkedIn, highlight the person's name and Nimble will activate the live profile feature. This allows you to immediately view and add that person's social presence. With one click, add your prospects to your Nimble CRM. You can add tags, include contact information, and make notes within the app. Once you save and sync your prospect's profile to Nimble.com, you can activate Nimble's other features. For instance, Deals allows you to track where your prospect is in your lead-generation funnel: qualification, decision-making, analysis, value proposition, quote, negotiation, or close deal.
5. LinMailPro
Among other things, LinMailPro allows you to personalize and automate private messages to your connections. After you install the LinMailPro extension, it will be embedded in your LinkedIn menu bar.
Here's how it works: First search for connections via the advanced search, LinkedIn tags, new connections, or even by people who viewed your profile. Then select the first-level connections you want to send a message to and open the LinMailPro dashboard.
Now compose and personalize your message and send it. Share useful links, resources, and upcoming events with your network through these messages. It's quite a time-saver. Whatever you do, don't use LinMailPro to spam your network. The private messages you share should always focus on providing useful information, not sales pitches. If too many people flag your messages as spam, LinkedIn will restrict your account.
Additional benefits include the ability to tag groups of connections with one click, and similar to Dux-Soup, automatically view the profiles of your prospects. LinMailPro is $58/month.
This content was brought to you by Evalground Online Testing Platform. Evalground is an online assessment and test evaluation system focused on helping Recruiters in initial screening of potential candidates from an ocean of job seekers in an automated way.Evalground supports Online Aptitude Tests, Spoken English Communication Skills Assessments, Coding Contests in JAVA, C, C++, Ruby, Python, JavaScript and PHP.  Evalground also supports Automated asynchronous interviews. Evalground Screening Tests can be used by Recruiters during campus hiring or to screen walkin candidates.