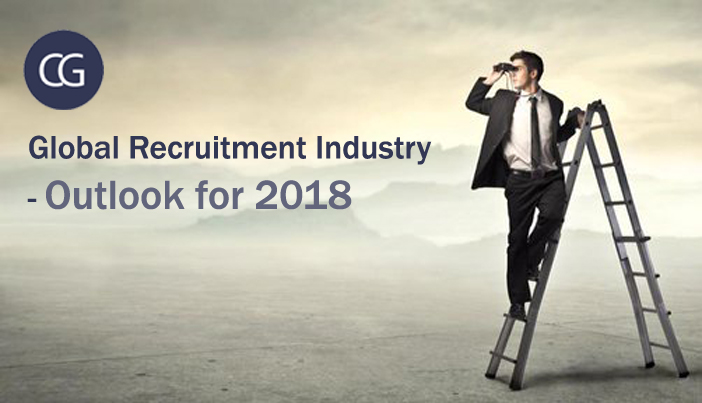 When we talk about recruitment and the year has gone by, we after several articles, white papers and webinars can say  2017 was absolutely the year of Artificial intelligence, automation of assessments and processes, extraction of bias and diversity at the workplace, and improvised candidate experiences.
With the global economy on the growth and unemployment at a low for over a dozen years now, the entire industry facing a paradigm shift, what is in store for us in 2018? What will the new year bring?
Let's look at the top recruitment predictions for 2018 in the form of an infographic.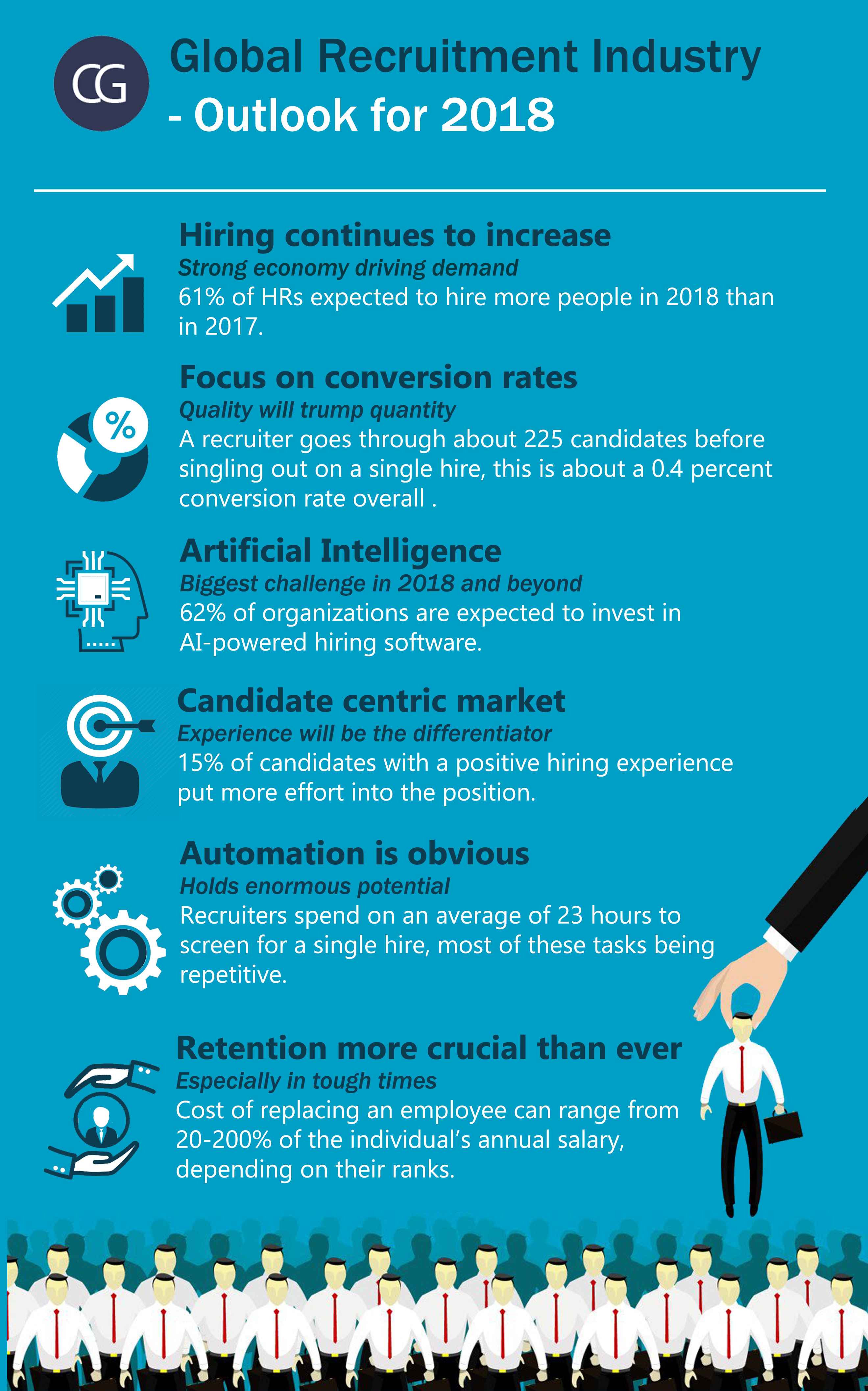 1. Hiring continues to increase – 
Strong economy driving demand
Indeed did a survey and found that hiring will see an increase with 61% of HRs expected to hire more people in 2018 than in 2017. About  29% are expected to maintain current strength. In this 56% of employers are hiring to accommodate organizational growth and only 13% for backlogs.

2. Focus on conversion rates –
Quality will trump quantity
A Global Recruiting Survey says that, on an average, a recruiter goes through about 225 candidates before singling out on a single hire, this is about a 0.4 percent conversion rate overall. This is a cry to adopt technologies and automation that can improve candidate matching and efficiency by analyzing the job description, scanning databases and then striking a match.

3. Artificial Intelligence–
Biggest challenge in 2018 and beyond
62% of organizations are expected to invest in AI-powered hiring software. In this, the biggest chunk, 86% is to be spent on sourcing, 30% plan on spending on interactive chat boxes and other interactive software and 26% plan on digitizing interviews.
Spend time in understanding how your competitors are adopting? May 2018 be the year to look back at your budget allocations and even sample out new solutions in the market.

4. Candidate centric market–  
Experience will be the differentiator
2018 will see the war for talent and this time it is the talent that will lead the war. We are on the cusp of seeing more informed talent. Undercover Recruiter found that 15% of candidates with a positive hiring experience showed signs of putting more effort into the position. 4 out of every 5 candidates say the overall experience they receive during the hiring process reflects how an organization values its employees. Engagement and connections need to be made to strike a cord and keep it real with a humane touch. No point in working for strong employer branding on the foundation of weak employee experience.

5. Automation is obvious –
Holds enormous potential
Some of the most popular areas where automation can step in would be in candidate screening, with recruiters spending on an average of 23 hours to screen for a single hire. Also, by automating repetitive tasks, digitalization of interviews, recruiters can enhance the pre-qualification activities. While automation can't be sidelined, we should remember the resource we are dealing with here is human and everyone needs a  friend. Relationships matter. Now, more than ever, budget allocations and make sure you're evaluating new solutions on the market.

6. Retention more crucial than ever–
Especially in tough times
Studies show that today the cost of replacing an employee can range from 20-200% of the individual's annual salary, depending on their ranks. What cuts deeper is if you collectively looked at the cost of hiring, cost of onboarding, investment in the learning curve, the emotional costs, etc. With 71% of employees disengaged and 60% actively looking for jobs, what we have in waiting is an iceberg with just the tip showing.
We get it that processing all the above information and planning your strategy for the coming year, can leave you feeling a bit overwhelmed and maybe even a bit under-equipped. But worry not for there are ways to find the right glove like fit for your organization's recruitment needs.
Evalground's team of experts can better understand your current hiring efforts/woes and help you up your game and slay the new hiring season victoriously.
To learn more about how we can help you hire and assess better this coming year, contact Evalground.
This content was brought to you by Evalground Online Testing Platform. Evalground is an online assessment and test evaluation system focused on helping Recruiters in initial screening of potential candidates from an ocean of job seekers in an automated way.Evalground supports Online Aptitude Tests, Spoken English Communication Skills Assessments, Coding Contests in JAVA, C, C++, Ruby, Python, JavaScript and PHP.  Evalground also supports Automated asynchronous interviews. Evalground Screening Tests can be used by Recruiters during campus hiring or to screen walkin candidates.