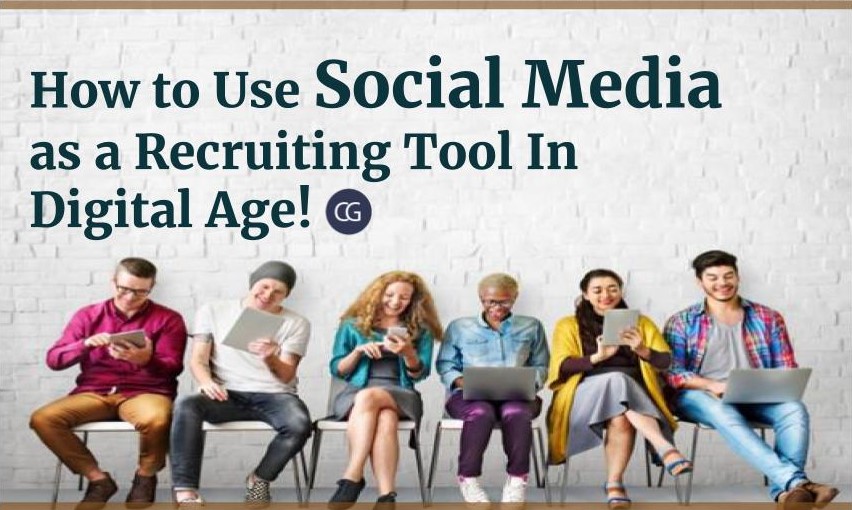 Social Media Is A Medium For Both Work As Well As Play!
This article will discuss the impact of social media in the current recruitment industry and how exactly you can use this platform as a recruiting tool. It will focus on how few companies and recruitment personnel are getting advantage of the social media landscape to promote their brands effectively and solve recruiting talent issues too.
As the growing use of social media is phenomenal, companies and recruiters, therefore, need to be where candidates are in order to engage them in the recruitment process. Social media can be fast, efficient and cost-effective when used as a recruitment tool. It does so, however, have its limitations too. Overall, social media is improving the recruitment process by making it more open.
Social Media Tools For Recruiters: It's all about digital
As social media are evolving as a major tool for the recruiters and becoming more widespread. It provides exciting possibilities for the recruitment industry over the decade. Recruiters are now started looking at the ways in which they can extend their services through social media as another recruitment channel: posting jobs and seeking referrals through a specific location network.
Recent research highlighted that Facebook, LinkedIn, Twitter, Instagram and Youtube are the most popular tools used by hiring professionals. These sites can generally be used in three ways – to search for candidates, to post jobs and for employer branding.
Here we look at those sites as well as some of the other popular social media resources for recruiters looking to engage online.
Facebook
No matter what, Facebook is the biggest social network site across the globe. With over more than 1.55 billion active users, it has become a major tool for the recruiters to engage more talents and a great place to search for people, grow your business, and market goods and services.
There is a term called Facebook Graph Search which allows sourcing of active users and helps to undercover candidates who have specific work experience and relevant education. Facebook recruitment can also be useful for a source who want to find people connected to their current employees, or who work for their competitors. What exactly you have to do is, typing in a search query. For Example, 'People who work at [Competitor] and like [Job function]' or 'People who like [programming language] and live near [Location]'..etc. From the searched results, you can easily assess candidates by reviewing their profiles and later you can make a hire by contacting them. Read more at: How To Source Candidates on Facebook
LinkedIn
When it comes to sourcing candidates, most people think of LinkedIn, and with good reason. As the undisputed go-to sourcing resource, however, on LinkedIn, you may find that competition for the same talent is high. LinkedIn is advantageous for employers who use them for both networking and recruiting.
With LinkedIn you can stay in touch with former, valued, trusted colleagues for potential future employment relationships. You can actively search for candidates among LinkedIn members by searching on keywords for people with the required qualifications listed in their LinkedIn profile. Moreover, you can search for potential employees by a past or current employer and based on references from recommends you trust. Also, you can use Inmail, your internal inbox at LinkedIn, to request assistance from your network or selected professionals to find a qualified candidate. For expanding your network, here you can join groups too. Read more at: How To Use LinkedIn for Recruiting Employees
Twitter
When it comes to recruiting, it pays to go where the people are, and there are about 1 billion registered Twitter accounts, with nearly 250 million active users monthly generating more than 500 million tweets per day. As a recruiter, you can use your own Twitter account or use your company's, but it should be clear that the purpose of your account is to share available jobs and information about the companies that are hiring.
Keep your tweets short, to the point with proper hashtags. You should also follow associates and other recruiters that might be sources for candidates. When you find a potential candidate on Twitter, evaluate their activity to see how often they tweet, if they have a healthy balance between followers and following, how big their network is and the quality of their tweets. Do they keep a balance between personal and professional tweets? Read more at: How to Use Twitter as a Recruiting Tool
Instagram
Instagram is an image based application based platform that allows users to enhance photos they've taken and shared them with their followers. It is important to know that few companies looking for top talent, have figured out that the secret to getting a passive candidate's attention is to tell a great story about their company, that showcases what it's like to work for them. When those stories focus on things potential candidates desire in an employer, it becomes Employment Branding and thus brand awareness is created. And what better way to tell those stories and create brand awareness, than on visual medium like Instagram?
Instagram's strength as a recruitment tool, lies not in its ability to help you search for talent, but in its potential as a serious employer branding platform which can help attract both current job seekers and passive candidates to your company. As a recruiter, you need to first build up your bio, Upload posts with proper hashtags and send a direct message to them. Read more at: How To Use Instagram For Recruitment With Ease
Youtube
Nowadays, a lot of companies have jumped into the social recruiting feast with recruiting on facebook and twitter. But have you included YouTube in your social recruiting mix? YouTube has to be part of your company's recruitment strategy. The main value lies in the attraction part of the recruitment process. Producing great visual content is a great way to get potential applicants interested.
YouTube is a highly underutilized social network when it comes to recruiting. And if you haven't looked at YouTube as a tool for recruiting and employer brand building, here you should look why? As a recruiter, you can use youtube for sourcing and broadcasting your company culture. You can also come up with employee testimonials and get great results in terms of getting top talents with creative hiring campaigns on youtube channels. Read more at: How to Use YouTube for Recruiting
This content was brought to you by Evalground Online Testing Platform. Evalground is an online assessment and test evaluation system focused on helping Recruiters in initial screening of potential candidates from an ocean of job seekers in an automated way.Evalground supports Online Aptitude Tests, Spoken English Communication Skills Assessments, Coding Contests in JAVA, C, C++, Ruby, Python, JavaScript and PHP.  Evalground also supports Automated asynchronous interviews. Evalground Screening Tests can be used by Recruiters during campus hiring or to screen walkin candidates.