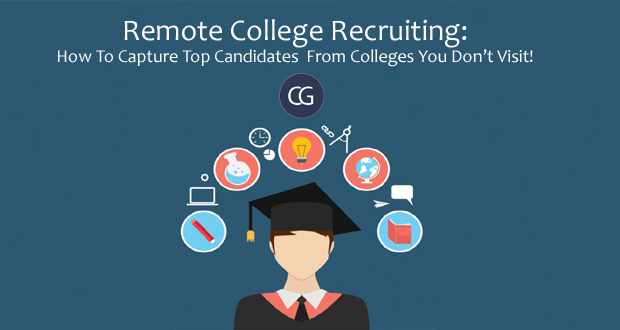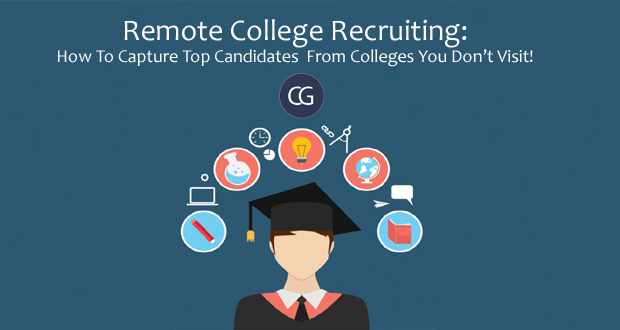 Recruiters and hiring managers, have you ever heard about remote college recruiting? If not, you may want to consider it as one of your recruitment strategies. As recruiting continues to become more difficult, most organizations are looking to perk up their college recruiting programs and concentrate on a greater portion of external hiring efforts on entry-level professionals.  The most serious restriction in college campus recruiting is that the traditional approach requires recruiters to physically visit the campus in order to recruit. And if you assume that the top talents only attend the top-ranked schools, you are making a big mistake. Because many exceptional candidates probably do not attend the college campus that you visit. So, even though remote college recruiting may not seem right for you, remember that today's age is of the Internet age, and these approaches produce three-times the ROI than the traditional approaches. The best part here is that you can be successfully recruited without a single visit, using "remote college recruiting."
Benefits of Remote College Recruiting
There are many reasons why a recruiter should supplement college campus visits with remote college recruiting:
It saves the travelling costs and time of both recruiter or hiring managers.

It allows an organization to expand their global capabilities where campus visits are just not realistic.

Using top remote recruiting tools available in the market allows you to identify candidates that would not have been found using the traditional recruiting approach.

The competition at a smaller or second-tier college is much more subtle, so you will be likely to have little difficulty in approaching any candidate you find.

Try to host online contests and projects, and you might actually recruit a top quality candidate with the ability to solve problems.

If you design your program correctly in terms of online contests and projects, you might actually increase the percentage of total diversity hires.
Use Remote Recruitment to 'Cherry Pick' Top And Second-Tier Colleges
The top benefit of recruiting without a physical visit starts with the time saving because there is no travel time. So, as a recruiter, you can expect that these remote campuses often have much higher diversity rates from both the top colleges and second-tier colleges. By skating slightly the cream, or 'cherry-picking', you can pick top graduates from small, remote, second-tier or top-tier colleges too.
Remote Recruiting Is Cheaper And At Least As Effective
The most serious limitation in college campus recruiting is that the traditional approaches require both recruiters and hiring managers to physically visit the campus of their target schools in order to recruit that is extremely expensive. And it can be more problematic because, at many of the top campuses, you need to go through some kind of sign-up process. Taken altogether, these points conveys that college recruiting visits to distant colleges must be limited to a small number of colleges. But it is now possible to identify, contact, interview, and hire candidates remotely at any university, without ever visiting them.
Identifying Top Prospects Remotely
You can identify top talents remotely with a variety of approaches. Start identifying top candidates by capturing their names from college lists. Encourage your technical employees to search via the Internet for examples of quality candidates work (especially on Facebook, Instagram, and YouTube) can also be effective. Having your employees to look for great questionnaire online on student-oriented technical discussion forums is another approach to consider. A large percentage of students now have a LinkedIn profile, so with a recruiter's access, it is extremely easy to identify them, based on their college name and other activities. Posting instructional videos on YouTube and slide presentations on Slideshare have proven to be an effective way to attract top candidates. Referrals are also an effective approach because students are well connected with universities because these relationships may lead to a strong referral and even the encouragement of quality student search.
This content was brought to you by Evalground Online Testing Platform. Evalground is an online assessment and test evaluation system focused on helping Recruiters in initial screening of potential candidates from an ocean of job seekers in an automated way.Evalground supports Online Aptitude Tests, Spoken English Communication Skills Assessments, Coding Contests in JAVA, C, C++, Ruby, Python, JavaScript and PHP.  Evalground also supports Automated asynchronous interviews. Evalground Screening Tests can be used by Recruiters during campus hiring or to screen walkin candidates.