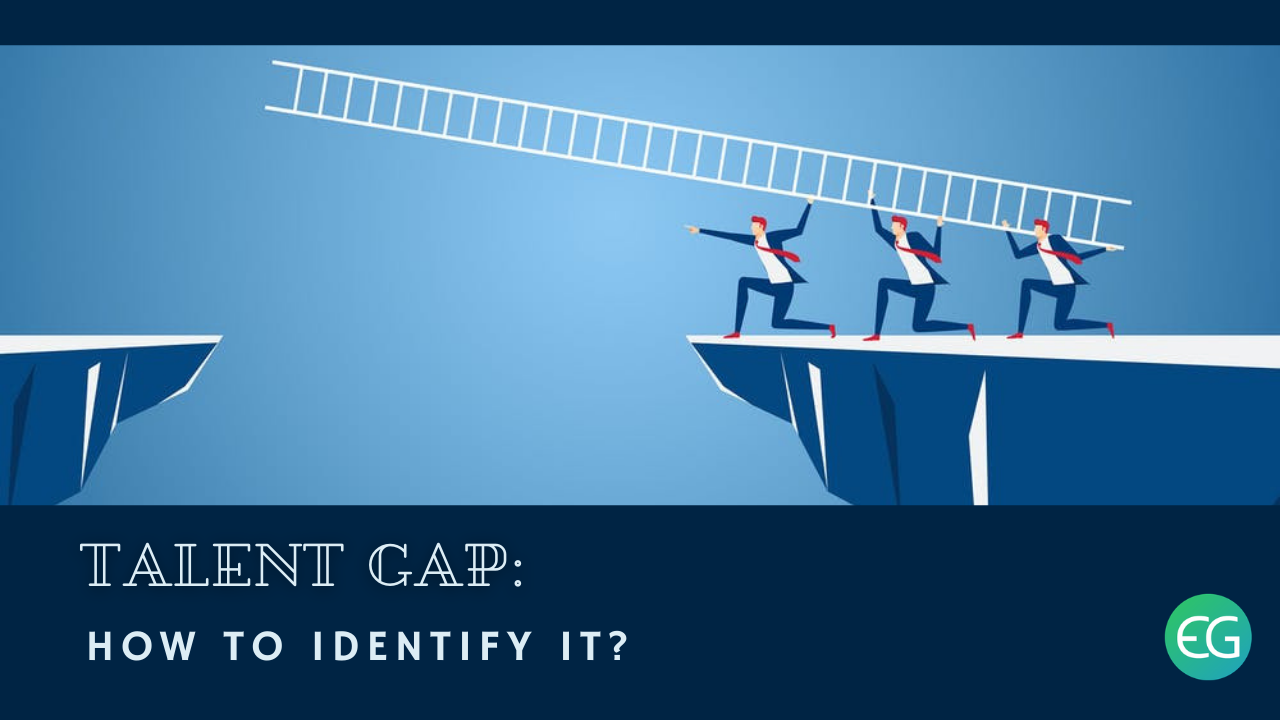 As industries and businesses everywhere continue their quick and steady evolution, organizations are experiencing a drastic change in the workforce skills they need to prosper and grow. Numerous researches have shown that as many as 375 million people globally are likely to look for new occupations by the end of the next decade to meet companies' skills needs and the changes that automation will bring will free workers to spend as much as 30% of their time on other work. Now in a new survey done by the McKinsey Global Survey on future workforce needs, it is found that 9/10 managers say that their business is either facing a talent gap already or they expect to see talent gap developing in the next five years.
Talent gap refers to the difference between the skills that are required for a particular job and the set of skills that the employee actually possesses. Because of the talent gap employees might not be able to complete a job satisfactorily. In other words, a talent gap is a difference between what the employer is expecting from the workforce and what the employees are actually offering. Conducting a talent gap analysis will help you in identifying the skills or the right talent that you need to meet your business needs and goals. With various talent gap analysis templates and statistics, you can consecutively improve your employee learning and development and hiring programs. 
Benefits Of Talent Gap Analysis:
Identifying talent gaps helps companies because it ensures that the company's workforce is well trained, knowledgeable, and better equipped to perform the particular job assigned to them. Talent gaps are identified through the method of talent gap analysis.
Helps to enhance and define a person's skills as per the corporate needs.

Points to the critical skills employees got to work on.

Helps within the recruiting process because it defines the necessity for skills or interests which current employees don't possess.
Being unable to shut the talent gap at your organization may be a serious issue, resulting in missed opportunities and lost business now and within the future. But how are you able to find out what skills you would like to bridge the talent gap? Companies that embrace people analytics to uncover and bridge these gaps within their organizations are going to be better prepared than their competitors to win the war for talent. 
A talent gap analysis has been recognized as a crucial tool to know an organization's hiring needs, although there could also be several organizations that don't have a structured process for such an analysis. during a business environment where organizations cannot afford to be myopic in their approach to talent management, and efficient analysis of talent gaps aids in sustainable, strategic talent mapping for short-term and long-term needs.
Why Do Talent Gaps Occur?
Improvements in technology and digitization are reinventing business. Organizational strategy is not any longer an annual event where the management meets—it may be a constant readjustment to changing priorities. Technology and methods are changing work faster than the workforce can adapt. Within the past few years, competitive pressures, driven by the fast pace of technology change, have altered HR's mission from managing risk and other people processes to enabling the workforce to adapt to the present constant, disruptive change.
However, consistent with a survey, 64% of managers believe their employees won't keep in step with future skill needs. 70% of employees say they haven't even mastered the talents they have today.
Industry leaders are advocating for upskilling and reskilling employees for several years, but it doesn't appear to be working tolerably. Too many companies don't have a transparent idea of their employees' capabilities or what skills they have to shut the talent gap. By the time they figure it out, it's too late to coach. they need to attend the market to shop for skills or miss opportunities.
There is a difference to bridge the talent gap. Using people analytics can help your organization uncover the prevailing and missing skills and plan how you'll close the gap.
If you're feeling the pressure to enhance your team's analytical skills, you're not alone. CEOs worldwide are concerned about HR's ability to deliver. during a survey of over 1,200 organizations in 79 countries, PwC found that 41% of HR leaders believe their teams are ready, but only a fourth of business leaders agree.
Work step by step through identifying and shutting talent gaps. you'll help your organization start brooding about jobs and talent in a way that permits you to form quick progress in closing your gaps.
How to Identify Talent Gaps In Your Organization?
People analytics isn't a replacement tool from IT. it's a replacement mindset—a fresh way of brooding about people data—that leads you to ask the proper inquiries to make better decisions about people and talent.
Some organizations have tried to collect all of their data and analyze it to uncover problems that require solving. It didn't go well. They wasted a substantial amount of your time and energy because they hadn't aligned their effort to the business strategy. it had been an answer trying to find a drag.
The right thanks to starting is, to start with, a business need. 
Analyze hiring needs and skills gap 
The initial step to making a recruitment plan is to recognize your hiring needs and where there are skills gaps that your current talent can't fill. Start by understanding the development of your organization, contemplating significant variables like employee turnover and foreseen promotions, as they will affect your hiring needs. 
Make an estimate of the departments and jobs that will require reinforcing and why. Is a key individual from the group leaving? Will another venture kick-off? By realizing which skills your group will be missing and the ones you'll have to handle in the future remaining task at hand, you can adopt a proactive strategy that better adjusts recruiting with staffing needs. A skills gap test is an efficient perspective on the qualities and shortcomings of your current team(s) and recognizing which skills you have to bring on board. 
The most ideal approach to recognize what you have and what you don't have is to talk with senior designers, managers, and executives. Solicit them the qualities and shortcomings of their group and afterward accordingly organize filling any skills gaps
Note that recruiting a full-time representative isn't the only possible way to fill a skill gap. Think about a freelancer, independent consultant, low maintenance position, temporary job, or other entry-level positions.
Optimizing your recruitment plan
Planning ahead and keeping track of your results allows you to continuously improve your recruitment efforts. There are many ways to optimize your recruitment process. One of them is to use recruitment software. A well thought out plan can help you figure out where you have room for improvement. Another idea is to move things around in your process. A combination of many optimization efforts has the best effects. 
If you have already planned your hiring activity, calculate your cost-per-hire and recruiting yield ratio. Add all internal (for example, referral program incentives and recruiter salaries) and external recruiting costs (for example, agency, job posting, and background check fees) and divide the sum by the number of new hires. As part of your personnel budgeting process, forecast the amount you'll pay to your future employees in personnel costs (salaries, benefits, and fully burdened costs.)
Establish a selection process
Next, you should consider how you're going to deal with the dubious task of the applicant selection. Obviously, characterize how the general procedure will function by building up what number of meeting adjusts you'll have and who will be entrusted with talking and choosing up-and-comers. 
All things considered, you shouldn't utilize a one-size-fits-all selection process for picking candidates. Or maybe, you should search for various approaches to customize the experience for every applicant. You can do this by thinking about what questions, needs, or concerns they may have through the interview process and selection procedure and proactively tending to them. 
Pre-employment tests are an incredible asset for choosing qualified candidates right off the bat and moving them along in the recruitment procedure. There is a wide range of online assessments, from measuring aptitudes and character traits to deciding intellectual capacity and social fit. With an adaptable pre-employment evaluation method, you can make gamified online appraisals that will help with determination and draw in the applicant. (Sounds like a win-win, right?) 
Learn and optimize your recruitment plan as you go
Finally, you should use the inputs from your fresh recruits and analytics to educate yourself and update your recruitment plan and enhance and optimize it accordingly. Conduct an anonymous study to gather criticism from fresh recruits. How was the interview and selection process? What parts of the procedure progressed admirably and what part could have been improved? 
You can likewise utilize your recruiting analytics. Survey key enrollment measurements like time to hire, nature of recruit, early turnover rates, and cost per hire. At that point discover ways you can improve your enrollment procedure dependent on those experiences. Just as the 21st-century job market is evolving similarly the hiring business is continually advancing, your recruitment plan ought to develop over time.
How to Fill the Talent Gap?
To fill the talent gap in an organization, the HR department needs to follow certain basic steps. It helps in working out solutions to deal with the talent gap. Following are the steps to address the talent gap.
Know the Knowledge, Skills, and Abilities (KSAs) required for the positions or vacancies.

Identify the areas where proficiency needed.

Look for persons with required KSAs within the industry or market.

Select the right or deserving candidates with the required proficiency.

Identify the skill gap of the candidate for the position.

Devise plans to mitigate the skill gap.

Provide training and refreshment to the newly-hired employees.

Roll out professional development plans to help employees succeed in their roles.

Periodical assessment of individual performance and identify the areas where extra training or specialized attention is required.
A continuous alignment between organizational needs and employee performance is essential in meeting the goals of an organization.
It is found that the talent gap has a moderate-to-high negative effect on business. It also reduces competitiveness and productivity. It hampers the turnout rate and reduces employees' morale in an organization.
The HRD needs to take strategic steps to reduce the talent gap to a negligible level so as not hamper the productivity of the workforce.
This content was brought to you by Evalground Online Testing Platform. Evalground is an online assessment and test evaluation system focused on helping Recruiters in the initial screening of potential candidates from an ocean of job seekers in an automated way.Evalground supports Online Aptitude Tests, Spoken English Communication Skills Assessments, Coding Contests in JAVA, C, C++, Ruby, Python, JavaScript and PHP.  Evalground also supports Automated asynchronous interviews. Evalground Screening Tests can be used by Recruiters during campus hiring or to screen walk-in candidates.