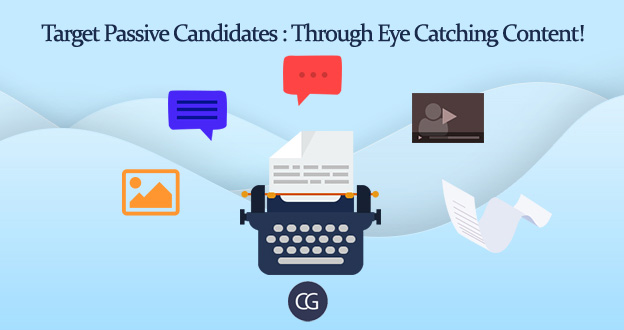 Once upon a time, there was a company with a great work culture and Monday mornings became less gloomy.
See, who doesn't love a good story. Knowing this is half the problem solved.
One of the biggest challenges recruiters face today is attracting candidates – passive candidates more so because they're not even actually looking for a job!
Now, adding salt to the wound is the fact that most of the good candidates get taken fast and inevitably fall under the passive candidate's category.
Recruitment is closely being associated with digital marketing. Therefore, it would do you well to combine your efforts with your marketing team. Curating relevant content which can be posted on various social media platforms and blogs can be a driving force to attract passive candidates. Content forms the foundation for inbound recruitment. This puts more pressure in the quality of the content recruiters and content marketers put up for attracting passive talent.
People want to work and be associated with the best in the industry. Now let us look at how efforts from your end can help achieve that.
Create a persona of your ideal candidate  
This should be the very first step. You should have a clear picture of what background or skills and interests does the target candidate have? What niche media or publications does he or she read? What kind of content your audience engages with in general? Understanding who your audience is and then coming up with content specifically for that audience is the very backbone of your strategy.
Sell your company, Sell your positions
Recruiting is sales.
There, we said it.
It's after all your job to find the right talent for your organization. We also know, the best talent will usually be presented with other opportunities – not just yours. And it then becomes your job to convince them that the position in your organisation is the best one for them. However while doing this be sure to understand the career needs of your candidate and articulate how your position can help further those needs. You must convince your prospect that a shift to the job you're offering is a potential career move for them.  Narrate your employer brand with the aid of google analytics and your glassdoor accounts.
Be pitch perfect
The art of pitching is crucial in order to successfully attract and capture passive candidates. How you pitch will determine whether your candidate agrees to meet for an interview or not. In an email, do not use content that is neutral. You must emote through your words and convey a positive message. Clarity is essential because passive candidates are not up for replying to vague emails with unclear job descriptions. Create your message to appeal to the goals and values of your target passive candidate.  Personalize your mail by including details about your candidate. Then describe the position you are looking to fill in. Make your pitch sound more credible by mentioning your reputable clients. This can go a long way in ensuring that you receive a response from your passive candidate.
Video Recruiting

Your passive prospects need to know that you are different from the sea of recruiters out there. Since they aren't even looking for a job, your approach needs to stand out from the rest. Recruitment videos help give a novel approach and a visual perspective to your company. It allows your company culture to come through which can really help attract relevant candidates. Videos can give passive candidates a picture of the company's work environment such as everyday activity, events etc and can be consumed easily by the target audience. Tools such as Ongig and videomyjob.com can help with your video job ads. By incorporating company values and a few interviews with current employees your video can pique the interests of passive candidates. Also, people are willing to spend more time watching a video than reading a text-only job ad.
Get Blogging

Creating a company blog isn't a new idea but it is one of the best if you want those passive candidates.Blogs are the best way to attract and engage talent, through your content. Informative articles targeted specifically at passive candidates, which answer their questions, tackle their problems and provide efficient solutions can boost your company presence among them. A blog can help you build company reputation and ensures good social presence. This helps passive candidates find you and not just the other way around. By sharing your expertise as a recruiter with knowledgeable content and SEO efforts, you can make yourself known to passive candidates everywhere.  Blogs can engage talent through the comment section through discussion, debates and opinions. This is where passive recruitment really begins.
This content was brought to you by Evalground Online Testing Platform. Evalground is an online assessment and test evaluation system focused on helping Recruiters in initial screening of potential candidates from an ocean of job seekers in an automated way.Evalground supports Online Aptitude Tests, Spoken English Communication Skills Assessments, Coding Contests in JAVA, C, C++, Ruby, Python, JavaScript and PHP.  Evalground also supports Automated asynchronous interviews. Evalground Screening Tests can be used by Recruiters during campus hiring or to screen walkin candidates.