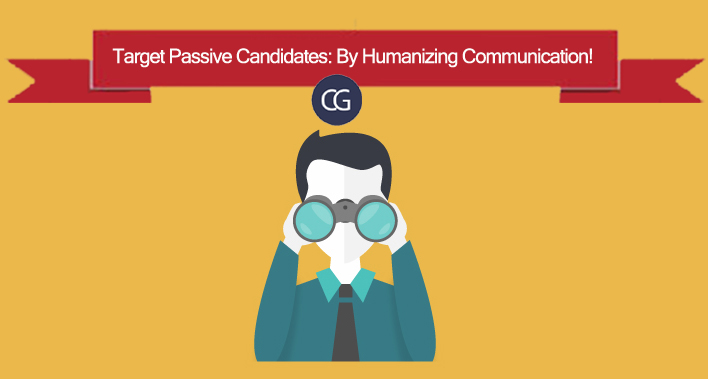 Swarms of candidates may fall in line for that job position that is now up for grabs. But you're looking for someone different. Someone with the right amount of experience and who isn't going to up and leave at the sight of better monetary gain.  While active job seekers are banging on the doors of companies, recruiters have come to realize the hidden pot of gold that is the passive candidate. But how do you reach out to them? Passive candidates are in a league of their own and need to be wooed the right way. Personalized communication that is informative but also attention-grabbing, in the right mix is what will appeal to this elusive treasure. Here are a few ways that can aid in capturing passive candidates to strengthen your talent pipeline.
Networking and live events
A strongly connected network can go a long way in uncovering the most talented passive candidates. There's nothing wrong with tapping your personal network of friends or colleagues outside your company if you think they might be fit for a particular position. Your contacts too can be a good source for recommending other qualified individuals also. Making connections is very important since with passive candidates you can never know when you've struck gold. Form connections with other recruiters and talent acquisition professionals. Take it a step further by attending live events. Meeting potential candidates face to face is more impactful and can be a great way to expand your network. Sign up for various company gatherings, trade shows etc where you can articulate your company's opportunity and why working for them can be great.
Personalised emails and messages
Personalizing your message while approaching passive candidates can really make them feel loved. It shows that you have taken time to do good research on your candidate and genuinely feel like they are suitable for this position. Create a persona for your prospect and then tailor your message according to what motivates this prospect. Always know that you will be dealing with sceptical and busy candidates, therefore you must be succinct. By definition, passive candidates aren't looking for a job, actively. Which means to capture their attention and retain it you must gain their trust and develop a sort of rapport. This can't be achieved by sending a mass mail to all of them. Try to highlight their achievements relevant to your job position and what drew you to them in the first place. The idea of your message, be it through social media or email etc, should be solid and informative but short enough to hold your prospects attention.
Cold Calling
Most passive candidates are sceptical of cold calling. They might be suspicious of the HR's intentions and are likely to respond negatively to them. However if done right, cold calling can really help in turning your potentials into permanents and also expand your network of referrals. According to Lou Adler,  instead of making random cold calls, make a list of 10 to 15 names according to their company and title. Then divide these calls into worthy and unworthy candidates. Worthy candidates are those who are either finalists in the job search or can recommend other potential candidates suitable for the job. So, communicate with the worthy list and you are sure to build a talent-rich network of worthy referrals.
Build a recruiting culture
Attracting passives can be so much quicker if an entire company is willing to cooperate in the recruiting efforts. By making recruiting culture one of the working pillars of the company, employees are more involved in filling empty positions irrespective of what their positions may be. If you strive for a company that makes brilliant hiring decisions, then it will do you good to make recruiting a company-wide function. This increases referral rates and keeps employees more involved with the company.  Involving employees in the recruiting process also results in more qualified and relevant candidates since it's the employees who really understand the nature of work. The more the people scouting for talent the greater the possibility of finding the perfect passive candidate. This is a great way to manage talent shortage and fill those vacancies through a combined group effort.
Understand the passive candidates
The motivational factors that drive passive candidates are very much different than those of active ones. You must be able to communicate with them based on these factors. Selling the job position won't work if it comes off as gimmicky, particularly when passive candidates aren't even thinking about a career change. So when conversing with them, ask the right kind of questions. For example " What is the one thing that can make your current position more enriching". Ask questions that help you understand the subconscious concerns of passive candidates, and try to sell accordingly. The idea is to put yourself in the shoes of these passive candidates and come up with a pitch that propels them to consider a job change.
This content was brought to you by Evalground Online Testing Platform. Evalground is an online assessment and test evaluation system focused on helping Recruiters in initial screening of potential candidates from an ocean of job seekers in an automated way.Evalground supports Online Aptitude Tests, Spoken English Communication Skills Assessments, Coding Contests in JAVA, C, C++, Ruby, Python, JavaScript and PHP.  Evalground also supports Automated asynchronous interviews. Evalground Screening Tests can be used by Recruiters during campus hiring or to screen walkin candidates.