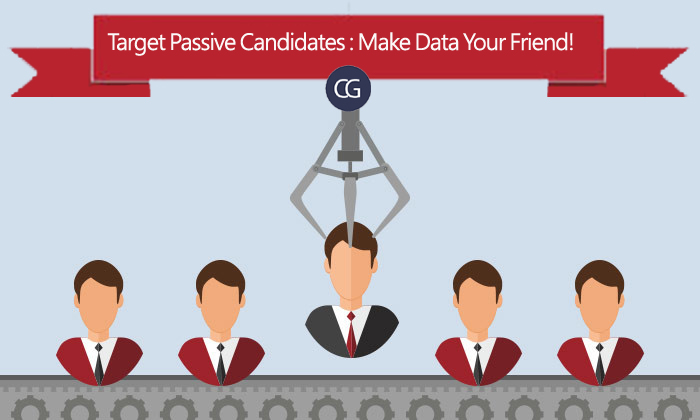 Recruiting Passive Candidates Isn't Passive!
Approaching passive candidates can be difficult, but most Human Resource Managers usually relying on data and analytics to increase their productivity by tracking and analyzing candidate's data. Tracking of data is a crucial step for any Human Resource Department because it can generate better results as per any recruiter need. This is because, even if someone is not actively looking for a new job, they are more likely to be interested if approached with the right opportunity. Finding candidates those are not actually looking for a new job may be difficult. However recent research suggests that most of the passive candidates stay longer in their new roles when compared to active ones.
There are so many digital tools available in the market today that can help you in targeting passive candidates when it comes to rely on data. We are describing some of them in this article.
Mine Your Applicant Tracking System (ATS)
Most recruiters have reported that at least 50% of job seekers don't possess the basic qualifications for the jobs they are applying. Applicant Tracking Systems or ATS came about when recruiters needed a way to deal with these bunch of pointless resumes. Today's Applicant Tracking Systems are developed to scan for keywords, Any kind of previous employment history and college records to identify the right candidates. Today, most of the recruiters are already using this new recruiting solutions and tools such as Applicant Tracking Systems to help them cope with the changes, but do you know what are the actual key benefits of using an Online Applicant Tracking System?
An ATS can reduce the recruitment administration time and other related costs, therefore it improves your Cost Per Hire.

An ATS can streamline and automate the recruitment process by providing a powerful application interface that helps manage the entire recruiting process and ensure best practices.

An ATS strategically improves the decision-making process in the crucial recruitment decisions based on quality metrics and talent intelligence.

An ATS automates the overall recruiting process and thus can save time by sorting and filtering through the bundle of resume overload.

An ATS centralizes all candidates data in a single talent database, where recruiters can easily find, filter and screen them at their level of convenience.
These are the top benefits of using an ATS which might prove essential for all of your recruiting needs on a short or long term. If you want to know about Top Applicant Tracking System available in the market, just check this article to know more of it – ATS Tools Recruiters Ought To Know About.
Use Google Analytics To Your Advantage
One of the best resources for analyzing any kind of data around today is Google Analytics. Many recruiters and human resource managers don't think this tool is actually built for them, but you'd be mistaken! As a recruiter, there are a lot of things you can actually learn from Google Analytics, including areas to improve your branding.
For recruiters, there are a few essential data points which they can monitor your employer branding strategy. These include:
From which pages candidates are coming to your website.

Pages candidates are leaving from.

Your most efficient

inbound recruiting channels.

Track Social media, Dig organic search, analyze email, etc.

Time on website/page.

Total Bounce rate.
Gathering data from Google Analytics Account can tell you certain web pages where you should add more employer branding content and job postings. You never know when a passive candidate might stumble onto your web page. If your strategy isn't working, try using the data you have collected to use employer branding to attract passive candidates. You can anytime use Google Analytics Support to learn this technology better. If you have done a Google Analytics Certification, it would be a great advantage in the next steps of advance recruiting process.
Try Email Tracking Tools
Email tracking tools are a great example of such tools that can give you great insight into an important part of your organization. Best Email Marketing software allows any users to track emails and collect analytics such as email open rates, the total volume of clicks on links in emails, and the overall number of downloads of email attachments. Email tracking services utilize certain features, to enable users to monitor email delivery to their intended recipients. Most Human Resource Managers are frequently using email tracking tools within their recruiting departments to identify optimal engagement points and improve communications with passive candidates.
Email tracking software integrates directly with email platforms and you get a desktop notification the second a prospect opens your email and clicks a link inside. In this way, you can use notifications to follow up the candidate's data to reach them out at the right time. There are a lot of top email tracking tools available in the current market. For example, MailTrack, ContactMonkey, Bananatag, MassMailer, PersistIQ, and SalesHandy and Streak for Gmail. If you want to get a detailed list about best email tracking tools, you can check out this article – The 10 Best Email Tracking Tools.
This content was brought to you by Evalground Online Testing Platform. Evalground is an online assessment and test evaluation system focused on helping Recruiters in initial screening of potential candidates from an ocean of job seekers in an automated way.Evalground supports Online Aptitude Tests, Spoken English Communication Skills Assessments, Coding Contests in JAVA, C, C++, Ruby, Python, JavaScript and PHP.  Evalground also supports Automated asynchronous interviews. Evalground Screening Tests can be used by Recruiters during campus hiring or to screen walkin candidates.