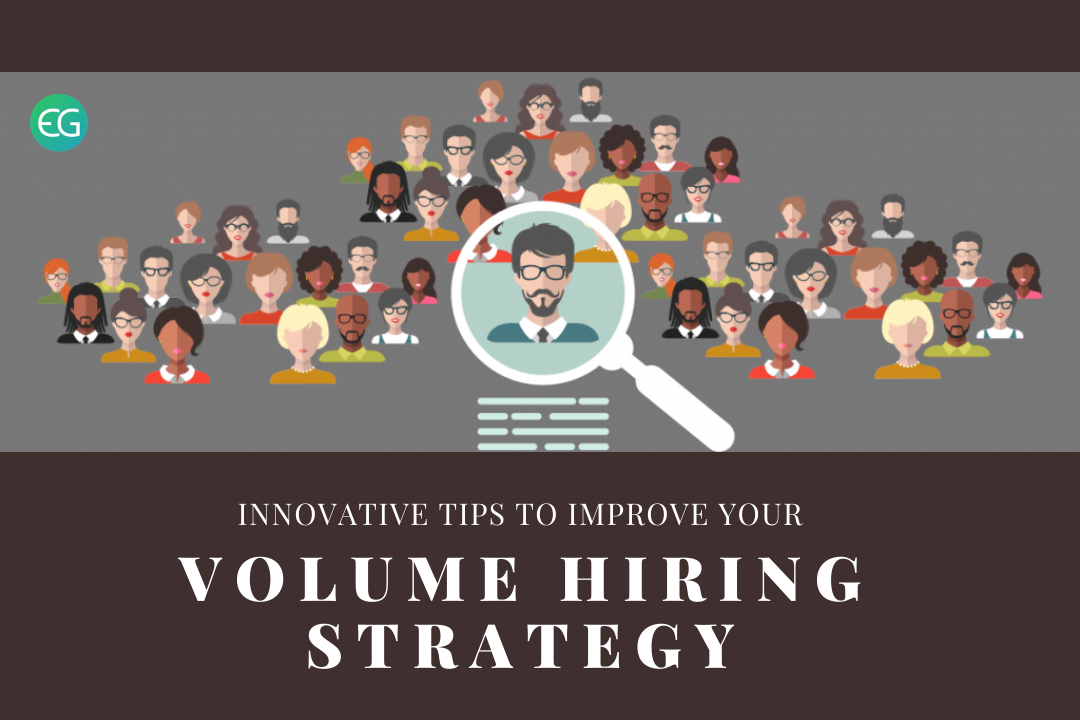 Recruiting at a high volume is always a difficulty. You either need to recruit a lot of exceptional people in a short amount of time, or you have a lot of applications, or you need to hire both. Attracting competent candidates, reviewing hundreds of resumes, and making a slew of screening calls is a labor-intensive process that can be costly, time-consuming, and frustrating for all parties involved.
As a result, the time spent screening and shortlisting individuals is the key hurdle for high volume hiring. The goal is to keep your high-volume hiring process short and sweet for both prospects and recruiters.
What Is The Meaning Of Volume Hiring?
When a business wants to hire a high number of people in a short period of time or when there is a consistent demand for resources, volume hiring is usually recommended. Seasonal recruitment, ramp-up recruitment, in-house recruitment, on-site recruitment, and project recruitment are all possibilities. It's possible that the need is either homogeneous or heterogeneous. Many times, an employer's in-house recruitment team lacks the bandwidth to handle high-volume hiring, necessitating outside assistance to offer an end-to-end recruitment process.
Hiring for a significant number of available positions in a short period of time is known as high volume hiring. The number of opportunities available each year might range from hundreds to thousands. Hiring a significant number of candidates in a short period of time is referred to as high-volume hiring. In other words, a high-volume recruiter's goal is to find high-quality individuals and match them to the proper roles at a large scale.
High-volume recruiters, whether in-house or outsourced, must locate and evaluate a large number of candidates for a variety of roles on a daily basis. High-volume recruiters frequently set a placement objective of 5-7 prospects each day, all of whom must be identified, interviewed, evaluated, and progressed through the hiring process. It's critical to have a well-defined process and rely on the correct tools to stay on track and achieve consistent outcomes.
There are, fortunately, ways to make your high-volume hiring strategy less stressful, more efficient, and more productive.
Few Tips To Improve Volume Hiring:
Here is a harsh truth: Job seekers do not like spending hours and hours filling long and complicated forms. This might sound very simple and straightforward but having an easy and accessible application system will help candidates easily and quickly apply to your organisation. Therefore, it's critical that you verify the different options that the hiring software provides to capture applicant information with minimal friction. This will help you in getting the maximum number of qualified candidates. Due to this having a good candidate experience is important for a smooth recruitment process. 
Recruiting automation empowers talent acquisition teams to automate the processes that till recently were performed physically. These technologies take influence from artificial intelligence  (AI), AI and machine learning and can be found at all phases of the hiring cycle. Recruiting automation technology innovations are utilised by organisations hoping to expand their competitive advantage in hiring. These organisations recognise that the "status quo" method of hiring basically doesn't work just as it used to during a time of hyper-competitive talent searching. These organisations are hoping to accomplish better results, in a short amount of time and often with lesser resources relative to the end goals they are trying to achieve.
Online assessment platforms offer great benefits over real-time assessments in selecting employees for your organisation by matching the right candidate with the right job role. One great advantage of using online assessments is that it eliminates the scope of human error. Benefits of using online assessments:
Saves companies a lot of time that would otherwise have to be spent to organise an offline assessment.

Saves a lot of money needed to conduct the test physically

The assessments can be taken by multiple candidates across various locations

More precise results as it is done by a computer

Online assessments give test takers the advantage to take up the test at their convenient time and place

There is increased security associated with online assessments as all the necessary information is stored digitally. Hence, there are very slim chances of data being tampered with.
How Evalground Can Help You In Volume Hiring?
Ensure quality by concentrating on the right candidates.
Know what you're looking for and eliminate people that don't fit the bill. Evalground assists you in establishing a hiring process that includes the following steps:
Recognise the values, qualities, and abilities of successful personnel.

With realistic job previews, you can help applicants evaluate if they are the appropriate fit.

Determine crucial success variables and create hiring cut-offs.
Boost the efficiency of your screening
Volume Hiring correctly can help you save money while also improving the quality of your recruits. Our reliable aptitude tests and personality surveys help us find the strongest applicants early in the process. This helps you to concentrate on persons with the proper potential and rapidly hire them.
Increase hiring for expansion, flexibility, or seasonal work
EG assists businesses in managing hiring spikes. The 'secret' is identifying the best person-job match and predicting which candidates are most likely to succeed in the position.
We are masters in identifying critical success elements, such as personality traits and job-specific talents. We provide talent acquisition systems that enable you to consistently identify talent early in the process, allowing you to quickly fill positions with the finest candidates.
Ensure that the correct people apply
Self-selection should be encouraged.
Providing realistic job previews aids applicants in determining whether or not they want to apply for the position. Those that choose to continue have a greater grasp of the role's responsibilities, your company's values, and what leads to success. As a result, applicants are more motivated and realistic in their expectations.