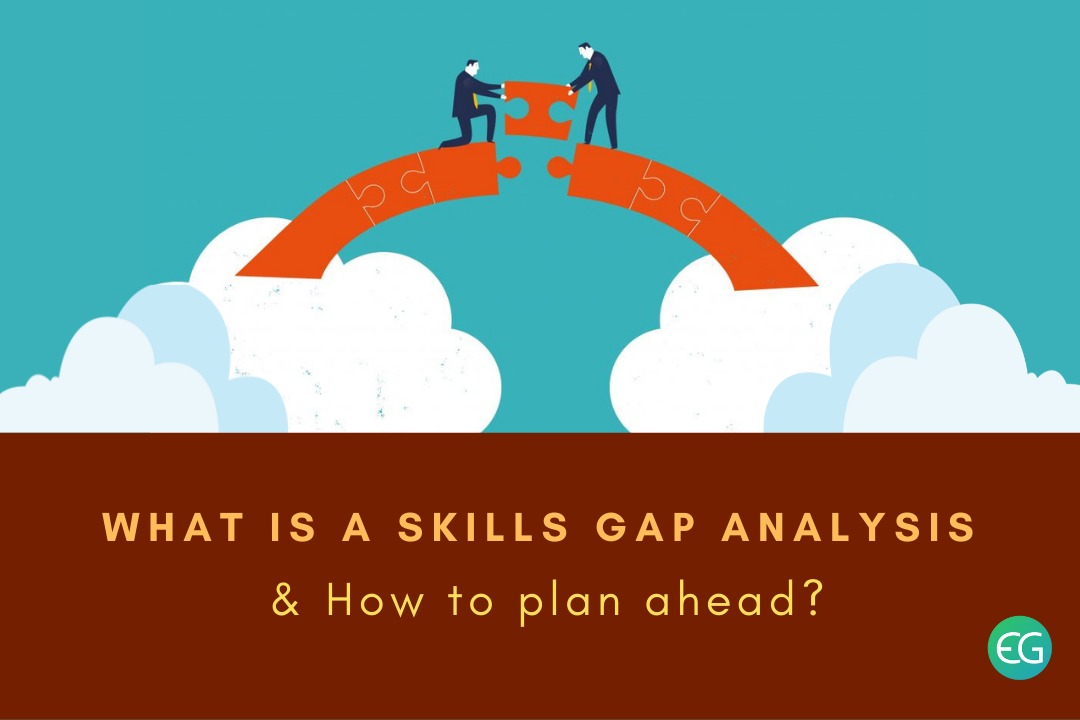 The skills gap analysis is becoming an increasingly essential technique in a time when companies are seeing a fast-growing need to re- and upskill their employees. It may be time for a skill gap review if your team's performance is inadequate and it's harming both your company metrics and your customers' satisfaction.
This underutilized tool is one of the most effective ways to identify the abilities that your team lacks, as well as the people who need to be upskilled or reskilled to keep up with market developments. In this article, we'll go through exactly what a skills gap analysis is and how to organize one for your firm.
What is a Skills Gap Analysis?
A skills gap analysis is a deliberate strategy to assessing and bridging the skills shortages in your workforce. Skills gap analysis is a structured technique that determines the gap between your organization's existing and intended skill levels, allowing you to make informed business decisions and prepare for the future. Today's workforce planning requires a skills gap analysis, which can help with promotion decisions, upskilling or reskilling, training and development programs, and leadership planning.
A skills gap analysis is a planned method for analyzing and bridging your workforce's skills gaps. Skills gap analysis is a method for determining the difference between your organization's current and desired skill levels, allowing you to make better business decisions and plan for the future. A skills gap study can assist with promotion decisions, upskilling or reskilling, training and development projects, and leadership planning in the modern workplace.
The skills gap analysis is a method for HR to determine which skills and knowledge are missing among the organization's personnel. HR will be able to address the skills gap in the organization once they have this information. Upskilling, reskilling, L&D investment decisions, succession planning, and other methods can be used to accomplish this.
How To Plan A Skills Gap Analysis?
Evaluate your current status:
The goal of the first step is to define the problem. In the case of a skills gap analysis, this entails determining the abilities that are required. You must first ask and answer certain questions in order to determine the abilities that the company needs now – and in the future. Consider the following example:
What is the mission of the organization?

What are the business objectives of the company?

What vital talents are required to carry out the task and achieve the company's objectives?
Once you've fixed your gaze on the future, the next step is to figure out how to get there. Collect data on how your workforce executes a certain activity, how important these duties are to your company's success, what skill sets they have, and if there is a better method to accomplish the job.
Examine each job profile and its function in detail, then analyze your employees' abilities. You will need to use several skill gap analysis approaches, such as surveys, evaluations, and interviews, to better accomplish this stage. Skills gap analysis is the quickest and most objective technique to determine your employees' current skill levels. Interviews and questionnaires can help you learn about their personal skill preferences, career goals, and any barriers they may have in their current position.
Data Collection and Analysis:
Data collection and analysis are the next steps. This phase has three objectives: to assess what tasks are currently being performed, to rank the importance of these jobs, and to inquire about the abilities required to complete the work appropriately. Data collection and analysis activities for a skills gap study can include:
– Creating job profiles and determining the important skills required for each position
– Making a list of your employees' present abilities.
– Determining the abilities and skill levels of your staff
Define your organization's future goals
In a year's time, where do you want your company to be? What will it be like in five years? You'll need to ask yourself a few questions to figure out where you're going and what talents you'll need from your staff to get there. Begin by determining your company's short- and long-term visions and objectives. It's all about scoping and contextualizing at this point. This stage should assist you in identifying skill gaps. You should have a list of abilities that your company requires to achieve its current and future objectives. This stage should also provide insight into how to rank the skills mentioned in the competency gap analysis template. Ensure that your skills gap analysis template and company objectives are in order. Everything that happens after that will be guided by them.
Questions to consider asking:
What is the future of the company?

Is there anything interesting coming up in the next 12 months?

How can we establish the essential strategies to bring us where we want to go with our current workforce?

What skill sets do we want our staff to possess?

In which areas of the business do we lack expertise or resources?

What positions must be filled in order for the company to progress to its goals?

What skills will these workers be required to have in the future?
You can use a table to detect the gaps between present and desired skills after you have a list of both. You can then determine what to do next based on the results of this analysis. This can include things like training, courses, and certifications, as well as mentoring, shadowing, and long-term projects. In the unlikely event that a skill is lacking in your workforce, some skills or positions may necessitate a new hiring strategy.
This skills gap analysis format streamlines the process of identifying skill gaps and provides the most appropriate diagnosis.
Because each organization has various needs, the intervention and diagnosis will change as well. You may need to restructure your organization's jobs to make them more relevant, or you may need to train or recruit, or both. The employee skills gap analysis template will steer you in the proper way based on your workforce's strengths and missing skills.
This content was brought to you by Evalground Online Testing Platform. Evalground is an online assessment and test evaluation system focused on helping Recruiters in the initial screening of potential candidates from an ocean of job seekers in an automated way.Evalground supports Online Aptitude Tests, Spoken English Communication Skills Assessments, Coding Contests in JAVA, C, C++, Ruby, Python, JavaScript and PHP.  Evalground also supports Automated asynchronous interviews. Evalground Screening Tests can be used by Recruiters during campus hiring or to screen walk-in candidates.