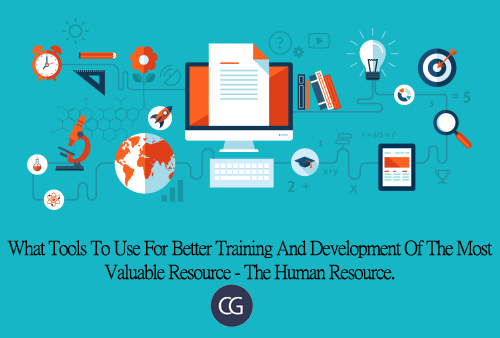 Someone wise once said training is expensive. Without training, it is more expensive!
So very simply put, what training does is help your employees do their current jobs well.
What development does is, it helps employees handle their future responsibilities.
Remember, training and development means you as a human resource executive has invested in bridging the gap between what is an existing skill in an employee and make it company and job specific.
The best part being, however highly skilled or educated, every individual needs some training and scope for development.
Now there are various components to this and there is always scope to improvise and get creative by doing more things to streamline the entire training and development process for your organization.
Roughly the process goes like this:
First, there has to be a training plan followed by a collection of materials and the groundwork. Next will be to conduct the training and then have some sort of supervision and guidance in place. The cycle won't be complete without feedback and hence the candidate has to be assessed next. Based on that a plan for long-term development is devised.
The catch here is that the business world is rapidly changing. New technology pops up regularly, employees come and employees go, the finances of the company fluctuate and the company has to have a good brand presence.
So, the role an HR plays in helping to stabilize the company for change can just not be understated.
Every HR manager has to deal with changing problems in these evolving times, keeping in mind the situational demands.
Luckily, there are many great online tools available today that are handy and can help you and other HR managers come up with a successful training regime and also cope with times when you feel lost, short-handed or when you simply want to increase your productivity.
Kaleo Software
What Kaleo does is integrates directly within your company e-mail and can potentially turn even the most boring software, like Outlook, into an engaging organization-employee communication and collaboration platform. This it does by creating a shared repository of employee-generated content, insights and information that can be accessed wherever and whenever.
Mindflash
This is an online tool that helps recruiters create not-so-common and interesting training programs. With Mindflash you can import and create online training from any content, including PowerPoint or PDF.  You can now transfer anything into a training module, thus saving time, this way.
DeskTime
This is a simple tool made to increase productivity in the best possible way. This tool is a real saviour for every HR professional since it's embedded with features like real-time automatic tracking and can unveil and help track the real progress and categorize performance in three broad-spectrum-  productive, unproductive and neutral.
The software divides time spent on the computer by projects and by unproductive behaviours, you know like, watching panda sneezing videos all day.
Zoom
Now that a weekly cadence of communication is established and employees are productive, meeting their goals, and getting the recognition that they deserve. It's time to take the communication offline and on to one-on-ones. Zoom allows managers to have some much needed virtual time with direct reports. They even have a feature-rich mobile app for the employee who's always on the move.
Everwise
Everwise is a platform that basically provides mentor-ship matching. The software helps to select a mentor who fits the employee's traits and line of work. Content is curated around the employee's specific focus areas. Interactive goal setting guides employees to identify and prioritize areas for improvement. Combined, all of these elements contribute to a well-rounded career development program.
Zoho People
Zoho People helps automate employee performance reviews and offers 360-degree feedback, goal setting and tracking, employee self-appraisal, multi-level reviews and comprehensive reports to evaluate individual performances and the organization as a whole. The software can also be customized to suit your organizational appraisal policies.
CakeHR
CakeHR automates every step of attendance and leave tracking, right from requesting time off, to the manager's approval, to recording the time off on the shared company calendar, and updating individual employees' entitlements and accruals.
This content was brought to you by Evalground Online Testing Platform. Evalground is an online assessment and test evaluation system focused on helping Recruiters in initial screening of potential candidates from an ocean of job seekers in an automated way.Evalground supports Online Aptitude Tests, Spoken English Communication Skills Assessments, Coding Contests in JAVA, C, C++, Ruby, Python, JavaScript and PHP.  Evalground also supports Automated asynchronous interviews. Evalground Screening Tests can be used by Recruiters during campus hiring or to screen walkin candidates.