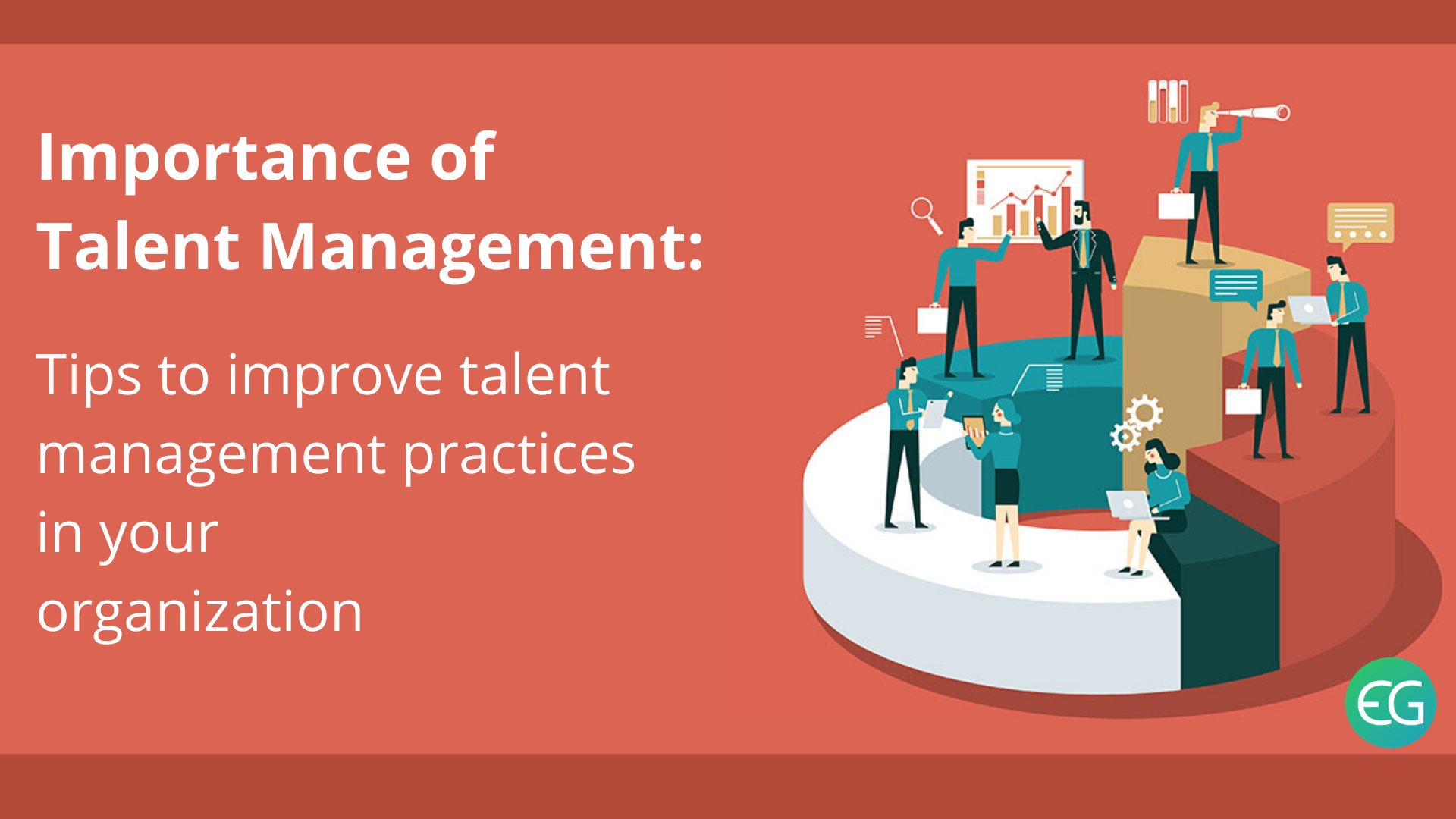 Many think that talent management is just another one of those pesky and confusing Human Resources jargon, right? Wrong. Talent management is the process where an organization commits to recruit, hire, train, retain and develop the most skilled, talented, and the creme de la creme of candidates that are available in the job market.
One of the basic and primary purposes of talent management is to create a sense of motivation among your existing workforce who will stay with your organization for the long run. The exact way in which this is achieved differs from company to company. 
So, talent management is a very helpful term when it describes an organization's preparedness and dedication to recruit, manage, build, and retain existing skilled employees. It includes all of the work methodology and systems that are associated with retaining and developing an outstanding workforce.
Talent management, in simple words, is defined as consistently creating a structured, calculated process of getting the right capable talent on board and helping them develop to their optimal capabilities keeping organizational objectives in mind. 
The method thus involves identifying and quantifying skill gaps and job requirements, sourcing and assessing candidates for the required positions, and onboarding the ideal candidates. Followed by, developing them within the organizational system and developing required skills, training for excellence with a future-focus, and efficiently engaging, retaining and motivating them to reach your long-term business goals. The definition brings to focus the underlying character of talent management – how it infuses all components applicable to the human resources at work while making sure that the organization achieves its objectives. It is hence the process of finding and recruiting the right employees on board and enabling them to enable the business at large.
Under the umbrella of talent management, there are a series of components and sub-component that need to work as one to guarantee the success of the organization. For instance, analyzing the correct skills gap for the present and the future, recognizing the correct talent pools and best-fitting applicants, getting them to join your company, and afterward enhancing their current skills and strengths while helping them develop are touchpoints that are equally significant. They support one another and the entire structure would disintegrate even if one sub-process dropped out of sync.
Importance of Talent Management:
The simple answer is because it capitalizes on your employees — evidently, the most significant strength of your organization. Talent management encourages you to enhance the esteem of workers. 
Firstly, it pulls in the perfect candidate for the organization. If recruited, those new representatives help improve business execution. It additionally builds the motivation among employees meaning, workers are inclined to finish their tasks and remain with the organization. By retaining these workers, the organization saves money on recruitment and performance management costs in the long run. It also helps in increasing employee engagement. With a solid Talent Management system set up, workers see more chances to grow. Once more, this creates higher retention for the organization and business execution. 
There is a broad agreement that talent management is successful (or even effective) at drawing in and retaining talent just as improving the overall business performance. There are a couple of fundamental reasons why this is the case.
It assists organizations by improving performance 
With top experts in your organization, you can arrive at any objective. Talent management is best of all when it consolidates three key parts: fast talent allocation, positive employee experience, and a key HR group. 
It permits organizations to remain competitive 
By recruiting and creating talented representatives, your association becomes more grounded and more ready to confront changes and dangers. 
It drives development 
New technologies are continually hitting the scene, whatever industry may you be in. Talented workers can discover approaches to harness the abilities of new devices and take care of issues or devise unique thoughts. 
It helps structure productive groups 
The fitting talent management procedure will permit you to frame a progressively profitable group. This is definitely more helpful than simply having a lot of imaginative and talented individuals in your association. 
It diminishes turnover 
At the point when representatives feel esteemed at an organization, whenever they realize they will have a lot of chances to develop in the business, they are less inclined to look for work somewhere else. 
It prompts solid employer branding 
Talent management marks your organization as a business. This encourages you to draw in the best possibility for future recruits. 
It inspires others to develop 
Having moving talent in your group will propel different representatives and help them develop.
A Few Talent Management practices to follow:
Employer branding:
Simply put, employer branding is a company's chance to tell potential candidates why you're the place they want to work. Research has shown that companies with a strong employer brand display 54% higher-quality applicants, 22% better quality shortlists, and 9% better fit hires.
When 70% of the global workforce is passive talent it becomes all the important to be proactive and influence applicant decisions. Talent acquisition is the essence of the hiring process. Recruiters are perennially competing for top talent, to secure their company's efficiency. Recruitment strategies are becoming more innovative and the newest function added to talent acquisition is employer branding. Employer branding involves promoting a company as an employer to a target market of potential candidates that the company wants to hire. A 2016 study says that about 62% for global talent leaders believe that employer branding is their biggest priority. An ace employer is one who is able to communicate an original and consistent employer brand story in order to attract, engage and ultimately persuade relevant talent to be a part of his company.
Candidate experience:
Candidates somewhat expect a similar treatment as consumers of a product. 
They need relevant engagement and a sense of commitment from the organizations' side, depending on where they are in the candidate journey, and what sort of role they're really intrigued by. They need a similar level of personalization that they get from modern marketing divisions. 
Top tier candidate experience is all about creating experiences for candidates that feel genuine, humane, and authentic. It's tied in with building personal associations with the applicants, not simply handling resumes, in a way that is valuable without feeling meddlesome or awkward. 
Selection:
In research by Glassdoor, they discovered that 35% of those doing the hiring of new employees are doing so with the expectation that more employees will be leaving the organization in the coming year. It's a little demoralizing and disheartening to know that those doing the hiring are already imagining over one-third or 33% of their recruits walking out the door. 37% of recruiting managers say that newly recruited employees would stay longer if they were better informed during the hiring procedure. A poor onboarding experience for a newly recruited employee builds a foundation of antagonism and negativity in the new job.
Ensure you're being honest and transparent about what you expect of the new employee. Do not try to hide or sugar-coat aspects of the job just to get a person to bite the bait. Transparency is key in finding the correct employees. If you need some additional help, try using recruitment software to make the job easier.
Using psychometric evaluation and online assessment tools during hiring will greatly help recruiters to ensure that the candidate's conduct, behavior, and competency are well-aligned with the hierarchical organizational objectives.
Referrals:
While we talked about how hiring remotely is very different from hiring in-office employees, a referral is one thing that can be used in the case of work from home employees. Ask your remote employees to refer more people in search of such jobs.
If you still need further assistance, we at Evalground are here to help! Just specify your needs and we will create assessments on your behalf. We have our own set of assessments but if you want something more, we will customize it for you. We also have a large library where you can find a number of questions related to every topic you can think of!
Onboarding:
In a research conducted by the Wynhurst Group in the year 2007, it was found that the new employees who had a pleasant experience and a systematic onboarding process (58%) were more inclined to stay with the company for at least more than three years in comparison to those who didn't have a good onboarding experience.
Employee onboarding is so much more than just meeting the new hire at the reception and then just skipping to "here's your laptop, and here's your workstation," but actually it is a crucial transition period where you imbibe the organizational values, culture, and systems to the new recruit. It is the initial and most important step to keep the talented individuals excited, happy, and engaged for long. 
Every new person who joins your organization should be set up for nothing shorter than success from the very beginning. Your employee onboarding process should not just teach the new joiners about their job role and duties, it should also draw a clear picture of the company culture and how they can contribute to the organizational growth and thrive within the company. Don't take any shortcut in this initial process: the kind of tone you set in the onboarding, orientation, and the training procedure on the day one can set the tone of the employee's expectations in his/ her entire tenure at the organization.
Learning and development:
New employees join an organization with the attitude to improve their aptitudes and take amazing steps in their careers. With an all-inclusive scope of abilities, they can contribute widely to the advancement of your organization. All things considered, it's mutually beneficial. An employee development program centers altogether around the employee's requirements for learning, development, and improvement. 
Focus on it and make it a priority to put resources into your laborers' professional development and look for opportunities for them to develop. A few organizations pay charges and travel for employees to go to conferences or industry seminars every year, give educational reimbursement, or pay for continuing education training.
This content was brought to you by Evalground Online Testing Platform. Evalground is an online assessment and test evaluation system focused on helping Recruiters in the initial screening of potential candidates from an ocean of job seekers in an automated way.Evalground supports Online Aptitude Tests, Spoken English Communication Skills Assessments, Coding Contests in JAVA, C, C++, Ruby, Python, JavaScript and PHP.  Evalground also supports Automated asynchronous interviews. Evalground Screening Tests can be used by Recruiters during campus hiring or to screen walk-in candidates.