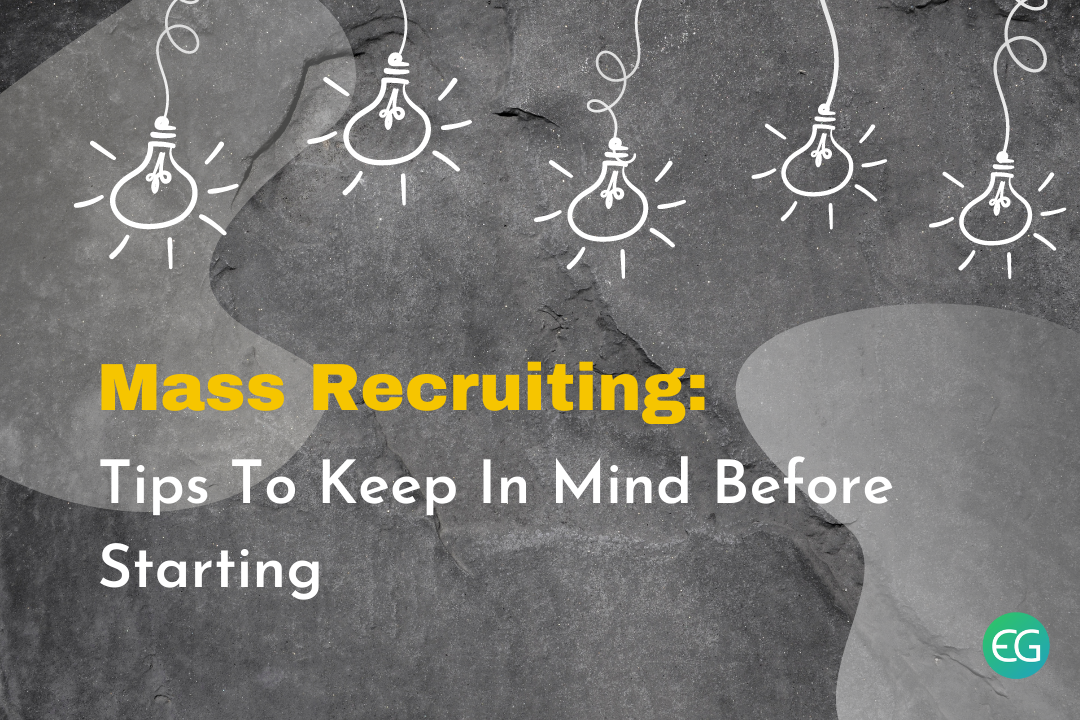 In any business, mass recruiting or bulk-hiring can be a primary challenge. If ever you need to hire additional staff to meet production or other business needs, consider yourself both lucky and cursed. Taking the time to find the right person with limited resources and a lack of adequately trained HR, hiring even a single new employee can end up consuming tremendous resources and time. Seeing that the best and the brightest people line up for your company is the key goal of any organization, but this requires some serious creativity in the recruiting efforts.
Mass Recruiting or bulk recruitment takes place when we start a new project or if we try to expand the business. Companies conduct job fairs, screen resumes, conduct interviews for selecting the right candidates. Apart from this bulk recruiting process includes making sure of the quality & quantity of hires to put the right people into the right places in a company.
Tips for Successful Mass Recruiting:
Good Acquisition/ Hiring team
Everyone in the hiring team should be able to clearly define the company culture and how the perfect candidate would fit in. It is imperative that everyone is on the same page in terms of the number of applications and the roles the company is hiring for. Synchrony is key!
Delegate this job to a group of professionals who are efficient and they will give you the pre-screened candidates without the hassle of sifting through hundreds and hundreds of resumes.
The Ideal Job Description
As with any hiring process, a solid job description for each position is compulsory. This process becomes simpler if you are recruiting many people for the same job! With the final description, you are ready to give potential candidates a clear picture of the job and be ready to ask questions in an interview. The job descriptions need to be well prepared, tempting and should highlight the factors that make your company attractive. It's also important to know your key selection criteria. It's best to narrow it down to a top few.
Work Efficiency
Mass recruiting can get messy without the proper organization. This is why delegation is very important. The process is often nerve-wracking, challenging, and disorganized so individual groups should be responsible for various parts of the process. For example, one team could handle the task of posting the applications on various portals and social media platforms, one could focus specifically on the interview process, and one team could contact applicants with the results or with further instructions. Applications need to be categorized and filtered. No cover letter = the "no" pile.  By splitting up the tasks like this, and communicating well, teams can work efficiently without becoming overwhelmed. The market we are in is dominated by many job seekers. We don't want to let our competitors get the best hires so time is of the essence!
Scatter Hiring
Imagine interviewing, hiring, and training 25 new hires at once. This seems like a nightmare waiting to happen! Stagger and split the process into smaller groups. This is a simple and stress-free way to bring in new people to the company while sparing resources.
Pat Yourself On The Back
If you have followed these basic steps, then you are well on your way to completing a successful mass hiring session. Celebrate with your team and look forward to the wonderful new employees you have brought to your company.
How To Improve Your Mass Recruiting Strategy?
Opt for an on/off-campus drive.



Every year, many companies conduct on/off-campus recruitment drives to hire fresh engineering graduates throughout India. The requirements are in large numbers giving fresher's an amazing opportunity to grab a job after graduation. Campus Recruitment is the way to go if you want your workforce in masses. Traditional methods can take up anywhere between 1-4 days of manpower and physical campus visits. Advanced methods today using online portals reduce this time to few hours and saves a lot of money.
Mass-mailing
Bulk mailing or mass mailing generally refers to mail that is mailed and treated in bulk at compact or cheaper rates. The term does not represent any particular purpose for the mail, but is sometimes used (incorrectly) as a synonym for "junk mail".The procedure of sending the same email message to a large number of people at the same time makes the job recruitment process easier.
Tie-up with manpower consultants 
A manpower recruitment consultant basically behaves as an intermediary between organizations (corporate) i.e. those seeking to recruit staff and the people who are looking for a job.  In this process, corporate gets in touch with the Recruitment Consultants to know about their charges or recruitment makes calls or arranges meetings with various businesses to make a tie-up and get results from them. Recruitment and retaining are responsible for the company's Sales Force with the suitable candidates willing to fill the gaps and ensure the best results with the help of consultancies.
Internal references
Focus on internal references, which are one of the best and simultaneously cost-effective sources for bulk/mass hiring. There's no arguing that references are really an important part of the hiring process. They offer a valued vision into a candidate's workplace accomplishments and personality.
Newspaper advertisement
Newspaper Advertisements have been around longer than any other form of advertisement we see nowadays. Basically, the advertisement would be displayed alongside regular editorial content. Display ads are generally used by businesses and establishments for the promotion of their goods and services and are generally for larger budget clients. The reason is that readers trust newspapers as they have shown strong results with the advertisements published.
Online recruiting software
You can think BIG to move FAST..! Last but not least on the list, is online recruiting software. This is quite famous these days.  Carrying out campus drives has been a very traditional approach. The new advancement in the space of online assessments and applicant tracking systems has made it easier to carry out these drives. Nowadays, companies are conducting virtual campus drives where they use online assessment platforms like Evalground, HackerEarth, Mettl, HireVue, etc along with some of the Applicant Tracking Systems like applicant tracking system (ATS), which is a tool that enables companies to electronically manage their recruitment requirements. It is quite similar to the well-known term customer relationship management (CRM) but is designed precisely for recruitment tracking purposes. The online assessment platforms help recruiters in the initial screening of potential candidates.
In this scenario, they generate a test link for the test and share it with the placement department of the college. College authorities make arrangements for the conduction of the online test on a stipulated date. Once the test is conducted, you can shortlist the candidates based on their performance reports available on the online platforms and take them forward for interviews.
You will have to do things differently if you want to avoid sifting through a massive stack of poor-fit resumes or if you want to reach your dream candidates who already have a job elsewhere. So, with the help of recruitment software services, the process can be fast-tracked from sourcing to onboarding.
Ultimately, these are the reasons many companies are embracing online recruiting software and getting great results.